Events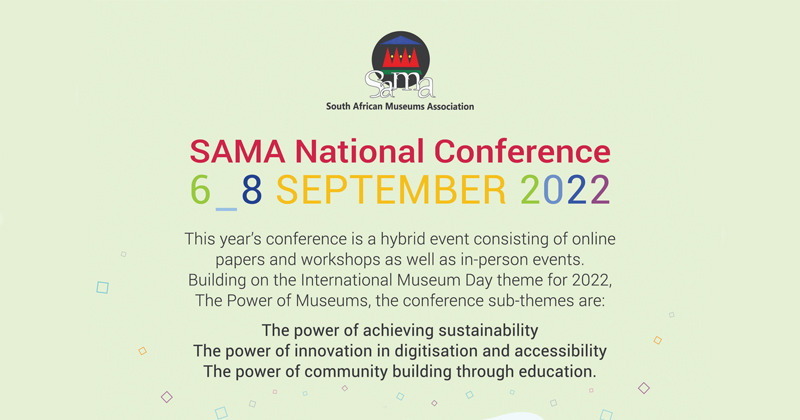 September 6, 2022
86th SOUTH AFRICAN MUSEUMS ASSOCIATION: NATIONAL CONFERENCE
The South African Museums Association (SAMA) will take place from 6-8 September 2022.
This hybrid conference will take place from 6-8 September 2022. A programme of keynote speakers, presentations and a panel discussion will take place on 6 and 7 September at Hazendal Wine Estate in the Stellenbosch Winelands. On 8 September, in-person delegates will venture into inner city Cape Town for a cultural heritage precinct excursion, including visits to the Castle of Good Hope, The Desmond and Leah Tutu Foundation at the Old Granary, and the Mandela Legacy Exhibition at the Cape Town City Hall. The conference concludes with a cocktail event at the Rupert Museum in Stellenbosch, home to a superb collection of modern South African art from 1940 to early 2000.
The theme of the conference is 'The Power of Museums' borrowed from the International Council of Museums' (ICOM) International Museum Day for 2022. The conference will similarly reflect on three main topics including the power of achieving sustainability; innovating on digitisation and accessibility; and community building through education. How does this 'Power of Museums' manifest in the cultural landscape of South Africa? The exploration of these key areas is critical in the comprehension of the power of museums, and their relevance to society and its citizens.
SAMA is excited to announce the 2022 conference keynote speaker, Gail Lord.