News
October 11, 2013
Barry Lord Wins Best Paper Award
Barry Lord, Co-President, won "Best Paper Award" for his research paper entitled Energy and Cultural Heritage: How Values Change from SCHeMa 2013: International Conference on Sustainable Cultural Heritage Management at the RomaTre University in Rome, Italy on October 11-12, 2013. The Scientific Committee presented Barry with the Award in recognition of the research paper quality, originality and significance in Cultural Heritage Management.
Read More
October 1, 2013
One Year Anniversary of Chicago Cultural Plan Launch
Congratulations to the City of Chicago and Chicago's Department of Cultural Affairs (DCASE)! One year ago, Mayor Rahm Emanuel launched the city's first Cultural Plan in over 25 years and the impact of the Plan, facilitated by Lord Cultural Resources and led by DCASE, on everyday Chicagoans has been unprecedented. Over half of the plan's 241 initiatives have been implemented, transforming major global events like the city's Taste of Chicago and attracting and leveraging support from major corporations and city agencies to strengthen neighborhood cultural access. This month Mayor Emanuel announced that the plan would receive a proposed $1.25 million in the City's 2014 budget.
Read related media articles City To Spend $1 Million On Great Chicago Fire Festival and $1M set aside for festival dedicated to Great Chicago Fire.
September 13, 2013
Buddha Smriti Park Museum Inaugurated
The newly constructed museum at the Buddha Smriti Park was inaugurated on September 13, 2013 in Bihar, India. This is probably the only museum on Buddhism, which tells the story of Buddha along with the art that Buddhism created.
It was inaugurated by the Honourable Chief Minister of Bihar, Nitish Kumar, and the Chief Guest of the event was the Princess of Bhutan, Princess Ashi Kesang Wangmo Wangchuk. It was inaugurated on the event of the International Buddhist Conclave, and had Buddhist experts and monks attending from 39 countries. Congratulations to our Lord Cultural Resources project team who made it happen.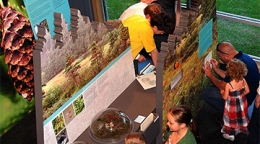 June 15, 2013
"Faces of Freedom: The Czech and Slovak Journey" Opens
A permanent exhibition entitled Faces of Freedom: The Czech and Slovak Journey opened at the National Czech & Slovak Museum & Library (NCSML) in Cedar Rapids, IA on June 15, 2013.
Lord Cultural Resources provided the Visioning, Interpretive Planning, Content Coordination and Development, graphic templates and case layouts for the exhibition in cooperation with Xibitz, who are Project Managers and the fabricators of the exhibition.
May 23, 2013
President of the Chinese Museums Association Speaks at the ROM
On May 23, 2013, the Royal Ontario Museum (ROM) in collaboration with Lord Cultural Resources hosted Mr. Song Xinchao, President of the Chinese Museums Association and Deputy Director-General for State Administration of Culture Heritage, The People's Republic of China. During his one-day stay in Toronto, Mr. Song visited the ROM and made a presentation on the current unprecedented growth of Chinese museums. Mr. Song also spoke about the fascinating, rapid, and dynamic progress of museum sector in his country.
Read More
May 14, 2013
Launch of Wind River Virtual Museum of Ancestral Artifacts
The Wind River Virtual Museum aims to provide members of the Eastern Shoshone and Northern Arapaho tribes of the Wind River Reservation in Central Wyoming a vehicle to retain their cultural heritage, as the numbers of tribal elders are diminishing. The virtual museum also attempts to give next generation of tribal members and the general public a way to learn about the heritage of these two tribes.
Watch the documentary Lived History: The Story of the Wind River Virtual Museum, which premiered on Wyoming PBS on May 14, 2013, produced by Alpheus Media in association with Lord Cultural Resources.
Read More
May 3, 2013
Presenting Louvre Lens
A new branch of Musée du Louvre in Lens (Louvre Lens), Nord-Pas de Calais region, France, has been opened for five months and continues to be a great success.
Read More