| | |
| --- | --- |
| | SHARE ON |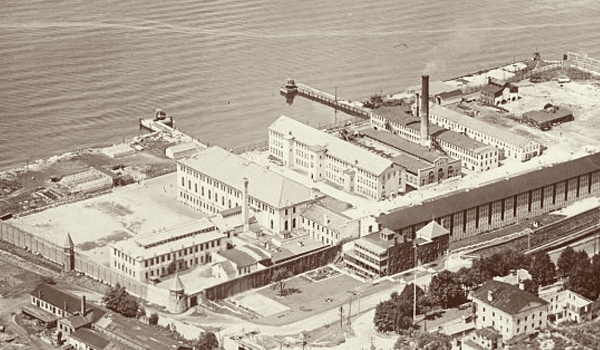 Featured Story:
Where Berkowitz Did Time and Cagney Spent Time
OSSINING, NY, USA — There's something magical about Sing Sing, the maximum-security prison that sprawls over 75 acres on a bank of the Hudson River where it widens north of the Tappan Zee Bridge — if the word magical can be used to describe a place that in the late 19th century pioneered the use of the electric chair and that today houses about 1,600 inmates, many of them convicted of rape or murder. Read More
Our clients & Lord
City-Builders Celebrate the Bloor Street Culture Corridor


Urban Toronto, April 19th, 2016

TORONTO, ON, CANADA — What makes Bloor Street special? Over the course of an evening's discussion, panelists offered differing views on what the prominent Toronto artery is all about. The speakers included the Toronto Star's Christopher Hume, Lord Culture's Gail Dexter Lord, Ward 20 Councillor Joe Cressy, U of T's Daniels Faculty of Architecture, Landscape, and Design Dean Richard Sommer, Hariri Pontarini Architects' Siamak Hariri, KPMB's Bob Sims, and DTAH's Brent Raymond, but none of them were able to distill Bloor Street down to a singular essence. It was a testament to Downtown Bloor Street's protean nature—rather than any ineptitude on the part of the panel—that the east-west artery, prominent as it is, could not be boiled down to one identity. Instead, it has many. By turns a luxury shopping destination, a corridor of imposing cultural institutions, a university street, and the heart of a residential neighbourhood (in the Annex), Bloor boasts a unique collection of qualities—and a subway line. One thing that the panelists agreed on is that Bloor's variety is one of its charms.

Read More
What Architecture Means to Zena Howard, Project Leader of the National Museum of African American History and Culture


Archinect, April 14th, 2016

WASHINGTON, DC, USA — "And to me, as an African American, just realizing that this has actually come to be, that there's an actual National Museum for African American History and Culture on the Mall of Washington, D.C., and this museum should have happened years and years ago, but the realization that finally in America we're at a place where we can accept it ... It's one of the most prominent sites on the Mall. It's not somewhere tucked away. — Zena Howard, on Curbed

Lord Cultural Resources led the national public engagement process, developed a functional strategy, conducted a collections analysis and operations planning for the Museum. The program planning team was a collaboration of architectural and design firms Davis Brody Bond [Aedas] of New York and Washington; The Freelon Group of North Carolina; Lord Cultural Resources; and Amaze Design of Boston. In 2011, Lord Cultural Resources provided content development and communications services as part of the winning team of Ralph Appelbaum Associates for the exhibition design for the new museum. In 2012, an additional contract was awarded for concept development for the Resource Library.

Read More
MILAGROS Collective Selected to Paint MARTA Overpass Mural


Decatur Metro, April 12th, 2016

DECATUR, USA — The Decatur Arts Alliance and the Steering Committee for the MARTA Overpass Mural Project in Decatur announce the artist chosen for the project is the MILAGROS Collective. The MILAGROS Collective, from New Orleans, LA and Miami, FL, consists of Felici Asteinza from San Pedro Sula, Honduras and Joey Fillastre from Lakeland, Florida. Felici and Joey have extensive mural experience including a Public Art Commission for the New Orleans Public Library; 2015 Murals in Greensboro, NC hosted by the Elsewhere museum and funded by ArtPlace America; an Art in Public Places mural on the Yates Parking Garage in Jacksonville, FL, and more. What set the MILAGROS Collective apart, though, according to Angie Macon, Director of the Decatur Arts Alliance, was their extensive community engagement experience in creating their murals and other pieces. According to Angie, they have a commitment to and an excitement for the community engagement process around their projects. Creation of the MARTA Overpass Mural includes a strong commitment to community engagement as part of the grant from the Atlanta Regional Commission. In addition to the mural artist, the project also includes a community engagement consultant Joy Bailey Bryant with Lord Cultural Resources.

In 2009-10 Lord Cultural Resources spearheaded a cultural arts master planning process for the City of Decatur. The methodology comprised an extensive community engagement process, programming charrettes, as well as a thorough cultural asset inventory and mapping process. In 2016, Lord helped lead an initiative for public art to paint a mural on the MARTA overpass at West Trinity and Atlanta Avenue. Lord helped the steering committee create a short list of five teams for interviews, out of thirty-eight artists and teams who responded to the request for qualifications.


Read More
Officials Break Ground On TN State Museum


News Channel 5, April 6th, 2016

NASHVILLE, TN, USA — State lawmakers broke ground on the Tennessee State Museum location at Bicentennial Mall. The new $160 million museum, which will be built along Rosa Parks Boulevard, was created to focus on all parts of our state's history. The goal was to have the museum finished in about two years. "This museum will tell those essential stories. Stories of heroism and tragedy, of promises kept, and those painfully deferred," said Jon Meacham. "I think 100 years from now there will be school kids on this site that will have a new appreciation for what happened not just in the Civil War but today and 50 years from now," said Gov. Bill Haslam.

In 1996, Lord Cultural Resources developed a long-range Strategic Development Plan for the Tennessee State Museum (TSM). In 1997, Lord collaborated with Nashville architect Earl Swenson to complete a Master Site Plan for the City's Bicentennial Mall, the future site of the new museum. In 2013, the firm was engaged to complete a comprehensive study of the Museum and its needs. The Lord plan included recommendations on site selection, capital cost projections, a facility master plan, an operations plan that included a public programme plan, and an interpretive plan for the new 55,000 square feet of exhibition space. Using the Lord Master Plan as the foundation, the State of Tennessee is proceeding with plans to design and construct the new museum on the prominent Bicentennial Mall site. In 2015, Lord was retained by the State as their sole museum consultant assisting them with architectural review and exhibitions procurement and management. Working with the museum's curatorial staff, Lord will help redefine the interpretive plan and manage the process of exhibition design from procurement of the designers / fabricators through to opening day.

Read More
MOCCA Relaunches As "The Museum" of the Future


Yonge Street Media, April 6th, 2016

TORONTO, ON, CANADA — The institution formerly known as the Museum of Canadian Contemporary Art kicked off its bold vision to transform into an internationally recognized 21st century contemporary art museum at a much buzzed about launch party last week. A packed room of over 200 people turned up to hear from newly appointed CEO Chantal Pontbriand, who shared her team's reimagining of what it means to be a contemporary art museum. The new museum will open in May 2017 in its new premises, taking up 50,000 sq. ft over 5 floors of the refurbished historic Automotive Tower building on Sterling Road. The first and most noticeable announcement was that the institution has changed its name, dropping the word Canadian, and becoming the Museum of Contemporary Art Toronto_Canada, and "the Museum" in short form. "We are very proud of this new identity, which focuses on the words museum, contemporary, Toronto and Canada," said Julia Ouellette, Chair of the Museum's Board of Directors. "Our ambition is for a global dialogue from here, Toronto, our city. We are convinced it will attract attention worldwide."

In 2009, in close consultation with MoCCA's leadership, Lord Cultural Resources led the Museum through a Strategic Planning exercise, which is now serving as a blueprint for a sustainable and successful future for MoCCA. Upon successful completion of the Strategic Plan, in 2010 Lord Cultural Resources was invited to conduct a Board Development Strategy, as part of the Museum's efforts to fulfill its strategic goals. Working with MoCCA's leadership, Lord developed a strategy to ensure a sustainable and strengthened Board that would enable the Museum to transition into its next phase of growth. In 2013, Lord Cultural Resources was engaged to prepare a business plan and projections associated with its new site.

Read More
Soft Power
Knowledge Quarter at the Museum Next Conference


Knowledge Quarter London, April 21st, 2016

LONDON, UK — The Knowledge Quarter and Lord Cultural Resources presented the event "Museums of the Future: Agents of Soft Power" on Monday 18th of April at this year Museum Next conference in Dublin. Museum Next is an annual conference where professionals from across the sector come together to share best practice, network and get new ideas. Museums are beginning to understand themselves as networked institutions of civil society propulsive soft power that can enhance the influence of their cities and empower local residents and visitors. Soft power is the ability to influence via persuasion, attraction and agenda-setting rather than coercion and, in the future, museum professionals will increasingly develop policies and practices to address pressing issues like sustainability, gender equality and economic empowerment.

Read More
The Future of Museums: 'Soft Power' and the Hard Sell


Irish Times, April 18th, 2016

DUBLIN, IRELAND — "Soft power" refers to winning people over on the basis of cultural appeal and ethical values, as opposed to more conventional diplomatic strategies or brute economic or military force. It's by no means a novel concept, but it has particular contemporary relevance in a fractious, crowded, pluralistic world. MuseumNext is a peripatetic series of conferences on the future of museums that begins its Dublin iteration today. Among the subjects it will address is the idea of museums as agents of soft power. This strand is organised by the Knowledge Quarter, a broad partnership that encompasses academic, cultural, research, scientific and media organisations in one small area of London. Within a one-mile radius, including King's Cross, Bloomsbury and Euston, the richness of the Knowledge Quarter partners – including the British Museum, the British Library, the Wellcome Trust, the Guardian and the University of the Arts – is breathtaking.

Read More
Berlin Museum Tours Inspire Mid-East Refugees


BBC News, April 12th, 2016

BERLIN, GERMANY — Museum visitors gaze awe-struck at an ornate azure blue arch. As tall as an office block, the Ishtar Gate is more than 2,500 years old, and was once one of the entrances to the ancient city of Babylon, in modern-day Iraq. Today the enormous arch is in Berlin's Pergamon Museum. For these visitors it is not only an impressive sight, but also a moving one. That is because they are refugees, and the gate is a reminder of home. Many of them are from Iraq. The rest are from Syria. The tours take in many of the ancient precious objects of the Middle East - today in Germany - and are organised by a group of Berlin state museums twice a week, free of charge, especially for refugees. But what is really unusual about this tour is that the guide, Bashar, is also a refugee.

Read More
10 Years On, Arts in Bushwick Invites the Community to Discuss Plans for the Future


Hyperallergic, April 8th, 2016

NEW YORK, USA — Arts in Bushwick (AiB), the producer of New York City's largest summer kickoff/open-studios event, broke hearts six weeks ago when it announced that this year's Bushwick Open Studios would be held in October, not June. This was the first announcement the group made since last summer, when volunteers began a ground-up rebuild of the organization. Speculation, gossip, and even a bit of controversy swirled when a local artist announced he would produce a new first-weekend-of-June event. Still, AiB resisted spilling any details. They made us wait. And wait. "Just come talk to us," they said, collectively, through unsigned statements. "Come to our meeting," they said. So of course we did. Last Wednesday in a community room at Bushwick's Mayday Space, a few people hung up a banner, gathered for a team huddle, then sat down on a riser, facing about 90 friends and neighbors. Laura Braslow gave a short history of the organization she co-founded in 2006, and described some of its growing pains. Other volunteers introduced themselves and shared their connection to the group and their interests. The introductions were followed by a Q&A, and then everyone broke up to join or not join small groups of AiB volunteers scattered around the space. The barriers between "us" and "them" collapsed, so the second half of the event was just a room full of neighbors, meeting and catching up and sharing ideas.

Read More
Taiwan Turns to Soft Power
Asia Sentinal
TAIWAN — Taiwan is in the middle of an enormous national effort to promote its soft power, aiming both to improve and enrich society and at the same time stimulate growth in an era when it has lost many of the industries that drove the economy during the past 50 years as one of Asia's original tigers. Like the rest of Asia, Taiwan is seeking a new role as it faces the rising economic might of the mainland. Thousands of its factories have migrated there, along with tens of thousands of managers, engineers, accountants, architects, designers and other skilled people. In many products, it can no longer compete with the mainland. Its competitive advantage appears to be in soft power. The government in Taipei has chosen culture and creativity, including books, films, music, dance, museums, performing arts, design, architecture and products made by individuals and not factories – tourism, leisure, environmental protection and the making of a moral, polite society. In May 2012, the government set up the Ministry of Culture and appointed popular writer Lung Ying-tai, whose books have sold millions of copies in the Chinese world, to head it. The ministry and cultural bureaus of cities across Taiwan provide grants and loans to such activities.
Read More
Museums
Your Guide to 2016's Fashion-Themed Museum Blockbusters


Wall Street Journal, April 28th, 2016

INTERNATIONAL — THE BLOCKBUSTER fashion exhibition is now a given in the museum world and, this spring, there's one to appeal to sartorialists of nearly every stripe. Here, a close look at five major shows that will advance your style savvy and a rundown of five others that showcase the widening influence of designers, past and present, on the way we dress today...

Read More
French Billionaire Francois Pinault to Turn Commodities Exchange into Museum


Wall Street Journal, April 27th, 2016

PARIS, FRANCE — Luxury billionaire François Pinault has finally found a Paris home for his formidable art collection: A former commodities exchange. Mr. Pinault—owner of Christie's auction house and founder of the retailing conglomerate Kering SA that includes Gucci and Yves Saint Laurent—announced with Paris Mayor Anne Hidalgo on Wednesday that the city's centrally-located Bourse de Commerce building will be turned into a new museum featuring works from his collection. The plan is the culmination of a decadeslong quest to find a showcase for his vast holdings in the French capital, a private collection that ranks among the world's most valuable. "This is an exceptional gift," said Ms. Hidalgo, who was central to the negotiations for creating the new museum, at a news conference. "This is very good news that we have the chance to host the collection." The new museum reinforces Paris, already home to some of the world's greatest art museums like the classically-focused Louvre and the contemporary National Museum of Modern Art at the Centre Georges Pompidou, as one of the world's most important art hubs. Mr. Pinault said he hopes the new institution will "contribute to the image of Paris in a way that's original and strong."

Read More
Wim Delvoye Unveils Plans for Museum in Historic Iranian City


Art Newspaper, April 27th, 2016

KASHAN, IRAN — The Belgian artist Wim Delvoye is carefully restoring five desert mansions in Iran's historic oasis city of Kashan. He plans to open a 900 sq. m gallery in one of them to show his art alongside changing exhibitions of work by Iranian and international artists. Delvoye is also planning to move his art-making operation to Iran, he tells us. "All the things I do in Europe, I will do here," he says. He has already employed traditional Isfahan metalworkers to work on new sculptures for his solo show at Tehran's Museum of Contemporary Art (until 13 May). He is committed to another, smaller show at the Isfahan Museum of Contemporary Art, he says.

Read More
How Toronto Museums Are Helping People with Alzheimer's Experience Art, Even If They Can't Remember It


Toronto Star, April 25th, 2016

TORONTO, ON, CANADA — Lorraine Cottle has a hard time making memories these days. The 88-year-old was diagnosed with Alzheimer's disease about four years ago. She struggles to tell you her age or follow the plot of a TV show. But seated in front of a whimsical oil painting of a yellow violin one recent morning at the Art Gallery of Ontario, she seemed, for a moment, to remember. "If I close my eyes, I hear a song," she said. "You can close your eyes and bring back memories." She and her daughter Cheryl were on a special tour for people with dementia and their caregivers, offered once a month at both the AGO and the Royal Ontario Museum in partnership with the Alzheimer Society of Toronto. Multi-sensory guide Tina Urman called Lorraine's reaction to the still-life French painting, an "aha moment." "When she said that, that's why we do this," Urman said.

Read More
Saddam Hussein's Palace Will Become A Museum in Iraq


Telegraph, April 12, 2016

BASRA, IRAQ — A former palace of the Iraqi dictator Saddam Hussain will be turned into a museum this September more than 13 years after the invasion. The large mansion in Basra, southern Iraq, will become the first museum to open in the war-torn country in several years after serving as a mess hall for the British army during the war, according to National Geographic. The British pulled out from Basra in September 2007. Those involved with the project say there will be at least 3,500 objects from Baghdad's Iraq Museum from different periods including ancient Sumer, Babylon and Assyria. The project, which costs $3.5 million in total, was partly funded by a British charity, Friends of Basrah Museum. The charity garnered donations of $500,000, mainly from oil companies reportedly after the Basra government agreed to provide $3 million worth of funding. Despite this promise, the government has reportedly not yet provided its share of funding. The British Museum offered curatorial support for free, the National Geographic reported.

Read More
Museum Building Is Booming in the United States


Smithsonian Magazine, April 11th, 2016

USA — How well are U.S. museums doing? You might think the picture is a dire one—after all, preservationists and local institutions must constantly fight for dollars to keep their doors open. But when you take a step back and look at the architectural plans, cranes and construction equipment that surround facilities like the Los Angeles County Museum of Art, the picture changes. As Amy X. Wang reports for Quartz, museums in the United States spent around $5 billion in a seven-year period and are growing rapidly. Wang analyzes numbers recently released by the Art Newspaper, which looked at building projects at 85 worldwide museums that were completed between 2007 and 2014. The publication converted construction budgets into U.S. dollars, adjusted for inflation and compared investments by institution. The study found that museums based in the United States spent or pledged $4.95 billion to expand their facilities over the seven-year period—outspending the combined investment of museums from the other countries.

Read More
I Visited the World's Museums on Twitter. It Was Good: Mallick


Toronto Star, April 6, 2016

INTERNATIONAL — The quarrelsome online world always sounds like teeth on a blackboard. Scrape. Rasp. Grind. So I turn instead to the world of objects, and only partly because they're silent. And then those worlds meet. Last week Twitter held its third yearly #MuseumWeek with museums worldwide tweeting photos and information on everything from cultural heritage to architecture to singular details. I was entranced. About 3,000 museums and galleries in 75 countries sent out blasts of beauty non-stop. Some museums were a little lazy, others were enthused, others so packed to the rafters with art from the ages that you could see them saying "Oooh, this is nice, try that one," and tossing The Winged Victory of Samothrace our way in a kind of seasonal re-gifting.

Read More
Architecture
MVRDV shines in Denmark


World Architecture News, April 29th, 2016

DENMARK — Crown Prince Frederik of Denmark has opened Ragnarock, MVRDV and COBE's new rock music museum in Roskilde, Denmark. The museum, with its striking gold studded façade and daring cantilevered auditorium, has opened its doors to offer visitors a fully immersive rock experience. The 3.100 sq m Ragnarock acts as the gateway, and flagship building, for a larger 11.000 sq m regeneration of the existing cement factories which will later be transformed into a district of rock music. Ragnarock, MVRDV and COBE's museum of pop, rock and youth culture in Roskilde, Denmark, stands as an architectural embodiment of rock music which hopes to inspire a new generation of musicians, artists and creative professionals. The 3.100 sq m building, complete with colossal cantilever, houses the main museum experience which also includes an auditorium, administrative facilities and a bar. The golden studded building stands as the front-man in a larger 11.000 sq m masterplan, ROCKmagneten, which looks to transform the existing cement factories on the site into a district for rock music and youth culture whilst adding three new buildings, the completed Ragnarock, a new Danish højskole and the headquarters for the Roskilde Rock Festival.

Read More
A Debate Is Raging In The Museum World—And Design Is At The Center


Co. Design, April 27th, 2016

INTERNATIONAL — A few weeks ago, architects and art fans issued a bit of a collective freakout over a report that the Museum of Modern Art would be permanently "abolishing" its legendary architecture and design galleries. This week the museum responded, publishing a letter explaining that's "absolutely not true." "I think the reaction in the press was less directed against our curatorial experiment than an expression of the fear that MoMA was no longer going to have its architecture and design collection on show in dense and medium-designated spaces," Martino Stierli, the Philip Johnson chief curator of architecture and design, told Co.Design. "This fear is unnecessary." Anxious architecture fans aside, the news that the galleries are being redesigned, to reopen next year to become exhibition space for special shows, is part of a shift taking place in many museums as they move away from strict categorization by medium (e.g., "architecture" and "painting") and toward multidisciplinary, contextual curation. The way the public consumes art—and increasingly, design—is changing.

Read More
Ridiculed Restoration of Spanish Castle Wins Architecture Prize


Guardian, April 13th, 2016

CADIZ, SPAIN — A widely criticised restoration of an ancient Spanish castle has won a prestigious international architecture prize. The five-year refurbishment of Matrera castle, a 1,000-year-old fortress near Cádiz, was the focus of a bitter clash between traditionalists and modernists. Its dilapidated structure was shored up and returned to its original dimensions in a project many saw as a botched attempt to impose a modernist white cube on the original fabric. However, the project was shortlisted in the global Architizer A+ awards and on Tuesday it won the popular vote in the architecture and preservation category. Carlos Quevedo, the architect who oversaw the project, expressed his delight at the prize. He will travel to New York next month to collect the award. "We are very happy," he told the Guardian. "I am proud of the work we've done and we want to celebrate. It is very important for us because it a recognition for all the work we have done over five years." Quevedo said he respected the opinions of those who criticised the project, but suggested they were upset by change.

Read More
Museum of London Shortlist Includes BIG, Caruso St. John, and Lacaton & Vassal


Design Boom, April 4th, 2016

LONDON, UK — The Museum of London has announced the six architectural teams shortlisted to design its new museum in west smithfield. the institution, which has a £130-150 million ($185- 215 million USD) construction budget, aims to regenerate a historic part of the city through securing the future of a series of much-loved heritage buildings. the project will relaunch the museum, which has seen its audiences soar in recent years.

Read More
This Week the World Mourned the Loss of Zaha Hadid


Dezeen, April 2nd, 2016

INTERNATIONAL — Zaha Hadid suffered a fatal heart attack on Thursday while being treated for bronchitis at a Miami hospital. She was 65. In an exclusive interview with Dezeen, Dutch architect Rem Koolhaas hit out at the architecture media's "offensive" treatment of Hadid, who he said "was basically family" to him. British architect Norman Foster described Hadid as "an individual of great courage, conviction and tenacity" while Richard Rogers credited her with having an unequalled impact on architecture. Other architects to pay their respects included Frank Gehry, who described her as a "great architect and a great friend", and Amanda Levete, who told Dezeen that Hadid "was an extraordinary role model for women." Japanese architect Kengo Kuma, who was involved in a dispute with Hadid over the controversial Tokyo 2020 Olympic stadium, told Dezeen that her legacy would be hard to surpass. Architectural photographers Nick Hufton and Allan Crow also paid tribute to Hadid by compiling a selection of their favourite images of her buildings.

Read More
Technology
Holocaust Museum, New 3-D Technology Bring Survivor Stories to Life


Chicago Tribune, April 27, 2016

ILLINOIS, USA — It is a question that haunts Holocaust survivors and their heirs more intensely each day: What will happen when the survivors are no longer here to tell their stories? Books, articles and documentary films, of course, will convey what happened. But nothing quite matches the urgency of seeing and hearing a survivor standing before you, looking you in the eye, answering your questions, describing how she escaped death, how her relatives and friends did not, how she wants the world to know. Today, more than 70 years after the end of World War II, only the youngest of the survivors still are here to educate the rest of us, and they're mostly in their 80s or older. Who will take their place when they are gone? No one really can, of course, but the Illinois Holocaust Museum & Education Center, in Skokie, is the first in the world to embrace an emerging, interactive technology that's about as close as you can get to speaking with a survivor who's not really there. When it's fully operational, in the fall of 2017, the Survivor Stories Theater will enable visitors to ask questions, pose follow-ups and otherwise engage with a three-dimensional, hologram-like image of a Holocaust survivor. Even in its current, two-dimensional form — which is on view at the museum — the Interactive Survivor Experience feels viscerally real.

Read More
Why the ROM's Chief Information Officer is Pushing for a Digital Museum


Toronto Star, April 25th, 2016

TORONTO, ON, CANADA — Mark Keating is the ROM's first-ever chief information officer, and the person responsible for bringing the museum in line with the open-content ethos that has taken hold of the global museum scene. It won't happen immediately — five years is the goal — but once it's done, it will be a very different museum, whether seen from outside, or in.

Read More
What's the Value of Recreating the Palmyra Arch with Digital Technology?


Hyperallergic, April 19th, 2016

LONDON, UK — Seven months after ISIS destroyed Palmyra's 1,800-year-old Arch of Triumph, the structure has risen once more — this time 2,800 miles away from the ancient city, in London's bustling Trafalgar Square. But rather than stretching nearly 50-feet skywards and hand-carved from limestone, this one stands just 20 feet tall and is made of Egyptian marble, sculpted in 30 days by robotic arms at a workshop in the famous quarries of Carrara, Italy. London, though, its host for only three days, is far from this replica's final destination: the arch will travel to Dubai then to New York City in September before likely finding a permanent home in Palmyra — not directly on, but near, the site of the original gateway.

Read More
U.S. Millennials Prefer Instagram to Museums; Purchase & Discover Art Online


Art Daily, April 14th, 2016

USA — With U.S. consumers spending more than $150B on arts and entertainment in recent years, new data released today by Invaluable -- the world's leading online marketplace for fine art, antiques and collectibles -- examines how consumer attitudes and preferences toward art will impact behavior for future generations. The "American Attitudes Toward Art" survey, fielded to nearly 5,000 U.S. adults in March 2016, found that age is a major factor in how U.S. consumers discover and purchase art, especially when it comes to capturing the next generation of art buyers. With Millennials spending more than 30 hours a month on social media sites, survey findings show social media channels, such as Instagram and Pinterest, are the preferred art discovery tool among Millennials. Nearly half (44.3%) of young Millennials age 18-24 and 33.8% of older Millennials age 25-34 indicate they discover new art through social media channels, compared to the largest percentage of Baby Boomers age 65+ (29.5%) who prefer a more traditional discovery path by finding new art through museums. When it comes to how the next generation will purchase art, more than half of Millennial respondents (56.9% ages 18-24 and 51.6% ages 25-34) said they would purchase art online, compared to only 19 percent of Baby Boomers (age 65+). In fact, roughly one in four Millennials age 18 to 24 prefer to purchase art through an online marketplace or website.

Read More
The Museum of the Future Links Us to the Past


Motherboard, April 11th, 2016

DURHMAN, UK — The Durham Light Infantry Museum, one of the UK's many museums of war history, is struggling to stay afloat. Paramount to its survival is finding a way to engage a new generation of visitors who were raised on interactive computer technology, as well as giving previous guests a reason to return. Peter O'Hanlon, a software designer andIntel® Innovator, is tasked with doing just that. Since last November, he's been working on a project that leverages emerging tech, like 3D cameras and perceptual computing to create a more tactile and interactive experience. If successful, his innovations could save the DLI Museum. They could even find their way into other likeminded institutions across the UK, and perhaps the world, radically changing how we engage with our past.

Read More
Too Rembrandt to Fail: Dutch Bank 3D Prints "New" Old Master


Hyperallergic, April 6th, 2016

AMSTERDAM, THE NETHERLANDS — You may be quick to identify a portrait unveiled this week in Amsterdam as a never-before-seen painting by Rembrandt. With a calm gaze, mouth slightly parted, and wearing a frilled collar with a wide-brimmed hat, the man resembles the sitters the Dutch painter so frequently depicted. Rather than dabs of paint, however, this portrait consists of pixels — 148 million of them, to be exact, all created by machines and captured in a 3D-printed painting.

Read More
Art & Culture
Honoring Nepal's Cultural Heritage One Year After Its Catastrophic Quake


Hyperallergic, April 28th, 2016

NEPAL — To coincide with the one-year anniversary of the April 25, 2015, earthquake in Nepal, the Rubin Museum of Art is launching a series of commemorative projects, including an online exhibition that celebrates the unique culture of the region. Called Honoring Nepal: People, Places, Art, it's a collaboration with institutions around the world to showcase images from and interactive material about the country's heritage. Honoring Nepal continues the Rubin's initiative of the same name, which was started last May following the earthquake. The project has included an installation on the museum's first floor, displaying objects like an 11th-century sandstone Ganesha and 17th-century wood carving from the Kathmandu Valley, as well as labels throughout the institution that marked associated objects with #HonorNepal. On May 6, the museum will open Nepalese Seasons: Rain and Ritual, which will use objects from the collection to connect sacred art to the importance of the monsoon season.

Read More
Off the Beat and Into a Museum: Art Helps Police Officers Learn to Look


New York Times, April 26th, 2016

NEW YORK, USA — To teach people how to notice details they might otherwise miss, Amy E. Herman, an expert in visual perception, likes to take them to museums and get them to look at the art. Recently she escorted a group of New York City police officers to the Metropolitan Museum of Art and asked them to describe some of the things they saw. They did their best. "This seems to be a painting of some males with horses," one officer said of Rosa Bonheur's mid-19th-century work "The Horse Fair," a scene of semi-chaos as horses are driven to market. He tried to abide by Ms. Herman's admonishment to avoid words like "obviously." "It appears to be daytime, and the horses appear to be traveling from left to right." Another pair of officers tackled Picasso's 1905 "At the Lapin Agile," which depicts a wilted-looking couple sitting at a French bar after what might have been a long night out. "They appear to have had an altercation," one observed. The other said, "The male and female look like they're together, but the male looks like he'll be sleeping on the couch."

Read More
Canada Council Unveils Strategic Plan, Focusing on Indigenous Art Creation and Digital Technology


Globe and Mail, April 26, 2016

CANADA — The Canada Council for the Arts plans to create a separate granting stream for indigenous arts and artists and to use its programs and influence "to engender a new relationship between Canada's indigenous and non-indigenous peoples." Reconciliation through the arts is one of four main priorities in the council's new five-year plan, which was released on Tuesday. The other three are about helping Canadian artists thrive in a digital environment, raising their profile internationally and giving them more money. The last goal should be easy to achieve, given the federal government's pledge in its recent budget to double council funding over five years. The council has already devoted $33.4-million of its extra $40-million for this year to artistic projects related to Canada's 150th birthday.

Read More
Brussels Stakes Its Claim as European Hotspot for Contemporary Art


Art Newspaper, April 22nd, 2016

BRUSSELS, BELGIUM — Brussels established itself as a hotspot for contemporary art to rival Berlin or Paris this week, with the opening of four fairs including newcomer Independent Brussels, which launched to VIPs on 20 April (until 23 April). Together with those at Art Brussels, Poppositions and the Young International Art Fair, 257 galleries are exhibiting in the Belgian city this week. Dealers and collectors were full of praise for the light and airy architecture of Independent Brussels, which is housed in the six-storey 1930s Vanderborght building in the city's historic centre. Galleries are organised around a central atrium, which means visitors have to walk through booths to navigate the fair. Micheline Szwajcer, who opened her first gallery in Antwerp in 1980, described the space as "a work of art". "It's like the Guggenheim or Ikea—you are led around and forced to discover things," says Louis-Philippe Van Eeckhoutte, the director of Brussels-based Office Baroque, one of 72 galleries invited to take part.

Read More
Canada Science and Technology Museum Launches Mural Contest to Adorn Construction Site


CBC, April 20th, 2016

OTTAWA, ON, CANADA — The Canada Science and Technology Museum is looking to young people for help decorating its construction site on St. Laurent Boulevard while the building undergoes a major renovation. The museum has launched a mural contest to "celebrate the role of creativity and the arts in science," according to a news release. "The mural contest is an invitation to Canadian youth to play an active role in the renewal of the museum," said Alex Benay, president and CEO of the Canada Science and Technology Museums Corporation, in the news release. "It is also an example of commitment to inspire creative thinking and cultivate its growth among youth in our community and beyond."

Read More
Creative Cities
Cultural Headquarters for the Future


Centre for London, April 27th, 2016

LONDON, UK — Rapid urbanisation and globalisation have a tendency to reduce cities to a samey blur; and given the fierce competition for inward investment, tourists and knowledge workers, political and civic leaders are always looking for ways to refine and assert their own cities' identities. Where those have a strong cultural base – London, Paris, New York, Montreal – leaders flaunt that base and burnish it. But citizens' expectations of their cultural districts – of buildings, of what goes on in them and of the spaces in between them – is changing. The elements that create pulling power, buzz, and a significant contribution to a city's identity are not what they once were, and require a new kind of design and planning. London's cumulative cultural offer today is stunning, from the high arts, sheathed in iconic architecture, old and new, to rich, animated street life. Some of London's cultural clusters are historic, like South Kensington's Albertopolis, or the West End's theatre district; others 'naturally occurring', like Hoxton and Shoreditch. And now we are witnessing a new generation of strategically-conceived cultural areas, with Bankside to South Bank the pioneering example, and others in the pipeline, like Stratford's Olympicopolis – the cultural precinct planned for the south end of the Queen Elizabeth Olympic Park that will include extensions to the Victoria & Albert Museum and Sadler's Wells and new campuses for the University of the Arts and University College London.

Read More
Montréal's Tourism Industry Gets a $1.1 Billion Boost from Culture


Canadian News Wire, April 26th, 2016

MONTREAL, QC, CANADA — A study carried out for Tourisme Montréal1 confirms that culture is one of the main pillars supporting Montréal's tourism industry and a key component of the city's identity as an international-calibre cultural destination. Some 2.3 million culture-seekers visit the city every year, accounting for 26% of all tourists who come to Montréal. Culture is essential to tourism; it represents 6% of Greater Montréal's GDP for a total of nearly 131,000 direct and indirect jobs and annual economic spinoffs of $10.7 billion. "Culture is already at the heart of Montréal's identity, personality and history. It is a key driver of the city's development, economic vitality and future prosperity. That's why we strive to maintain and stimulate synergies between the tourism and culture sectors. The idea is to promote the creation of innovative and appealing projects that will take our tourism product to the next level," said Yves Lalumière, President and CEO of Tourisme Montréal.

Read More
How Booming Cities Made Urban Planning Canada's Hottest Job


Canadian Business, April 21st, 2016

CANADA — In August 2014, construction crews in Waterloo, Ont., began building the so-called Ion light rail transit line, an $818-million megaproject that will connect a disparate region known for its tech sector, insurance companies and Mennonite farms. When finished, the piece of infrastructure will reshape the city in a way that hasn't happened since a little local firm called Research in Motion unveiled the BlackBerry. As its engineers supervised the physical work of laying the line, the region also hired a five-person planning team from Toronto consultancy Urban Strategies to begin the process of reimagining the main street along which the LRT will operate. The goal, says Habon Ali, a 29-year-old associate with the firm and part of the five-person team, was to create a community-building strategy for Waterloo to capitalize on the transit corridor by leveraging the giant investment to attract new retail, high-density development and other amenities. Ali, who graduated from the University of Toronto's planning school in 2012, was involved in the public engagement aspect of the project—organizing open houses, finding straightforward ways to communicate complex planning jargon and soliciting input. "It was a cool transit project to be involved with because it was about getting the public involved," she says. Ali belongs to a new generation of urban planners taping into the rising demand for the services of a profession whose fortunes are tied to surging property development markets as well as the growth in city-building activity across Canada. In many big cities, municipal land-use planning departments and other local agencies are hiring planners to help manage growth linked to population increases, burgeoning private investment and new infrastructure.

Read More
Comparing the Creative Economies of Canada, the U.K., and the U.S.


City Lab, April 20th, 2016

INTERNATIONAL — The creative economy—which spans arts, culture, media, design, technology, education, health care, and law—is a key economic engine of advanced nations and cities. We already know a good deal about how creative industries stack up within countries. But, until now, a lack of similar data for different countries has made it difficult, if not impossible, to accurately compare the creative economy across nations by industry and city. Now, a new report from the U.K.-based think tank NESTA takes a detailed look at the creative industries and cities of three of the world's most advanced economies: the U.S., the U.K., and Canada. The report, by Max Nathan, Tom Kemeny, Andy Pratt, and my Martin Prosperity Institute colleague Greg Spencer, takes on this challenge by comparing the size, growth, and geography of creative employment. The report standardizes its results by comparing U.K. definitions to data for the U.S. and Canada using a common set of industry and occupational codes. The scope of how these researchers define the U.S. creative economy—which includes nine industries that employ 14 million workers, or less than ten percent of the workforce—is narrower than my own, which spans arts and culture, science and technology, and traditional knowledge and professional work and adds up to more than 40 million workers, or a third of the labor force.

Read More
London's Innovation Districts: What They Are, And Why They're Vital


Londonist, April 15th, 2016

LONDON, UK — London is currently seeing the rapid growth of an important new urban phenomenon. Innovation districts — areas which provide the conditions for organisations from different sectors to exchange knowledge, work together and innovate — are springing up across the city, connecting established industries with emerging ones, and helping embed organisations more deeply in their communities. Nowhere is this more apparent than in the Knowledge Quarter: a partnership of 66 knowledge-based institutions in the mile-wide neighbourhood around King's Cross, Bloomsbury and Euston. Collectively our partners represent over 500 research centres, 3,000 scientists, 12,000 academics, 50,000 staff and 77,000 students. Within a mile there are 21 museums and galleries, and 27 libraries and archives. It represents perhaps the greatest concentration of knowledge organisations anywhere in the world — and a unique opportunity for everyone involved.

Read More
After the Fall of 5Pointz, a New Project Covers a Queens Building in Murals


Hyperallergic, April 12th, 2016

QUEENS, NY, USA — On a three-block stretch of 21st Street in Long Island City, New York City's economic and artistic evolution plays out in miniature. Yellow cabs line up outside a medallion company, nestled among light manufacturing businesses, but turn your head and there's the green gleam of CitiCorp headquarters, looming near towers filled with one-bedrooms that cost $4,000 a month. Most of the buildings in the area are painted in greys and browns. Not 43-01. This warehouse building is dressed in scenes of deer, flowers, brains, and bubble letters reminiscent of a 1980s subway car. The murals are part of the Top to Bottom Project, created by artist James P. Quinn and producer Geoff Kuffner. The two have brought together 50 international artists — including Crash, Daze, Icy and Sot, and Magda Love — to cover the façade and roof of a 124,000-square-foot, block-spanning building. The project is impressive not only because of the diversity of artistic styles and techniques, but because it exists legally, on this scale, in this real estate climate, and in this neighborhood, where memories linger of the deeply loved (and mourned) 5Pointz.

Read More
Lord Cultural Resources values your privacy and does not sell or trade email addresses.
Please see our privacy policy for more information