| | |
| --- | --- |
| | SHARE ON |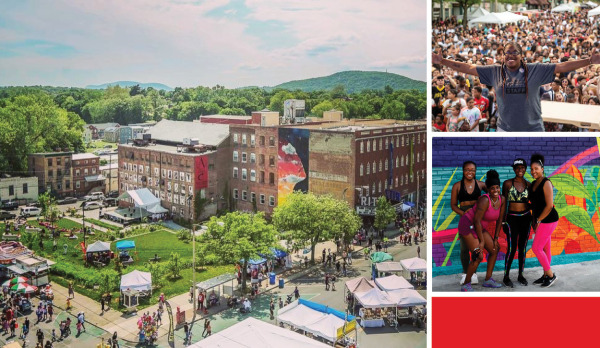 Newburgh Arts and Cultural Commission and the City of Newburgh
Featured Story:
Cultural Planning in the time of upheaval
This month's Cultural News features the Newburgh Arts and Cultural Commission and the City of Newburgh, which are undertaking the city's first comprehensive inventory and assessment of its diverse arts and culture ecology. An hour's drive north through New York's Hudson Valley, the Kingston Arts Commission has also launched a Master Arts and Cultural Plan to serve their city of 23,000.
In these, and many other cities around the world, cultural planning has been completely upended in the past year, with new willingness — and need — to reckon with systemic racism, pandemic effects, economic upheaval, and other potent disruptors. Who creates cultural experiences? Who participates in them? How do they promote inclusion, diversity, equity, and accessibility? Lord Cultural Resources is facilitating the Newburgh Cultural Plan and the Kingston Arts and Culture Master Plan, helping them navigate these uncharted waters.
Read More
Our clients & Lord
Responding: process, legalities and engagement. AAMC Foundation webinar featuring Gail Lord


Art Curators, August 2020

September 1, 1:00 PM ET

Responding to stakeholders is critical in working towards change and acknowledging responsibility. This webinar explores the processes, legal and human resource implications, social media strategies, and substantive ownership of correction, criticism, and negative feedback. This webinar demonstrates the power and strategic value in taking real responsibility for addressing issues in the workplace.

Read More
An Introduction to distance and e-learning for museums


Caribbean Museums , August 2020

September 9, 12:00 PM EDT

Education is at the heart of most museum missions and learners of all ages represent a core part of on-site attendance. But what if you're eager to learn and not able to make it to the museum? Whether to overcome challenges of affordability, geography, or pandemic closures, it's time for institutions to consider how digital advancements can help them to expand opportunities for learning and engagement beyond the museum. This webinar will introduce the spectrum of distance and e-learning opportunities and will highlight various digital initiatives that museums have put in place for inspiration, with examples from the Caribbean. Participants will have the chance to ask questions and share their own thoughts and ideas.

Sarah Hill of Lord Cultural Resources, will be leading the training segment with a 30-minute presentation.

Read More
"Soft Power": The Fuel Of Thriving Communities. Gail Lord will be speaking at the Creative Bureaucracy Festival 2020


Creative Bureaucracy, August 2020

September 28, 2020, 16:30

The Creative Bureaucracy Festival 2020 is just around the bend — a weeklong festival full of bureaucratic imagination. The programme is jam-packed with new ideas, fresh insights, and pride in what the public sector can accomplish. The goal is to create spaces for exchange, to show examples of bureaucracy at its best, and not least to help people have fun — not in spite of being bureaucrats but because of it.

Soft power is the ability to impact behaviour through influence, persuasion and agenda-setting. Countries tend to build walls while cities build bridges, especially in our current period of mass migration. Gail Lord, founder of Lord Cultural Resources and leader of the soft power movement, interviews two pioneering public servants who understand how soft power works and bring it to life.

Read More
A museum director asks: what if art museums can't measure up to the present moment?


Hyperallergic, August 26, 2020

As the world changes rapidly and irreversibly, art museum directors talk about adapting their institutions. But what if adaptation is not enough? The question might not be, "What do we say?" but "Are we relevant?" Three years ago, in an attempt to address this question in our community, staff and trustees of the Mississippi Museum of Art launched the Center for Art and Public Exchange, with a laser-like focus on issues of race and equity.

Lord Cultural Resources worked with the Mississippi Museum of Art to develop recommendations to help increase attendance and revenue, for both on-site and digital initiatives.

Read More
Lord alumna named a judge for the inaugural Blooloop 50 Museum Influencer list


Blooloop, August 24, 2020

With the cultural sector enormously impacted by the global pandemic, 2020 has been a challenging year for the museum community. However, it has also seen museum professionals respond with creativity, passion and innovation.

One of the judges for the Blooloop 50 Museum Influencer list is Ngaire Blankenberg, former Director for Lord Cultural Resources.

Read More
Creator of New Mexico Dept. of Cultural Affairs celebrates 100th birthday with online party


The Las Cruces Bulletin, August 20, 2020

In honor of J. Paul Taylor's 100th birthday on Aug. 23, the New Mexico Department of Cultural Affairs, in partnership with Friends of the Taylor Family Monument and New Mexico Historic Sites, presented a virtual celebration.

J.Paul Taylor served 18 years in the New Mexico legislature and was the chief sponsor in creating the New Mexico Department of Cultural Affairs. He is a Regent of the Museum of NM, a body that oversees the state's historic sites and Santa Fe museums. Taylor and his wife donated their historic home, properties, and massive art collection to the Department of Cultural Affairs. Mr. Taylor is regarded as a living treasure — the ultimate statesman, a stalwart advocate for the arts, and one of kindest individuals you will ever meet.

Lord Cultural Resources has worked on several strategic plans for the Museums of New Mexico and is currently engaged with the New Mexico Museum of Natural History & Science.

Read More
How artists are using plywood as a canvas for protest


Architectural Digest, August 18, 2020

As protest signs and street art proliferate in the growing movement for social justice, a new non-profit is helping artists and activists maintain ownership of their work.

The Plywood Project, whose founding partners include Lord Cultural Resources' own Eve Moros Ortega, commissions new works by artists from historically marginalized groups for New York's storefronts, and also create a living database of protest and street art in the wake of George Floyd's death.

Read More
Chinese Canadian Museum opens temporary exhibit in Vancouver's Chinatown


Global News, August 13, 2020

A temporary exhibit that aims to tell the story of Chinese Canadians in Vancouver opened to the public Saturday, Aug. 15. Called A Seat at the Table, it explores Chinese food and culture and is a preview of what the Chinese Canadian Museum hopes to accomplish. "That is to capture the long, long history of Chinese Canadians and their contributions to this province, their part in all the communities throughout B.C.," Grace Wong, chair of the Chinese Canadian Museum Society of British Columbia, told Global News. "We feel that Chinese-Canadian history in B.C. is B.C history. Early Chinese came at least by the 1800s. They were participating in farming, fishing, mining, laundry and restaurants and so much more."

Lord Cultural Resources is working with the Chinese Canadian Museum to develop a Feasibility Study and Business Plan for the new institution.

Read More
'Grand Egyptian Museum will be finished this year': behind the scenes of the giant $1bn project


The Art Newspaper, August 7, 2020

Take a tour of Egypt's vast antiquities museum—the future home of Tutankhamun's treasures—before its long-awaited opening in 2021. The Grand Egyptian Museum will finally be finished by the end of this year. So promises Major General Atef Moftah, who in 2016 was personally appointed by President Abdel Fattah Al-Sisi to lead one of the most prestigious—and delayed—museum building projects of the 21st century. The museum was originally scheduled to open in 2011.

Read More


Hot, cold, near and far: reminiscing on project travel to extreme spaces


Gail Lord LinkedIn page, August 6, 2020

At our most recent staff meeting, the conversation among our teams from Europe, Asia, and North America turned to memories (oh how we miss travelling!) about some of the most extreme projects from Lord consultant's nearly 40 years in the culture sector. Reade more our more memorable "extremes."

Read More
Art Gallery of Hamilton offering free admission in August


CHCH, August 3, 2020

Thanks to an anonymous donor, locals had an opportunity to experience the beautiful art up close at no charge. The Art Gallery of Hamilton says it received a "very generous" donation allowing them to give visitors free admission until the end of the month.

Lord Cultural Resources is working with the Art Gallery of Hamilton on a feasibility study and architectural plan to ensure they have a sound, shovel-ready expansion plan ready as soon as infrastructure funding is available.

Read More
Junction project beginning to take shape


The Sudbury Star, August 1, 2020

The City of Sudbury has spent more than $1.1 million on The Junction projects including library, art gallery, hotel, conference and convention centre, and a community auditorium and performance theatre. Their investment includes more than $650,000 on capital costs. Included in that is about $115,000 for Lord Cultural Resources, which devised a feasibility and business plan for the library and art gallery, as well as nearly $175,000 for Centreline Design for an integrated site design.

Lord Cultural Resources prepared strategic, facility and business plans for the Art Gallery of Sudbury in the past. Most recently we prepared the feasibility study and business plan for a co-location with the Public Library of Greater Sudbury. Read More
Soft Power
Susan B. Anthony Museum turns down presidential pardon


The Art Newspaper, August 21, 2020

What would Susan B. Anthony, the women's suffrage advocate, think of receiving an official pardon from US president Donald Trump for voting in the 1872 elections in violation of New York State laws at the time? "No thanks," according to the National Susan B. Anthony Museum & House, which declined the offer this week.

Read More
The Hotel as cultural diplomacy: more important than ever going forward


Skift, August 2, 2020

Cultural diplomacy is often found in museums and cultural initiatives. It is seldom found in hotels. The Royal Mansour in Marrakech was a statement of intent from the king to show the best of the country's craft and service. The result is impactful, especially in these times.

Read More
Museums
What should a museum look like in 2020?


Vanity Fair, August 24, 2020

Black life — our joys and our oppression — has been embedded into American history since the first ship of enslaved Africans arrived in 1619. Now we're seeing a seismic shift in how individuals, corporations, and institutions are reckoning with our nation's racism. On social media, companies use marketing dollars to value signal their "wokeness," a trend that has made its way into the cultural sphere. Museums share the #BlackLivesMatter hashtag alongside works by African American artists. In an ideal world, this show of solidarity would be powerful. But, as a former employee of Creative Time, the Studio Museum in Harlem, and the Metropolitan Museum of Art, I, like many art workers and visitors, have been underwhelmed.

Read More
The George Floyd protests spurred museums to promise change. Here's what they've actually done so far


Artnet , August 14, 2020

In the wake of George Floyd's murder and the subsequent protests, museums across the country began making pledges to initiate change within their walls. In emails and social media posts, institutions impugned racism and acknowledged their own complicity in systems that perpetuate it. They preached solidarity and inclusivity. They vowed to take a good hard look in the mirror, to reject silence, and to listen and learn. Below, we've collected various institutional pledges and checked to see what progress they've made so far.

Read More
Museums encourage the public to "collect the moment"


Pix11, August 10, 2020

NEW YORK — Museums and cultural institutions around the country are starting an initiative called "collect the moment." The idea is to encourage the public to preserve objects, photos, and videos that speak to this prominent time in our history.

Read More
What is a museum? A dispute erupts over a new definition


The New York Times, August 6, 2020

An international effort to update the definition of what museums are has been met with resignations and political intrigue.

Read More
Film captures efforts to 'redress historical wrongs' at Pitt Rivers Museum


Museums Association, August 3, 2020

For the past two years, the Pitt Rivers Museum in Oxford has been participating in a novel partnership with the Maasai community in Tanzania and Kenya that is intended to redress historical wrongs, foreground the knowledge of indigenous communities and enable the museum to address its colonial history.

Read More
Architecture
Will COVID-19 change museum architecture?


AAM, August 28, 2020

Here's a happy thought: COVID-19 will—at some point—recede, and like pandemics of the past it will be history, another story to tell. But after the disease is gone, will any of the effects linger, possibly even forever? People have speculated as much, forecasting positive and negative effects on our economy, our public policy, and our professional and social lives.

Read More
More than a building: Olympic House wins prestigious architecture awards


Csrwire, August 7, 2020

Olympic House, the IOC headquarters in Lausanne, Switzerland and one of the most sustainable buildings in the world, has won two prestigious Architizer A+ Awards, which recognise its innovative sustainability features and the iconic, five-ring Unity Staircase.

Read More
Reduce, reuse, and recycle applied to architecture


ArchDaily, August 4, 2020

As pollution has increased over the years, awareness has also grown regarding actions that can be taken to minimize damage to the planet. To promote waste reduction, architects are promoting sustainable consumption standards to protect natural resources and minimize waste.

Read More
Technology
A virtual museum preserves Black Lives Matter protest art


Hyperallergic, August 24, 2020

The memorial to George Floyd in Minneapolis is constantly changing. In the days following Floyd's murder by the police, street art, flowers, handwritten notes, and more appeared outside the now-infamous Cup Foods. Todd Lawrence, a professor at the University of St. Thomas, told me that since then, "It has become a living space," as new artistic additions have been incorporated. This state of flux characterizes much of Minneapolis's street art scene in the wake of recent protests. While some of the murals and installations will likely remain, many have already been removed. The ownership of the physical art is contentious; some residents desperately want it to stay in the community, while others have held auctions and indicated an interest in donating pieces to museums. As residents decide what to do, a University of St. Thomas research project provides a different option.

Read More
Museum of Military Medicine relocating to Cardiff Bay with innovative tech


Blooloop, August 12, 2020

The Museum of Military Medicine, which is currently located in Surrey, is relocating to Cardiff Bay with the UK's first 8K immersive, interactive video space, Deep Space.

Read More
Art & Culture
After controversial cancellation in Cleveland, Mass MoCA will exhibit Shaun Leonardo's images of Black victims


The Art Newspaper, August 24, 2020

Five months after the Museum of Contemporary Art Cleveland cancelled an exhibition of Shaun Leonardo's evocative drawings of Black victims of systemic injustice, two other museums have stepped up to host the show.

Read More
Here's how some cultural sites are using universal design for more accessible spaces


CBC, August 15, 2020

"Accessibility" can be a tricky word. Kathy Hawkins of Inclusion NL says it means something different to everyone, and depends on how individuals use a space. "To me, access — or accessibility — should mean that disable-identifying folks can enjoy a space with the same ease and effort as other people," she said. "Spaces or experiences that are actually accessible will not leave someone feeling frustrated or tired."

Read More
Doors Open Ontario offers digital tours of Black history destinations


Windsor Star, August 14, 2020

Growing demand to learn about Black culture has been a boon for historic sites that commemorate Canada's Black history and community, say officials with Ontario's Heritage Trust. "Across Canada and the world, people have really focused this year on the experiences of Black citizens — whether that's Canada or overseas — wanting to learn more, wanting to learn about the history," said Ontario Heritage Trust spokesman Dawson Bridger. But with COVID-19 putting a stop to the organization's annual cultural tourism program Doors Open Ontario, staff came up with a new online offering that allows visitors to explore sites wherever and whenever they choose.

Read More
Creative Cities
City of Sault Ste. Marie moves to revitalize downtown core with public art project


CTV News Northern Ontario, August 10, 2020

If you have art you would like to have displayed downtown, the City of Sault Ste. Marie wants to hear from you. Submissions are being accepted for a project along the Paul Mall Alley, where six pieces of art will be chosen and displayed for the public to see. "Arts and culture is one of the hardest-hit industries (throughout the pandemic), so we're looking to support our local artists by giving them opportunities to be recognized and known," said Todd Fleet, art and culture coordinator at City of Sault Ste. Marie.

Read More
Lord Cultural Resources values your privacy and does not sell or trade email addresses.
Please see our privacy policy for more information