| | |
| --- | --- |
| | SHARE ON |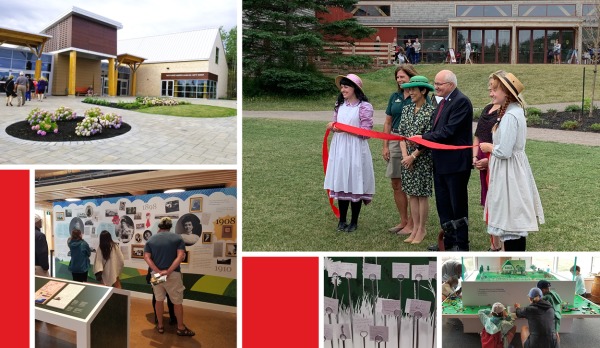 Featured Story:
New Green Gables Heritage Place Visitor Centre shines a light on L. M. Montgomery
The August issue of Cultural News features a new Parks Canada visitor centre, which officially opens this week at the Green Gables Heritage Place in Cavendish, P. E. I. The new centre opens up a world of stories about the woman who created one of Canada's most famous literary characters.
The visitor centre focuses on the life of author L. M. Montgomery, whose most famous novel, Anne of Green Gables, introduced the character of Anne Shirley to the world in 1908. Anne's bravery and charm, and her passion for friendship, imagination, community, and natural beauty endeared her to readers all over the world.
Read More
Our clients & Lord
Soft Power Destinations Awards 2020: Nominations Now Open


Lord.ca, August 28, 2019

The Soft Power Destinations Awards recognize soft power best practice in cultural destinations. Does your city, cultural organization, or cultural collaboration have a strong and positive influence in your community? We want to hear from you! You can nominate your own, or other exemplary organizations for consideration. Nominations close on September 15, 2019.

Read More
An Owosso fossil


Argus press, August 24, 2019

OWOSSO — Dr. Michael Cherney plans to give a presentation to the Owosso Rotary Club at 12:15 p.m. Wednesday on the discovery of the "Owosso Mastodon" and Michigan's Ice Age history. According to Cherney, some of the most recent and well-preserved mastodon fossils have been found in Michigan. He said the reason is because right before their extinction, Michigan had the perfect kind of climate for them to live in.

Read More


A high-level group in Ottawa is working to bring new life to a project cancelled by the former Conservative government


Gallerieswest, August 20, 2019

Within a few months of being appointed to the Senate in 2016, Patricia Bovey sent a letter to Prime Minister Justin Trudeau urging the resurrection of plans for a national portrait gallery. The letter from the former director of the Winnipeg Art Gallery and the Art Gallery of Greater Victoria was endorsed by some 85 per cent of senators in the Upper Chamber at the time. Trudeau mailed a reply. "He encouraged us to continue," Bovey, a Liberal-appointed independent senator for Manitoba, said in a recent interview.

While there have been several attempts to develop a portrait gallery for Canada in the past, a group of passionate and committed Canadians is now working together to make this longstanding dream a reality. In 2018 this group joined forces with the Royal Canadian Academy of the Arts and Lord Cultural Resources to develop a Concept Plan for the new gallery. Our work with the group is ongoing and the project is attracting increasing attention and interest as planning proceeds.

Read More
PNC donates $1M to National Museum of African American History and Culture


Washington Business Journal, August 19, 2019

The Smithsonian's Museum of African American History and Culture is getting a donation from another major U.S. bank. PNC Bank (NYSE: PNC) announced Monday a plan to donate $1 million to the Smithsonian museum over five years. The donation, which has been designated for operational costs, makes the Pittsburgh-based bank a member of NMAAHC's Corporate Leadership Council. Other members include Minneapolis-based U.S. Bank, which made a similar donation in July.

Read More


Canadian Museum for Human Rights launching immersive digital experience


Global News, August 19, 2019

The Canadian Museum for Human Rights (CMHR) is launching an innovative new way for visitors to explore its exhibits. Starting on Tuesday, a new augmented reality experience will give visitors to the museum's third-floor gallery an opportunity to see virtual people, objects, video, audio and historical images appear right in front of them – with the help of an iPad.

Read More


The Museum of Latin American Art (MOLAA) Honors Robert Graham and Sol Trujillo at Their Annual Gala


EIN News Desk, August 17, 2019

LONG BEACH, CALIF., UNITED STATES, August 16, 2019 /EINPresswire.com/ -- The Museum of Latin American Art (MOLAA) is pleased to announce their annual fundraiser gala, happening Friday, October 11th at the Museum. MOLAA is honored to present the LEGADO Lifetime Achievement Award to iconic Mexican-American Sculptor Robert Graham and the LEGADO Philanthropy Award to visionary business executive and philanthropist, Sol Trujillo, during a special evening of Latin American and Latino art and music.

Read More


For Kyoto, international meeting of museum directors and creators is an opportunity to learn


The Japan Times, August 17, 2019

From Sept. 1 to 7, Kyoto will host thousands of museum directors, curators and art historians from Japan and around the world for the general assembly meeting of the Paris-based International Council of Museums (ICOM).

Over the week, a range of culture, art, archaeology and museum-related workshops, seminars and special events will take place. Among other topics, participants will discuss how museums can handle historical themes such as decolonization, and there will be a session on Sept. 2 on how the voices of Imperial Japan's former colonial territories are presented at museums.

Read More


Western Canada: Royal BC Museum might be getting a makeover as CEO says there is a need to 'rewrite the story of British Columbia'


The Globe and Mail, August 17, 2019

Provincial museums are meant to tell a province's story to its people and to those who visit from elsewhere. But they are also cultural icons that need to reflect the evolution of thinking and learning in the places they serve, constantly giving new context to artifacts and displays that can be hundreds or thousands of years old.

Victoria's Royal BC Museum is in for such an update and its CEO wants to wipe the slate clean and start afresh in a new building. The provincial government, it appears, is listening.

Lord Cultural Resources is working with the Royal British Columbia Museum to help develop a business case for its modernization and is advising on the facility planning for it.

Read More
Master canoe builder to create birch bark canoe for Celebration of Nations


Erie Media, August 16, 2019

FirstOntario Performing Arts Centre welcomes Chuck Commanda from his community of Kitigan Zibi, Quebec for a two-week residency where he will build a traditional Algonquin-style birch bark canoe as part of the 3rd Annual Celebration of Nations.

Read More
Hardship, Perseverance, and Healing at Freedom's Fortress


National Parks, August 16, 2019

Terry E. Brown, the first African American superintendent to manage Fort Monroe National Monument, works in an office in Robert E. Lee's former home. A stone's throw away is the very place enslaved Africans first landed on the shores of English-occupied North America 400 years ago.

One might think his surroundings would prove to be a difficult workplace, but instead, Brown describes the drive to work as emotional, educational, and amazing. "When I drive across the bridge, I also wonder if my ancestors have arrived in this space. It just gives me goosebumps." Read More


June 1944: The Month that Changed the World


Gail Lord LinkedIn page, August 15, 2019

The National WWII Museum in New Orleans is opening a hotel on its own museum campus this fall, the Higgins Hotel & Conference Center, named for the entrepreneur who invented and produced the landing craft for D-Day. They are opening with an outstanding conference on June 1944; here is further information on this outstanding conference.

Lord Cultural Resources is very honoured to have worked with the NWWII Museum for many years on the master plan for the campus and more recently on their strategic plan to guide the museum between 2020 and 2030 including the master plan for education in the 21st century.

Read More


Cultural sites to get BTA focus


The Royal Gazette, August 10, 2019

The Bermuda Tourism Authority will launch a new initiative to draw visitors to cultural sites — and encourage the sites to stay open. Glenn Jones, the chief experience development officer at BTA, said the Discovery Days initiative will focus activities in St George's, Hamilton and Dockyard on different days, which will help volunteer-staffed museums and attractions be open at the right times.

Read More


The Middle East's top construction contracts of July 2019. Contracts for projects such as Saudi Aramco's Marjan and Berri oil fields and Jubail Island were awarded


Construction Week Online, August 07, 2019

Middle East's construction industry witnessed some of the biggest contract wins in July 2019, and contractors from across the globe — including US' McDermott; UAE's ASGC and China State Construction and Engineering Corporation Middle East (CSCEC ME); Italy's Saipem; South Korea's Hyundai Engineering and Construction (E&C); and India's Nuberg EPC — bagged work on the region's megaprojects at the beginning of H2 2019.

Ellisdon Construction won a contract to design, build, and operate the Canada Pavilion at Expo 2020 Dubai, and the Canadian Minister of International Trade Diversification, Hon Jim Carr, announced that Ellisdon would work with a consortium of companies on the project. The consortium's members included Moriyama & Teshima Architects, Lord Cultural Resources, Hatch, Kubik, Thornton Tomasetti, NGX, and Cisco.

Read More
High-powered group formed to push for national Gallery of Canadian Identity


Artsfile, July 26, 2019

A proposal for a new national portrait gallery is back on the table largely thanks to Ottawa lawyer Lawson Hunter, who was the driving force in realizing the decades-long dream of the new Ottawa Art Gallery. Hunter supported locating a portrait gallery in the former U.S. embassy at 100 Wellington St. even after Stephen Harper's Conservative government killed the project originally planned by Jean Chretien's Liberals. With the election of Justin Trudeau, a committee was formed to decide the fate of the vacant building.

While there have been several attempts to develop a portrait gallery for Canada in the past, a group of passionate and committed Canadians is now working together to make this longstanding dream a reality. In 2018 this group joined forces with the Royal Canadian Academy of the Arts and Lord Cultural Resources to develop a Concept Plan for the new gallery. Our work with the group is ongoing and the project is attracting increasing attention and interest as planning proceeds. Read More
The World's 100 Greatest Places of 2019


Time, August, 2019

Introducing TIME's 2019 list of the World's Greatest Places—featuring the best in restaurants, hotels, theme parks and more.

The Newseum among the top 100 locations to visit this year according to Time magazine's list.

Read More


Soft Power
The museums putting Baltimore back on the cultural map


Apollo Magazine, August 17, 2019

Christopher Bedford is hell-bent on putting Baltimore on the museum world stage. When he competed with 270 others for the job of Director of the Baltimore Museum of Art (BMA) in 2016, he asked the recruiting interviewer what the board was looking for: someone to make this the most dynamic and relevant civic museum for Baltimore and a role model for others, was the answer. 'I knew I'd found my home,' he recalls. He got the job.

Read More
New York City Told Its Museums to Diversify or Lose Funding. Here's How They Plan to Address the Problem


Artnet, August 06, 2019

When New York City Mayor Bill de Blasio laid out his CreateNYC cultural agenda, which launched two years ago and was updated last week, he explained that it would ask cultural institutions that occupy city property to "submit a diversity plan with measurable goals for how they're going to continue to make progress." Then, the ways in which they demonstrated their commitment to diversity, equity, and inclusion would influence future funding decisions made by the city's department of cultural affairs.

"It's important to ensure, if we're investing public money, that these organizations represent everyone and include everyone," de Blasio said at the time. Read More
How the American Museum of Natural History Uses New Programs to Teach Science (Podcast)


The Chronicle of Philanthropy, August 02, 2019

This week's Business of Giving podcast features Ellen Futter, president of the American Museum of Natural History. The New York City institution is celebrating its 150th anniversary this year. Visited by 5 million people annually, the museum is home to 34 million specimens and objects. The museum plans to open a $383 million Richard Gilder Center for Science, Education, and Innovation in 2021. It will include a great hall for insects and an Invisible Worlds Theater where "we're going to take you to the depths of the ocean floor, the outer reaches of the atmosphere, inside the human body and the brain, or into a jungle and a leaf."

Listen to the podcast, which is hosted by Denver Frederick, or read the transcript below.

Read More
In Chicago, Overlooked Achievements by L.G.B.T.Q. Artists


The New York Times, August 02, 2019

CHICAGO — Because photographs record a moment that has passed, they are by nature poignant. But a particularly bittersweet mood infuses an ambitious exhibition here of photographs, paintings and videos of L.G.B.T.Q. art. The show, titled "About Face: Stonewall, Revolt and New Queer Art," through Aug. 10 at the Wrightwood 659 art exhibition space, is the most unconventional of the Stonewall anniversary shows. It is made up of mini-retrospectives of artists who are, for the most part, underrecognized. Some were lost to AIDS in the '80s and '90s. A number of those spared by the virus have coped with alcohol and drug addiction.

Read More
8 Lessons from an Artist-Run Centre's Massive Expansion


Canadianart, August 01, 2019

SAW Gallery in Ottawa just opened a new space triple the size of its old one. Here's what made it possible, and what other organizations can learn from the process.

Read More
Museums
Royal BC Museum releases province's first Indigenous Repatriation Handbook


Martlet, August 19, 2019

The Royal BC Museum has items from Indigenous peoples across the province in its collection — but not all of these items were collected with the permission of those Indigenous peoples. Now, the museum is on a path to repatriation, or the process of returning something to its nation of origin.

Last month, the Royal BC Museum and the Haida Gwaii Museum at Kay Llnagaay published an Indigenous Repatriation Handbook. The 174-page handbook was released in response to feedback from the 2017 Repatriation symposium hosted by the Royal BC Museum and the First People's Cultural Council.

Lord Cultural Resources is working with the Royal British Columbia Museum to help develop a business case for its modernization and is advising on the facility planning for it.

Read More
A New Definition of "Museum" Sparks International Debate


Hyperallergic, August 19, 2019

For almost 50 years, the International Council of Museums (ICOM) has defined the museum as "a nonprofit institution" that "acquires, conserves, researches, communicates, and exhibits the tangible and intangible heritage of humanity and its environment for the purposes of education, study, and enjoyment."

But an updated version of the definition would incorporate mention of "human dignity and social justice," references which have split the consortium's 40,000 professionals representing 20,000 museums across ideological lines. And last week, 24 national branches of the council — including those of France, Italy, Spain, Germany, Canada, and Russia — requested a postponement of the revision's official vote in order to deliver a "new proposal." Read More
Across Europe, Museums Rethink What To Do With Their African Art Collections


National Public Radio, August 12, 2019

According to the most commonly cited figures from a 2007 UNESCO forum, 90% to 95% of sub-Saharan cultural artifacts are housed outside Africa. Many, like the works from Benin, were taken during the colonial period and ended up in museums across Europe and North America. Senegalese economist Felwine Sarr is one of the study's authors. "The problem is you can't lend people an object that fundamentally belongs to them," he says. The study recommended the return of a wide range of objects taken during the colonial period by force — or where there's simply no documentation of consent. The report got mixed reviews in France, where Sarr estimates there are at least 90,000 African items in museums.

Read More
This poster museum has literally the coolest exhibit around


New York Post, August 09, 2019

Now the Rodney Dangerfields of the art world are finally getting some respect. Some 7,000 posters salvaged from the last 200 years are now ensconced in the former TekServe building on West 23rd Street. It's a beautiful space, with exposed brick walls and cast-iron columns, a cafe and a gift shop, which, for $5, turns your Rosie the Riveter or Uncle Sam selfie into a post card.

Read More
Looking to Make a Life-Changing Art Pilgrimage? Here Are 12 Far-Flung Museums That Are Truly Worth Traveling For


Artnet News, August 07, 2019

Are you longing to activate your out-of-office autoreply, but tired of hitting the same cities over and over? For your next big trip, consider adding an extra leg to visit a destination museum. From a tiny Japanese art island to a sprawling cultural compound in the Brazilian countryside, art institutions are springing up around the globe in far-flung locales that you might not otherwise think to visit. But trust us, it's worth the trek.

If the dreaded drum roll to Labor Day has your wanderlust in overdrive, check out our list of 12 unique museums you should travel the world to visit. Read More
teamLab's Tokyo Museum Has Become the World's Most Popular Single-Artist Destination, Surpassing the Van Gogh Museum


Artnet News, August 07, 2019

The art collective teamLab's new, immersive museum in Tokyo attracted more visitors than the Van Gogh Museum in Amsterdam last year, and twice the combined number of visitors to the three Dalí museums in Spain. The box-office success of teamLab's museum in its inaugural year makes the venue the world's most visited single-artist museum, its organizers claim.

In its first year of operation, teamLab Borderless in Tokyo attracted 2.3 million visitors in total. A further 1.2 million visitors enjoyed the collective's temporary immersive light experience in Japan's capital.

Read More
An Art Museum in Your Hotel Lobby


The New York Times, August 01, 2019

Forget those predictable poster reprints. Some properties have begun to push the boundaries of what it means to be a hotel with great art. Art-centric hotels are popping up in many cities, including the ART in Denver and the upcoming Hall Arts Hotel in Dallas, hoping to attract a new breed of clients who want to be surrounded by sculptures, video installations, paintings and mixed media.

Read More
Architecture
Pelli Clarke Pelli Unveils the Design of Japan's Soon-to-Be Tallest Building


Architectural Digest, August 27, 2019

At nearly 1,083 feet tall, the skyscraper in Tokyo will be its nation's tallest after its 2023 completion.

Read More
An Iconic New York City Theater Just Completed A Major Renovation


Architectural Digest, August 26, 2019

Though a secret to many New Yorkers, El Teatro at El Museo del Barrio is a 1921 jewel recently polished by Katz Architecture.

Read More
Active House Symposium Makes North American Debut in Toronto


Canadian Architect, August 22, 2019

The 7th Active House Symposium is being held for the first time in North America in Toronto on September 16-17 at Evergreen Brick Works. Active House is an international building practice that is based on a balanced and holistic approach to building design and performance. Toronto won the bid to host this Symposium which was previously held at the Politecnico Di Milano in Lecco Italy, Bornholm Denmark, and other global cities.

Read More
Technology
Otherworld virtual reality arcade has immersion rooms with experiences and games


Blooloop, August 22, 2019

An immersive virtual reality arcade called Otherworld has opened in London. Located within a converted railway arch, the attraction houses immersion rooms with experiences and games. The entertainment space features 14 virtual reality (VR) immersion rooms, as well as a bar serving craft beers and a poke kitchen. Architecture studio Red Deer designed the space for Otherworld's owners the Dream Corporation. The neon interiors draw on the work of light artist James Turrell (via Dezeen).

Read More
Project: syntropy unveils Elbe Dome 2.0 virtual lab project


Blooloop, August 22, 2019

Project: syntropy, creator of technology and display solutions for dome cinemas and immersive attractions, has unveiled its latest project. Elbe Dome 2.0 is a mixed-reality laboratory with large-scale projection.

Read More
How WWF are using "Instagram donate" to engage younger donors


Medium, July 30, 2019

Instagram have launched their donation sticker in Europe and WWF-UK are one of the lucky 12 charities chosen as a launch partner!

What is Instagram donate? Instagram is introducing a donation sticker in Stories that allows people to raise money for a non-profit they care about directly on Instagram.

Read More
Creative Cities
City of Montreal Launches Urban Furniture Design Competition


Canadian Architect, August 27, 2019

The Ville de Montréal's Bureau du Design has allocated a $1.3 million budget for a multidisciplinary design competition to embellish the future Esplanade Clark with playful urban furniture."The design competition will allow us to select a playful moveable furniture project that will supplement the conventional furniture on Esplanade Clark. In particular, we want to set up a carousel and fountains to delight people of all ages. Their installation will give this new public space a festive allure, inviting people to relax, cool off and have fun, in the shadow of the large urban towers," says Magda Popeanu, Vice-President of the executive committee, responsible for culture and Montéal's diversity.

Read More
Six Creative City Bike Tours: In London, NYC, Berlin, LA, Barcelona And Boston


Forbes, August 22, 2019

The weather is about to cool off, so take to the cycle lane and explore some of the world's great cities on two wheels. With sightseeing from the saddle increasingly popular, The Leisure Pass Group offers visitors a growing range of guided tours and bike rental options in cities across the world.

Here's my choice of six of the best pedal-pumping tours

Read More
Lord Cultural Resources values your privacy and does not sell or trade email addresses.
Please see our privacy policy for more information