| | |
| --- | --- |
| | SHARE ON |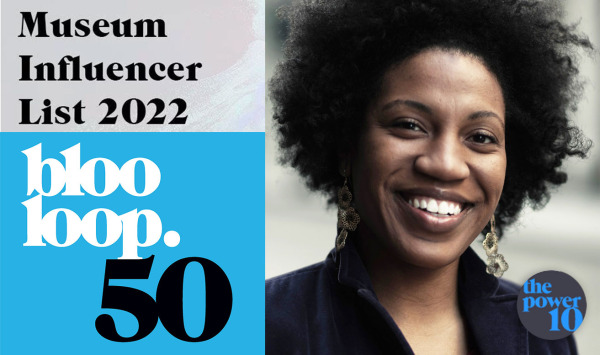 Featured Story:




The Power of Joy!

Blooloop has just released it's third annual 50 Museum Influencer List, highlighting 50 key individuals whose innovation and creativity have been integral to developing today's museums. Joy Bailey-Bryant, President of our US office, has been voted as one of the top Power of 10 in this list!

One nominator said: "Through her leadership Joy is an advocate for inclusivity, diversity, accessibility, equity and belonging," and "She surrounds herself with a great team and is an avid supporter of their growth, development, and well-being."

"Joy embodies our 'pro-people' values in every way. We are fortunate to have such a talented, visionary leader to drive our growth in the United States," said Gail Lord, President and Co-Founder of Lord Cultural Resources.

Congratulations for well-deserved recognition — we are thrilled! Read More
OUR CLIENTS & LORD
Creating Inclusive Exhibitions Webinar


Lord Cultural Resources, November 9, 2022

Lord Cultural Resources is pleased to announce the release of its latest publication, the Manual of Museum Exhibitions 3rd Edition. To celebrate with us, we are hosting a webinar on the latest trends in museum exhibitions. During the hour-long webinar, we talk with the book's editor, Maria Piacente, followed by a panel discussion with museum and cultural expert contributors.




Ontario Museums Association's Annual Conference


Lord Cultural Resources, November 7, 2022

Our Vice President Dov Goldstein will be speaking at the Ontario Museums Association's annual conference. Dov will be joined by Shelley Falconer, President and CEO of the Art Gallery of Hamilton to discuss the future of the AGH.

Read More
Re/Imagining The Future of Culturally Specific Museums


Lord Cultural Resources, November 1, 2022

Senior Consultant with Lord Cultural Resources Tiffany Lyons will speak about Truth, Healing, And Reconciling at the Council of American Jewish Museums Conference. In partnership with the Association of African American Museums, the national conference on—Re/Imagining: The Future of Culturally Specific Museums — is taking place in New York City this November 1-3, 2022.

Read More
Lord Cultural Resources Welcomes Holly Shen as Director


Lord Cultural Resources, October 25, 2022

We are excited to announce the appointment of Holly Shen as a new Director in the U.S. office of Lord Cultural Resources. Based in San José, California, Holly is a leading voice in creative placemaking and placekeeping, public art, and digital strategy.

Read More
L.S. Lowry's Hometown Museum Wins Its Fundraising Bid to Buy a Beloved $8.7 Million Painting


Artnet News, October 21, 2022

The mayor of Salford, England, stepped in last week to plead with wealthy donors to purchase the painting at auction so that it could stay in the artist's hometown museum, the Lowry, where it has been housed for since 2000.

Read More


NOTL Poppy Project Expanding


Niagara on the Lake Museum , October 20, 2022

In 2020, the Niagara Falls History Museum collected thousands of crochetted and knitted poppies from around the world. After developing their display, they donated some of their leftover poppies to continue the movement in Niagara-on-the-Lake. Through generous funding from the Government of Canada, we are expanding the NOTL Poppy Project and will include the Museum display, an expanded poppy garden with soldiers' names, a "poppy path" on King Street, poppy wreaths on some of the Queen Street shops and a display on the Court House.

Read More


A Fossil Museum Uses the Past to Reimagine Climate's Future


The New York Times, October 20, 2022

As the La Brea Tar Pits & Museum undergoes a major redesign, its leaders hope it can do more to engage the public and educate visitors about the realities of climate change.

Read More


Saskatoon Remai Modern admission to be 'by donation'


CTV News , October 20, 2022

Starting Saturday, admission to Remai Modern will be by donation on all open days following a financial gift from the Frank and Ellen Remai foundation.

The $10 million donation will allow the modern art museum to offer admission by donation for the next 20 years, according to Remai Modern. Read More


Sara Diamond Receives Order of Canada


OCAD University, October 20, 2022

We at Lord Cultural Resources are proud to offer our heartfelt congratulations to Dr. Sara Diamond, Thought Leader in Digital, Data, Higher Education and Public Art, on the investiture of her Order of Canada.

The Order of Canada is one of Canada's highest civilian honours. Created in 1967, the Order of Canada recognizes outstanding achievement, dedication to the community and service to the nation. Close to 7,000 people from all sectors of society have been invested into the Order.

Dr Diamond was one of only 83 new appointments announced in 2019 to receive this prestigious award, recognizing her immense contribution to Canada's art, culture, and digital industries. The award was presented on October 20, 2022 at Rideau Hall.

As a Thought Leader with Lord Cultural Resources Dr. Sara Diamond brings her expertise as a global strategist with decades of experience in digital media, design strategy, practice, and policy development. She has consulted with governments, industry, boards and institutions on digital media, inclusion, and equity. She brings all of this knowledge and experience to her work with us here at Lord, helping clients to adapt and thrive in a digital world. Read More
Fallen Statues - A Conversation About Public Space and History


U of T Cities, October 18, 2022

In a recent op-ed in "The Globe and Mail," Gail calls for removed works to be placed in an Aware-house (not a ware house, but an "aware-house") where the works would be removed from public space, where people do not have the choice of whether to interact with these works and their histories, and instead place them in an Awarehouse where the works can be contextualized and discussed by activists, curators, historians, political scientists, sociologists, as well as by and with the general public.




Museum of Latin American Art Celebrates 26 Years


Patch, October 16, 2022

The Museum of Latin American Art (MOLAA) celebrated 26 years of showcasing Latin American and Latinx art with a very successful gala that brought together more than 500 celebrants and supporters for a fun-filled extravaganza of fun, delicious food, great music, and art appreciation. MOLAA also honored Master Artist Fernando Botero, businessman and philanthropist George L. Plá, and Fundación Elías Pando with its LEGADO awards.

Read More


National Center for Civil and Human Rights planning $48 million expansion


The Atlanta Journal-Constitution, October 3, 2022

The National Center for Civil and Human Rights is planning to mark its 10th anniversary in 2024 with a major expansion, with the help of one of its original supporters.

Philanthropist and business mogul Arthur M. Blank has committed $15 million toward the center's $48 million capital campaign that will add two wings to the downtown museum.

Lord Cultural Resources is part of a coalition of internationally based firms that will design and build a two-wing expansion of The National Center for Civil and Human Rights. Lord will oversee exhibit content and narrative design. Read More
Reflecting on National Day of Truth and Reconciliation


Lord Website, September 30, 2022

With great respect and in reflection of National Day for Truth and Reconciliation here in Canada, Lord employees had a day to observe and explore what truth and reconciliation means to us as individuals. Across the nation, the day was marked in different ways.

Read More
'An important story': The Micmac Craftsmen Exhibit at Beaverbrook Art Gallery


The Aquinian, September 28, 2022

The Beaverbrook Art Gallery is showcasing an exhibit dedicated to the "Micmac Indian Craftsmen" (MIC) from the 1960s, called "Wabanaki Modern – the Artistic Legacy of the 1960s "Micmac Indian Craftsmen."

This exhibit, curated by John Leroux and Emma Hassencahl-Perley, has been at the gallery since Aug. 9 and will be available to visit until Feb. 26. Read More


Beaverbrook Art Gallery opens new pavilion addition


Canadian Architect, September 28, 2022

Designed by KPMB, the new Harrison McCain Pavilion entry is a multi-functional lobby for the existing Gallery.

Read More


IDEA
Musqueam, Squamish and Tsleil-Waututh Nations approve plan to implement UNDRIP in Vancouver


CBC News, October 19, 2022

Vancouver could become the first city in Canada to implement the United Nations Declaration on the Rights of Indigenous Peoples (UNDRIP) with a plan developed alongside the three First Nations on whose territory the city is located.

Read More
The American Alliance of Museums Will Require Members to Aim for Diversity, Equity, and Inclusion in Their Workforce


Artnet News, October 17, 2022

The alliance is announcing a new initiative to help draw up these standards, which will be devised with the assistance of a six-to-eight-person advisory group of museum professionals, over the next three years. The process will be supported by a $740,000 government grant from the Institute of Museum and Library Services.

Read More
MUSEUMS
A New Holocaust Museum Is Coming to Arizona


Hyperallergic, October 19, 2022

For more than two decades, artist Robert Sutz has been working in his Scottsdale, Arizona studio to create an expansive body of work focused on the Holocaust. Soon, his artworks will be part of a new Holocaust Museum those pieces helped to inspire.

Read More
Elgin Marbles: New body aims to return sculptures to Greece


BBC News, October 13, 2022

The Department for Digital, Culture, Media and Sport said: "The British Museum is prevented by law from removing objects from its collections, except in some narrow circumstances. The government has no plans to change this act."

Read More
Smithsonian, Two Other Museums Return Benin Bronzes to Nigeria


The Wall Street Journal, October 11, 2022

Three U.S. museums transferred ownership of more than two dozen works of art known as the Benin Bronzes to Nigeria Tuesday, part of an effort to return pieces they say were stolen over a century ago.

Read More
Virtual Spanish civil war museum aims to cut through political divide


The Guardian, October 10, 2022

The Virtual Museum of the Spanish Civil War, an online history centre that has been almost a decade in the making, may chronicle and examine a conflict that ended 83 years ago but its aims could not be more timely.

Read More
Museum Tour: Flat River Historical Museum in Greenville


Wood TV, October 9, 2022

Opened on Oct. 10, 1972, the Flat River Historical Museum at 213 N. Franklin St. near Montcalm Street, has spent the last five decades inviting guests to take a walk back in time.

Read More
A museum dedicated to homelessness will open in London next year


The Guardian, October 6, 2022

This winter, many British museums will welcome homeless people seeking a place to stay warm. But a new museum, called The Museum of Homelessness, will soon be putting the experiences of homeless people front and centre.

Read More
ART & CULTURE
Valour and Victory: Indigenous Veterans Day


Niagara Parks, November 5, 2022

Valour & Victory honours the contributions and sacrifices made by Six Nations and Native Allies during the Battle of Queenston Heights and the War of 1812 in support of their British and Canadian compatriots.

Read More
Mammoth sound sculptures, travelling shows and futurists: this is the McMichael?


The Peterborough Examiner, October 26, 2022

Led by a new team, the McMichael Art Collection expands beyond its reputation as a Group of Seven shrine and goes in search of a wider, more diverse Canada

Read More
Rendez-vous: the best of art and culture from across Europe


Euro News Culture, October 14, 2022

The Rosetta Stone is the star attraction of a new exhibition at the British Museum. It marks one of the most significant dates in Egyptology: 200 years since the French scholar, Jean-Francois Champollion, finally cracked its code and deciphered hieroglyphs.

Read More
Sound installation puts voice of artist Maggie Jencks back into the Postmodern house she helped create in London


The Art Newspaper, October 14, 2022

A new sound installation by the artist Marysia Lewandowska will accompany visitors' wanderings through The Cosmic House, the former home of Charles Jencks, the architectural historian and Postmodernist provocateur.

Read More
Putin's forces have looted nearly 40 museums in Ukraine, plundering thousands of 'priceless' treasures, says culture minister


Insider, October 9, 2022

Ukraine's precious cultural history has fallen victim to Putin's 227-day-long invasion of Ukraine, the culture minister has told AP. Oleksandr Tkachenko alleged that Russian soldiers had looted thousands of artifacts from almost 40 Ukrainian museums in an interview with AP.

Read More
Lincoln Center opens a renovated hall with a tribute to the neighborhood it displaced


Gothamist, October 6, 2022

The history of the lost neighborhood will come to life as Lincoln Center reopens the newly renovated David Geffen Hall with back-to-back performances of "San Juan Hill: A New York Story," a new work by Trinidad-born trumpeter and composer Etienne Charles. Lincoln Center commissioned the piece, and is presenting it jointly with the New York Philharmonic.

Read More
There's a path to truth and reconciliation — but it won't be an easy road to walk


Toronto Star, September 26, 2022

The relationship between Canada's Indigenous and non-Indigenous peoples need not be forever bound by the painful past.

Read More
ARCHITECTURE
Twenty-five years after it opened, artists still find it hard to love the Guggenheim Bilbao


The Art Newspaper, 17 October, 2022

When the Guggenheim Bilbao opened 25 years ago (18 October 1997), its architect Frank Gehry spoke of a "very strong mythology accepted by most architects: that a museum for art has to be [deferential] and neutral in order that it does not compete with the art". And debate began almost as soon as the museum opened about whether, in resisting that tendency, he was demonstrating its wisdom.

Read More
Lord Cultural Resources values your privacy and does not sell or trade email addresses.
Please see our privacy policy for more information