| | |
| --- | --- |
| | SHARE ON |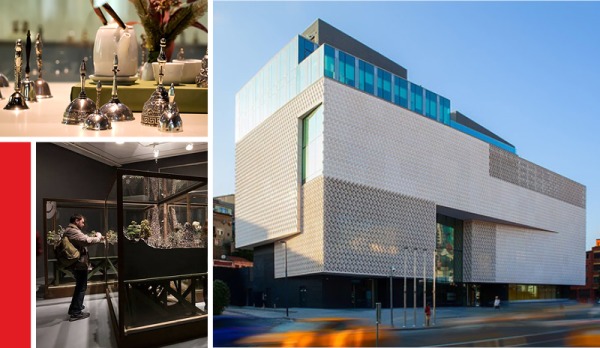 Source: Arter Facebook Page
Featured Story:
A Contemporary Art Museum in the Heart of Istanbul
The September issue of Cultural News features Turkey's first major contemporary art museum. Turkey opened the country's first-ever permanent home for contemporary art, Istanbul's Arter in September. About half of the 1,300 pieces in the collection are works from Turkish artists, with the rest coming from Europe, Asia, and elsewhere. The newly opened museum is free to the public.
Read more about our work with Arter.
Read More
Our clients & Lord
2019 International Conference on the American Revolution


amrevmuseum.org, September 30, 2019

The Museum of the American Revolution, the Pritzker Military Museum & Library, and the Richard C. von Hess Foundation are pleased to present the 2019 International Conference on the American Revolution. This event will bring noted historians, writers, and curators from Ireland, Scotland, England, and the United States together to explore military, political, social, and artistic themes from the Age of Revolutions.

Read More


Exploring Canada's Black history trail, where formerly enslaved and Black Loyalists once sought refuge


Road Trippers, September 25, 2019

"I grew up hearing about Africville as a child and, to be perfectly honest, I never got it as a kid. Because the story was of a location in ruin," says Juanita Peters, a filmmaker and the general manager of the Africville Museum, as we sit on a church pew in the museum's main room. "As I got older, I started wondering why people were still attached. Why did people want to come back to a place that had such a bad history?"

Read More


Vancouver Artist Stan Douglas Wins $100,000 Audain Prize


Canadian Art, September 24, 2019

Internationally renowned Vancouver artist Stan Douglas has won the 2019 Audain Prize. This award for distinguished B.C. artists was announced last night at a ceremony in Vancouver.

"It is a great honour to be included with this group of other B.C. artists like Rodney Graham and the late Fred Herzog who have won the Audain Prize," Douglas said in a release.This was also the first year that the Audain Prize was managed by the Audain Art Museum, located in Whistler. Up to this point, it had been managed by the Vancouver Art Gallery.

Read More


Hundreds of students 'die' on steps of CMHR as part of call for climate action


CBC, September 20, 2019

Hundreds of students crowded together on the steps of the Canadian Museum for Human Rights Friday afternoon as part of an unusual type of protest: a "die-in."

Chanting together — messages like, "1.5 to stay alive," a reference to the demand to limit global warming to 1.5 C. a limit set by the Intergovernmental Panel on Climate Change to avoid climate catastrophe — the students gathered on the steps and sidewalks outside the museum.

Read More


Nigerian Activist, Hafsat Abiola, Selected as Honoree for National Civil Rights Museum's Prestigious Freedom Award


Globe News Wire, September 20, 2019

Memphis, Sept. 20, 2019 (GLOBE NEWSWIRE) -- HAFSAT ABIOLA is one of three honorees selected for the National Civil Rights Museum's 28th Annual Freedom Award to held on October 30. Honorees are selected for their many achievements and contributions on a national and global scale in the name of equality, social justice and freedom for all. Other 2019 honorees include musician and social activist, John Legend and author and feminist organizer, Gloria Steinem.

Read More


In the Army's new museum, the soldiers look alive and the battle scenes are all too real


Washington Post, September 09, 2019

The $400 million steel-and-glass facility, about 20 miles south of Washington, will be the Army's flagship museum when it opens on June 4, on Liberty Drive off the Fairfax County Parkway.

It has already selected 1,300 "micro" artifacts and 19 "macro" artifacts — including a famous World War II Sherman tank from the Battle of the Bulge and a Bradley Fighting Vehicle from the wars in Iraq — for inclusion. The latter two are already in place.

Read More


$6M Beaverbrook Art Gallery expansion will 'dramatically' change downtown landscape


CBC News, September 06, 2019

The Beaverbrook Art Gallery is building a $6-million expansion that will push the gallery closer to Queen Street and give it a new entrance. The new wing is dedicated to the late Harrison McCain, the Florenceville-Bristol businessman and co-founder of McCain Foods.

James C. Irving, chair of the gallery's board of governors, announced the project Friday morning on the steps of the gallery, apparently in the spot where Lord Beaverbrook stood 60 years ago when the gallery opened.

Read More


Berry Gordy reinvests in Detroit, donates $4 million to Motown Museum expansion


Freep, September 04, 2019

Berry Gordy is donating $4 million to the Motown Museum's expansion campaign, officials announced Wednesday, Sept.4th.

The money will help fund a targeted $50 million, 50,000-square-foot complex at the Hitsville, U.S.A., site on West Grand Boulevard, home of Motown's original headquarters. Lord Culture Resources is currently working with City of Detroit on the community engagement and action planning. Read More
The launch of Museum Development in China: Understanding the Building Boom at #ICOMkyoto2019


Gail Lord LinkdIn Page, September 04, 2019

This book is the culmination of a decade long MOU between Lord Cultural Resources and the Chinese Museum Association under the leadership of Chairperson Guan Qiang.

This book is a unique collaboration between #museum experts from China and from the west. It provides insights into how the growth of museums in china serves to inspire and educate the public while preserving both tangible and intangible heritage. It explains how museum growth fits into a bigger pattern of urbanization and #softpower which are positive world-wide phenomena.

Read More
Feds to provide $110M for Contemporary Calgary and Arts Commons projects


Daily Hive, September 03, 2019

The federal government has announced its commitment of upwards of $110 million towards the cost of the Arts Commons and Contemporary Calgary art gallery projects. "The Government of Canada is pleased to support this important cultural project for the visual arts in the heart of Calgary," said Kent Hehr, MP for Calgary Centre, in a statement.

Lord Cultural Resources worked on the facility and business planning for the project. Read More


National Museum of Intelligence And Special Operations Recognized With American Architecture Award


MGAC, September, 2019

Each year, The Chicago Athenaeum Museum Of Architecture And Design announces its American Architecture Award Winners. Now in its 25th year, the American Architecture Awards are the nation's highest public awards given by a non-commercial, non-trade affiliated, public arts, culture, and educational institution. Its recipients span everything from skyscrapers to government facilities to housing projects and everything in between.

Read More


Soft Power
Dutch Museum Drops the Term 'Golden Age'


Museum Next, September 23, 2019

The Amsterdam Museum – which, until 2011, was known as the Amsterdams Historisch Museum – said that it will no longer use the term Golden Age to describe the 17th century. Referring to a time of general economic uplift in the country, the Golden Age coincides with the Netherlands' expansion around the world as a colonial power. As such, the decision to no longer use the term, which has positive connotations to many, was described by the museum's board as an attempt to be both polyphonic and inclusive.

Read More
At meeting in Kyoto, global body debates how to define and protect museums


Japan Times, September 09, 2019

OSAKA – What is a museum and how can its exhibits, which often include the world's most important cultural properties, be protected from natural disasters, including earthquakes?

Those questions formed the basis of much discussion at the Kyoto assembly of the International Council of Museums, or ICOM, last week. Over 4,000 museum directors, curators, archeologists, historians, anthropologists, art historians and others from around the globe gathered for the weeklong meeting.

Read More
Funding for culture to rise by 4.1% according to UK government's spending review


The Art News Paper, September 05, 2019

UK governmental funding for culture is to rise, following yesterday's spending review announcement by the Chancellor of the Exchequer, Sajid Javid. News of the one-year resource spending review, covering 2020-21, was overshadowed by the political crisis in Parliament over Prime Minister Boris Johnson's Brexit plans.

Although the Chancellor did not refer to culture in his House of Commons statement, the budget of the Department for Digital, Culture, Media and Sport (DCMS) will increase by 4.1% in real terms to £1.6bn, after inflation is taken into account. This follows several years with no rise, which with inflation meant a fall in real terms. Read More
Museums
Morden fossil museum launches Cree-language audio guide


CBC, September 25, 2019

The Canadian Fossil Discovery Centre has added a new language option to its audio guide for visitors wanting to learn more about the world's largest collection of marine reptile fossils: Cree.

The audio guide, which has existed for about three years, already had English and French options. When staff at the museum decided it was time for an addition, they wanted to go in a new direction.

"We understand and know that Indigenous languages are incredibly important to our country," said executive director Peter Cantelon. "Cree was something that came up as an opportunity for us to exercise our responsibility as a museum focused on heritage and education to do something as part of a First Nations [language] effort."

Read More
A Vast Bauhaus Museum Opens in the German City Where the Famous Art School Came of Age


Artnet, September 09, 2019

The Bauhaus arrived in Dessau with a bang. The world's most influential art school may have been born in Weimar, but it came of age when it moved in 1925 to what was then Germany's "silicon valley." A new Bauhaus museum in Dessau tells the story of how the socially-engaged school of architecture and design flourished briefly until growing pressure from the Nazis forced it to leave for Berlin.

Read More
The International Spy Museum Seen Through the Eyes of a Human Rights Expert


Hyperallergic, September 04, 2019

"This feels like a loss," said Andrea Prasow of Human Rights Watch while touring the museum, flagging several errors in how curators have presented the history of torture and interrogation.

Read More
Architecture
The Empire State Building: Renewing the Affair


The New York Times, September 19, 2019

A revamped tower wants your love. It's offering King Kong, flying steel girders — and a vertiginous ride to the 102nd floor. The city's first supertall building also offers grand views of the new New York.

How do you take the measure of a New York City more physically transformed than at any time since the 1920s? The new glass "downtowns" that have exploded in the last decade and a half in Long Island City and over in Jersey City. Hudson Yards' crystalline shafts to the far west. Residential towers marching in lock step along the Queens and Brooklyn edges of the East River. The skinny supertalls slicing into the view of Central Park.

Read More
15 Magnificent Structures Built From Stone


Architectural Digest, September 16, 2019

Stone is one of the world's oldest building materials, appreciated for its strength and durability. In ancient times it was chosen for its abundance: As a natural material, it was readily available and dependable. But there's a lot more to the material than one might expect, and there's a reason why architects continue to build with it, around it, and in it. The structures on this list demonstrate stone's ability to shape-shift; it can be used in its raw form or polished for a sleeker effect. It's no wonder that it's the chosen material for important monuments and buildings such as places of worship, castles, and palaces, as it will outlast almost any other material.

Read More
Kengo Kuma's stacked-timber Odunpazari Modern Museum opens in Turkey


Dezeen, September 08, 2019

The Odunpazari Modern Museum, designed by Kengo Kuma and Associates, has opened its doors in Eskisehir, northwest Turkey.

Built to house the modern art collection of architect and chairperson of Turkish contractor Polimeks, Erol Tabanca, the museum in the Odunpazari district of Eskisehir is formed of a cluster of boxes made from stacked, interlocking timber beams.

Read More
Guy Says African Architecture Isn't Showcased Compared To European And Asian, Posts 44 Of Its Gorgeous Examples


Boredpanda, September 02, 2019

Byzantine, Gothic, Baroque, Modernist… We are familiar with many different styles of 'Western' architecture because they are celebrated and rightly so. Ottoman-style mosques and the pagodas of East Asia are also instantly recognizable, as well as the temples of the pre-colonial civilizations that flourished in Central and South America.

Read More
Technology
Disruptive Technology Design Considerations


Blooloop, September 12, 2019

A disruptive technology, according to Harvard Business School professor Clayton M. Christensen who coined the term, is one that displaces an established technology, shaking up the industry, or a ground-breaking technology that creates a new industry.

Read More
Accessibility at the National Theatre: Epson's smart glasses deliver Open Access Smart Capture technology


Blooloop, September 09, 2019

Epson Europe is partnering with London's National Theatre to use its innovative Moverio BT-350 smart glasses. The move aims to increase accessibility.

Audience members can now view captions from any seat, during any performance, using smart caption glasses. The technology is available in all three National Theatre venues.

Read More
Sony Design is showcasing a futuristic installation about artificial intelligence and robotics, 'Affinity in Autonomy', at the V&A for the 2019 London Design Festival.


Blooloop, September 03, 2019

The exhibition explores how technology can enhance our lives and society, and envisions a world where intelligence and technology are more integrated into our daily lives. It will look at the evolving relationship between humans and technology, and Sony will present its thoughts on the future of artificial intelligence (AI) and robotics and its vision for life-enhancing bots.

Phillip Rose, Director of Sony Design Centre Europe, said the exhibition explores "the correlation between the human condition and the onset of forward-thinking technology". Read More
Art & Culture
Building Medicine Hat's massive Sammis Tepee was an engineering challenge to rival the Eiffel Tower


CBC, September 24, 2019

The stunning monument and the art within tells vital stories of Indigenous history. If there's one thing Albertans do even better than huge trucks and grain elevators, it's making massive monuments for little places. Follow Tamarra Canu on her summer Albertan road trip as she travels her province to find out what these big things meant to the small towns that call them home.

Read More
Booth Western Art Museum Sheds New Light On Andy Warhol With Exhibit 'Warhol And The West'


Forbes, September 24, 2019

Andy Warhol a cowboy artist?

He did love cowboy boots. The Andy Warhol Museum in his hometown of Pittsburgh, Pennsylvania has dozens of pairs worn by the artist in its collection. Warhol's Manhattan studio, "The Factory," was about as far from the Chisolm Trail as anyone could image and the rail-thin, effeminate Pop artist wearing the blonde wig would never pass for Wild Bill Hickok, still, Warhol had a deep interest in Western subjects and a surprisingly robust output of Western-themed art. It's a connection being explored for the first time in the exhibition, Warhol and the West, at the Booth Western Art Museum in Cartersville, Georgia.

Read More
Here Are 8 of the Most Incredible Archaeological Finds of the Past Decade, From 'Spanish Stonehenge' to the 'Mona Lisa of Dinosaurs'


Artnet, September 18, 2019

Archaeologists are improving our understanding of the ancient world at a pace that feels more rapid than ever. Technological advances are accelerating our discovery of prehistoric civilizations, extinct species, and other mysteries of bygone eras.

Last year alone saw the discovery of the world's oldest known shipwreck, dating to the time of ancient Greece, and what may be the world's oldest known figurative art, the 40,000-year-old cave paintings identified via a new method of flowstone dating. Read More
28 Art Shows Worth Traveling For


The New York Times, September 09, 2019

Book your tickets to Paris, Belgrade, São Paulo, Lagos and London: Our critic's Grand Tour this fall offers Leonardo, Brancusi, Kara Walker and Marina Abramovic, among the global highlights.

Read More
Creative Cities
UNESCO Creative Cities Promote Culture, Creativity to Reach SDG 11


sdg.iisd.org, September 12, 2019

STORY HIGHLIGHTS: Conclusions from the annual meeting of the UNESCO Creative Cities Network underscore the UCCN's mission to build on culture and creativity for sustainable development, in line with the 2030 Agenda.

The first publication of the UCCN LAB.2030 Initiative titled, 'Voices of the City: UNESCO Creative Cities Moving Towards the 2030 Agenda for Sustainable Development,' discusses the diverse ways in which the Creative Cities embrace culture in their local policies to achieve the 2030 Agenda.

Read More
The most Instagrammable hotels in the U.S.


National Geographic, September 11, 2019

In cities from New York to San Francisco, these boutique lodgings feature eye-popping designs that need #nofilter.

A NEW WAVE of design-centric boutique hotels is sweeping across the United States. From coast to coast, these properties aim to be homes away from home and they often pay tribute to their particular surroundings. Think residential-feeling interiors and stylized vignettes that feature local artwork, curated bookshelves, and scene-stealing pools. Read More
World's most livable city for 2019, according to the Economist Intelligence Unit


CNN Travel, September 04, 2019

Melbourne, Australia, is second on the list of the world's most livable cities, according to the Economist Intelligence Unit. Find out which grand old European capital edges it out on the top 10 list.

Read More
Lord Cultural Resources values your privacy and does not sell or trade email addresses.
Please see our privacy policy for more information