| | |
| --- | --- |
| | SHARE ON |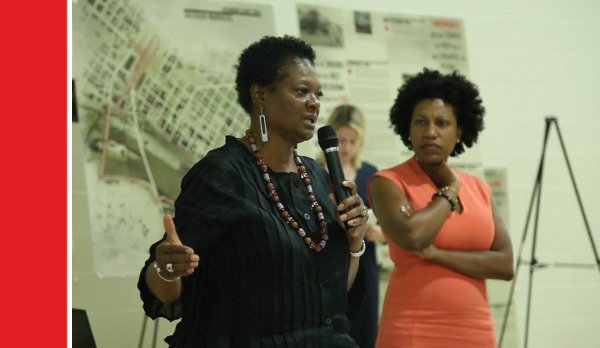 Joy Bailey-Bryant leads a community meeting for the Lumpkin's Jail Site
Featured Story:
Big IDEA — Lord offers strategic planning for Inclusion, Diversity, Equity, and Access
"More and more culture-sector leaders recognize that IDEA Planning is not just the 'right' thing to do, but that it also makes their institution more successful and resilient," says Lord Vice President Joy Bailey-Bryant. "Often, they are ready to make change, but are not sure how. We have proven tools, processes, and measures to manage IDEA Planning strategically, to make substantial change possible that all stakeholders can support."
Lord Cultural Resources offers planning to facilitate building Inclusion, Diversity, Equity, and Access strategically into your cultural organizations. Lord consultants and thought leaders can guide institutions through "IDEA Planning" either as a standalone initiative, or as part of a strategic plan, master plan exhibition, or expansion plan.
Read More
Our clients & Lord
Canadian Museum of History president on leave amid harassment investigation


The Globe and Mail , September 22, 2020

Mark O'Neill, the president of the Canadian Museum of History and the Canadian War Museum, is on leave as the institutions investigate allegations of workplace harassment. The board of trustees of the Crown corporation that oversees the two museums said it first received complaints this summer and hired an independent investigator, Michelle Flaherty, to review them. The board said it could not elaborate on the complaints because of privacy law.

"There is a breakdown of the old system," museum consultant Gail Lord said in an e-mail. "Workplaces are changing thanks to demands of #MeToo, Black Lives Matter and Indigeneity. Museum human resource policies and procedures have not kept pace with this new world, especially not providing training to board, staff and leadership. Staff is frustrated because their complaints are not acted on — so they turn to both social and mainstream media."

Read More
Government of Canada releases Survey of Heritage Institutions 2019 report


Government of Canada , September 21, 2020

Blurb: On September 21, 2020, the Department of Canadian Heritage released the 2019 Government of Canada Survey of Heritage Institutions, which contained attendance, financial and operating information for the 2017 data year on not-for-profit heritage institutions across the country, including museums, art galleries, archives, historic sites, zoos, and botanical gardens.

"This survey is invaluable to the culture sector, providing deep, granular data, that has been gathered consistently for years," says Lord's Senior Consultant on Digital Strategy, Sarah Hill. "It puts us in a position where we can see emerging trends, and do a 'health check' on the sector. It also allows cultural institutions to establish evidence-based benchmarks and measures of success to inform their planning for the future."

Read More
Counting our assets


Times Hudson Valley , September 23, 2020

The Newburgh Arts and Cultural Study, guided by a group of community-based advisors, is working on gathering data for a comprehensive inventory and assessment of the diverse arts and culture ecology in Newburgh for the first time in the City's history.

Around 22 residents participated in the recent workshop held on Tuesday, September 15. Project consultants Joy Bailey-Bryant and Eve Moros Ortega of Lord Cultural Resources led the meeting.

"The Newburgh Art and Cultural Study will be an invaluable tool for Newburgh to better understand its arts and cultural assets, in order to best ensure an optimal future for Newburgh's creative community and the public at large," said Bailey-Bryant.

The workshop discussed the benefits of art and culture, particularly in a post-COVID world. Data from Lord Cultural Resources shows that arts and culture impacts a variety of sectors like mental and physical health, social cohesion, environment and the economy. Read More
Capital Jewish Museum gets groundbreaking ceremony


The DC Post, September 18, 2020

Members of the Jewish community and the DC Council attended a symbolic groundbreaking ceremony for the Capital Jewish Museum on Monday, September 14. The museum had been waiting for construction work to begin in a permanent future location, which is now 3rd and F Streets, Northwest, for over 10 years. The new place, which is planned to house a synagogue, will open in the spring of 2022.

Read More


So, you want to be an ally against systemic anti-Black racism?


The Star, September 17, 2020

I am a Black woman who came of age in east Scarborough in the 1980s. Now middle-aged, I have been successful enough in my professional life to have had glimpses into the power structures that shape Toronto.

Toronto is a diverse city by all accounts — visible minorities make up the majority (51.5 per cent) of our population according to a 2016 census — yet the wealthiest people in our city have to make a concerted effort to even see this diversity in their day-to-day lives.

Karen Cater is an Associate Consultant at Lord Cultural Resources with over 20 years of experience working and volunteering in various arts, cultural, and heritage settings in Toronto. Karen is a cultural sector leader who specializes in creative and educational environments.

Read More
Chinese Canadian Museum launches exhibit in Vancouver Chinatown


BC Local News, September 16, 2020

The Chinese Canadian Museum has opened a temporary exhibit, which will run through 2021 and also tour throughout the province, in Vancouver's Chinatown. Admission to "A Seat at the Table: Chinese Immigration and British Columbia" — the first offering from the new museum — is free.

Lord Cultural Resources is working with Chinese Canadian Museum on Feasibility Study and Business Plan.

Read More
Five new cultural districts designated by Texas Commission on the Arts


Glasstire, September 3, 2020

Fort Worth's Near Southside Arts, the Red River neighborhood in Austin, Deep Ellum in Dallas, and both the Third Ward (The Tre) and the Fifth Ward in Houston have been approved as Texas Commission on the Arts' newest cultural districts.

These special zones pool cultural resources to foster economic development and community revitalization as focal points for business and tourism. The new additions boost the total number of cultural districts in Texas to 48. The exclusive statewide designation power of the Commission to establish cultural districts on behalf of Texas allows cultural districts eligibility to apply for Cultural District Project funding.

Lord Cultural Resources worked with Project Row Houses to plan the Third Ward Cultural District and in conjunction with Project Row Houses (successfully) applied for the Texas Commission on the Arts Cultural District Designation.

Read More
Weeksville Heritage Center begins critical preservation work on the Historic Hunterfly Road Houses with nearly $400,000 in philanthropic support


Cision PR Newswire, September 1, 2020

Weeksville Heritage Center, a one-of-a-kind historic house museum that brings to life the history of one of the largest free black communities in pre-Civil War America through its arts, culture, and preservation efforts, announced the start of much-needed preservation work on its key historic assets, the Hunterfly Road Houses. The work on the three original structures from the mid-19th and early-20th century that are the last remaining physical evidence of the existence of the community of Weeksville, Brooklyn, is made possible through the generous support from the National Trust for Historic Preservation, American Express and the New York Landmarks Conservancy.

Read More


Gardens for a Changing World: A Biweekly Webinar Series


Garden Conservancy, August 27, 2020

Lord Cultural Resources joined the Garden Conservancy and some of the most preeminent thought leaders in the gardening world for a four-part, semi-weekly webinar series exploring the new role of gardens in our changing world. The series was designed to stimulate thoughtful conversations about the role of gardens, both private and public, in a world that is experiencing seismic ecological, economic, social, and cultural change.

The series took place from Thursday, July 16, 2020 to Thursday, August 27, 2020. Recordings of the series can be accessed using the link below. Read More
Soft Power
The city will lead the nation's economic recovery thanks to our cultural riches


Crain's New York Business, September 16, 2020

The public outpouring about New York City's future is head-spinning: The city is dead or is dying or, on the opposite side of the spectrum, New York will rise again.

We tend to believe the latter. The blistering speeches about New York and angry Twitter bots have been largely advanced for political gain, conflating the crime bump, homelessness, an overdue reckoning for racial equity, and Covid-19 into an urban Armageddon virtually unrecognizable to residents. Even the most-committed advocates for the city have a hard time tuning it all out. I'm not suggesting our considerable post-pandemic woes aren't real, because they clearly are. And yet, the facts are this: New York City is still infinitely safer than it was in the 1970s, '80s and '90s — not to mention irresistible and diverse.

Read More
Saudi Arabia pushes soft power by launching new teamLab digital art museum in Jeddah


The Art Newspaper , September 14, 2020

The Japanese multimedia collective teamLab will launch a new digital art museum in Jeddah, Saudi Arabia, by 2023 called teamLab Borderless Jeddah. The Tokyo-based technology group, known for producing crowd-pleasing immersive experiences awash with virtual waterfalls and flowers, has entered into a ten-year agreement with the Saudi Ministry of Culture to develop works for the planned museum.

Read More
Oxford museum removes 'racist' shrunken heads from display after 80 years


The Art Newspaper, September 13, 2020

The shrunken heads at Oxford's Pitt Rivers Museum have just been removed from display, after 80 years. In a case prominently entitled "Treatment of Dead Enemies," they have long been the greatest attraction for many visitors, but will be hidden away in store when the museum reopens on 22 September after the coronavirus closure.

Read More
Museums
Rockefeller family fund plans $1.5m in grants to help New York museums promote diverse artists


The Art Newspaper, September 22, 2020

The Rockefeller Brothers Fund, a family foundation that seeks to advance social justice, today announced $1.5 million in grants to eight New York City cultural institutions to "build back a more equitable culture" after a long shutdown due to the coronavirus pandemic.

In a statement, the fund says the money will support exhibitions, programmes, residencies, and other initiatives that "provide greater visibility and opportunities for artists who are Black, Indigenous, or people of colour, as well as for women and LGBTQ artists, whose work continues to be underrepresented in major American museums." Read More
Florida Holocaust Museum confront ignorance with 'Trunks of Hope'


WTSP, September 21, 2020

A recent and alarming new study that found almost two-thirds of millennials and Gen Z-ers don't know that 6 million Jews were murdered during the Holocaust. And nearly half could not name a single concentration camp from World War II. The Florida Holocaust Museum located in St. Petersburg hopes to address that deficiency by providing educators the tools they need to teach history and tolerance.

Read More
The Smithsonian and the V&A abandon a highly anticipated plan to jointly curate a gallery in London


Artnet News, September 21, 2020

The Smithsonian Institution and the Victoria and Albert Museum in London are abandoning plans to jointly curate a gallery in the planned V&A East museum, slated to open in East London in 2023.

In a joint statement, the American and British museums say they are re-focusing their work together to provide paid internships to young people as part of an existing program that seeks to promote diversity in the arts. The STEP program will be open to young East Londoners and DC residents from diverse backgrounds, who are hoping to gain experience in the creative industries. Read More
Museopunks Episode 45: Getting by with a little help - museum workers speak relief fund


American Alliance of Museums, September 10, 2020

Mutual aid systems rely on forms of exchange, sharing support and resources, to enable communities to care for their members in the face of difficulty. In May this year, Museum Workers Speak started the Museum Workers Relief Fund, a form of 'radical redistribution' that seeks donations from those with means to support US-based museum workers who have been laid off, furloughed, or otherwise severely impacted by the COVID-19 pandemic. Those donations are then redistributed as $500 gifts to help recipients stay afloat.

Listen to the episode
Montreal Mohawk artist Skawennati awarded Smithsonian fellowship


Montreal Gazette, September 4, 2020

Skawennati is off to the Smithsonian.

The Montreal-based Mohawk artist is one of the 2020 Smithsonian Artist Research Fellows. As such, she will receive a travel grant to visit the esteemed institution, which is the world's largest museum and research complex, and have access to its vast collections, research sites and scholarly expertise for a one- to two-month period.

Read More
UK museums are back open—but visitors are staying away


The Art Newspaper, September 2, 2020

Visitors are not rushing back to UK national museums, with most of them still having bookable slots for the following day, even with drastically reduced capacity. This may be good news for those wanting to enjoy museums after five months of Covid-19 lockdown — but it is discouraging for museums and financially very troubling.

Read More
Architecture
Royal B.C. Museum to expand in $14-million Colwood site


Vancouver Sun, September 19, 2020

Thousands of stored artifacts — including writings and drawings from renowned B.C. artist Emily Carr — will soon be housed in a new $14-million Royal B.C. Museum building in Colwood on Vancouver Island.

Culture Minister Lisa Beare and the museum's chairman of the Board of Directors, Daniel Muzyka, made the announcement Friday, saying more than 900 jobs would be created during construction of the 150,000-square-foot building on a three-hectare site that will serve as an adjunct to the current Downtown Victoria museum.

Read More
Snøhetta to design Theodore Roosevelt Presidential Library in North Dakota


De Zeen, September 18, 2020

Architecture firm Snøhetta has been announced as the winner of a competition to design the Theodore Roosevelt Presidential Library in Medora, North Dakota.

The New York and Oslo-based firm was chosen from a shortlist containing US firm Studio Gang and Danish studio Henning Larsen to design the library. Read More
Does culture matter? New research offers lockdown lessons for museums and cultural attractions


Museums + Heritage, September 24, 2020

Research conducted during and in the aftermath of national lockdown has produced a mix of highly predictable and quite surprising insights into how the British public's expectations of museums and cultural attractions have changed.

Perhaps unsurprisingly, people were found to have been far more open to trying new cultural experiences during lockdown as 61% of those surveyed tried a new culture sector offer in the four months of research and 16% participated in multiple online museum tours.

Read More
In an unprecedented move, the Brooklyn Museum is selling off works by Cranach, Courbet, and other artists to ease its financial woes


Artnet News, September 16, 2020

Twelve works from the collection of the Brooklyn Museum, including examples by the Renaissance Master Lucas Cranach the Elder and the Realist pioneer Gustav Courbet, are hitting the auction block at Christie's next month.

The museum, which has long struggled with financial difficulties that have only been compounded sinceits forced closure in March, hopes to build out a $40 million endowment that can generate $2 million per year for the maintenance of its artworks. Some of that money would also go to paying the salaries of curators, conservators, and other entrusted with overseeing the institution's treasures. Read More
Responding to widespread demands, museums are acquiring more works by artists of color. But how they do so matters more than ever


Artnet News, September 2, 2020

The controversy that erupted last week over the Whitney Museum's planned — and quickly cancelled — exhibition of works, many by Black artists that the museum acquired through a fundraiser in June, has shined a spotlight on a simmering issue.

These days, many cultural producers of color say it is no longer enough for museums to acquire Black art, but to do so with the same respect and care they typically offer to white artists. Until recently, that part has gone largely ignored.

Read More
Technology
Children's museology and the COVID-19 Crisis


American Alliance of Museums, September 18, 2020

While physical museums are facing an uncertain future, virtual museum visitorship is booming. The Louvre's web traffic has increased tenfold to four hundred thousand visits a day, and New York's Metropolitan Museum of Art reports an elevenfold uptick in visits to #MetKids, its youth education initiative.

This forced quantum leap into virtual visitorship intersects powerfully with young people's preferred technologies, enabling them to participate more prolifically and publicly in museum programming than ever before. As a result, I argue, a new critical children's museology is emerging at the forefront of virtual museological practice. As I define it, children's museology refers to the production of museum content and programming not just for or about children, but also by and with children in ways that engage them as valued social actors and knowledge-bearers. Read More
The world's first entirely virtual art museum is open for visitors


Smithsonian Magazine, September 17, 2020

The recently launched Virtual Online Museum of Art is the world's first museum of its kind. More than just an online gallery, VOMA is 100 percent virtual, from the paintings and drawings hanging on the walls to the museum's computer-generated building itself, giving viewers an entirely new way of experiencing art that transports them to an art space without having to leave their computers.

Read More
Creative Cities
Culture, street art, monuments: Paris voted the most creative city in the world


News 18, September 23, 2020

British website Inkifi analyzed 75 cities worldwide to rank the most creative ones, considering a selection of inspirational factors in the realms of art, music, architecture... The City of Light clearly leads the pack, outshining London and New York.

According to Inkifi, culture buffs should travel to Paris, the city that counts the highest concentration of theaters and historical monuments per square miles. Read More
UNESCO officer: Beijing uses technology well against COVID-19 epidemic


CGTN, September 18, 2020

The third UNESCO Creative Cities Beijing Summit took place in the Chinese capital city from September 17 to 18 under the theme "Creativity empowers cities, technology creates the future." The summit focused on how to shape new urban development patterns, building on culture, creativity and new technologies beyond the COVID-19 crisis.

Read More
Economic Development Department outlines plans for $12 million creative space bond, creation of Austin EDC


Austin Monitor , September 14, 2020

The Austin Economic Development Department outlined its plan for a $12 million creative space bond and a city-owned economic development corporation that could help it along at a joint meeting of the arts and music commissions Friday.

Read More
Lord Cultural Resources values your privacy and does not sell or trade email addresses.
Please see our privacy policy for more information