March 2020




A curated review of this month's cultural news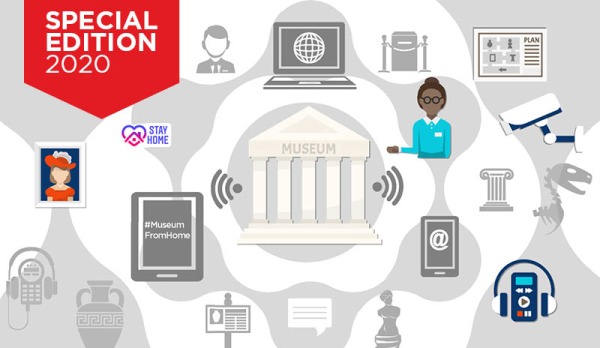 SPECIAL EDITION 2020
COVID-19: STORIES AND IMPLICATIONS FOR THE FIELD
Museums and galleries face enormous challenges as they are forced to close their doors in the wake of COVID-19 — but this doesn't mean they can't connect with their public. The potential for online collections, concerts and virtual tours to provide a refuge of calm and fill the void created by social distancing is unprecedented.

This Special Edition of Cultural News, a curated collection of stories about how the global pandemic is affecting cultural institutions and how they are rising to the challenge by increasing their digital presence online, features Ayala Museum's Online Resources for Learning & Creativity Online. Join Ayala Museum's #ArtFromHome Challenge, binge some of their Youtube videos, explore their Google Art and Culture online exhibitions, and more.

VIEW OUR WORK WITH AYALA MUSEUM
Read More
Museums Rise to the Challenge
Let's go to a New Orleans museum (without leaving the couch)


Very Local New Orleans, March 26, 2020

New Orleans is home to an incredible portfolio of museums and arts institutions. I know, I know — when we're presented with festival after festival, we don't always spend as much time as we'd like exploring exhibits and galleries. But this COVID-19 pandemic is allowing us to rethink how we use that time.

Stuck in our homes, the city's cultural organizations could have closed their doors and waited for this crisis to pass. Instead, they've done the opposite.

Read More


4 Ways museums can successfully leverage digital content and channels during coronavirus (COVID-19)


American Alliance of Museums, March 25, 2020

As museums think about how they engage the public during  closures, there are four primary digital experiences they should consider.

Read More
Chronicling coronavirus: our effort to document the crisis starts with you


The Historic New Orleans Collection, March 25, 2020

For all of us at The Historic New Orleans Collection, these historic times compel us to extend our work in new ways: while we will continue to present history, we are also chronicling it in real time. THNOC is actively collecting material related to the COVID-19 pandemic as it unfolds, and staff are exploring new ways to capture public reaction to the crisis so that future generations can understand it.

Read More
Museum update from our president and CEO


The National WWII Museum, March 24, 2020

At America's National World War II Museum, we have always looked to our collections and galleries to find sources of inspiration and leadership: from everyday citizens doing their part to help defeat a common enemy to frontline leaders making tough decisions and personal sacrifices in the face of unprecedented challenges.

Read More
The Jewish Museum from Home: A Virtual Author Talk and Russ & Daughters Delivery


The Jewish Museum, March 24, 2020

While the Jewish Museum is temporarily closed, we invite you to stay connected from home. Here is what's happening this week.

Read More
'Hashtag John Wayne': Museum Security Guard's Heartwarming Attempt To Learn 'Social Media Management' Goes Viral


The Daily Wire, March 25, 2020

When the National Cowboy & Western Heritage Museum in Oklahoma City was forced to close due to the coronavirus outbreak, the museum asked its head of security, Tim, to take over their social media networks. Tim and his team are the only ones still working at the museum while it is closed, making him the perfect candidate to continue their social media presence.

Read More
America's Big Museums on the Hot Seat


The New York Times, March 18, 2020

As the Metropolitan Museum of Art and the Museum of Fine Arts, Boston commemorate their 150th birthdays in a state of heightened scrutiny, our critic offers a five-point plan to save the souls of our venerable institutions.

Read More
Canada's museums scramble to promote online experiences as coronavirus shuts their doors


The Globe and Mail, March 18, 2020

At the Sidney Museum in Sidney, B.C., staff have had to close their annual Lego show and cancel its March Break scavenger hunt, the biggest money-makers of the year for a local history museum where admission is by donation. At the Montreal Museum of Fine Arts (MMFA) an exhibition of mummies on loan from the British Museum was supposed to be shipped to the Royal Ontario Museum (ROM) in Toronto at the end of the month, but is now stuck indefinitely in Quebec. And at the Maritime Museum of the Atlantic on the Halifax waterfront, the doors are closed and the cruise-ship passengers will not be strolling by this spring – but the public can still check out Merlin the parrot on the museum's webcam.

Read More
How museums and attractions are preparing and responding to coronavirus


CUSEUM, March 2, 2020

Museums, too, are beginning to be affected by the fear and precautions taken in light of the spreading coronavirus. Across Asia and Europe, cultural organizations and tourist destinations are closing down to visitors. While this is taking its toll on the cultural sector, several museums have begun to devise creative strategies to make their collections and exhibitions available to the public through digital and virtual tools.

Read More
Support and Advocacy
Germany Has Rolled Out a Staggering €50 Billion Aid Package for Artists and Cultural Businesses, Putting Other Countries to Shame


Artnet, March 25, 2020

The German federal government is stepping in with a sweeping aid package for the country's creative and cultural sectors. According to a press release shared by the ministry of culture and reports in the German press, a staggering €50 billion ($54 billion) in backing will be provided.

Read More
'This Is the Biggest Challenge We've Faced Since the War': How the Coronavirus Crisis Is Exposing the Precarious Position of Museums Worldwide


Artnet, March 26, 2020

The Metropolitan Museum of Art sent shockwaves through the museum world last week when it revealed that it expected to lose as much as $100 million and remain closed until July as part of a global effort to fight coronavirus. Layoffs, its leadership suggested, were likely.

Many administrators at other museums immediately wondered: if an institution as wealthy as the Met, which has an endowment of more than $3 billion, will struggle to survive the pandemic without drastic measures, what hope is there for the rest of us?

Read More
Artists and galleries help raise coronavirus relief funds through print edition sales


The Art Newspaper, March 25, 2020

Eric Fischl is supplying a limited edition print to benefit the closed New York Academy of Art while other sales are being donated to emergency funds and community organisations.

Read More
OMA Launches Survey for Ontario Museums on the Impact of COVID-19


Ontario Museum Association, March 20, 2020

As part of the Ontario Museum Association's role to represent the province's museum sector to governments and funders, we have developed a short survey to collect up-to-date and sector-specific information on the impacts of COVID-19 for Ontario's museums. We are asking for your assistance to provide this information so that we can advocate on your behalf.

Read More
Responding to the COVID-19 pandemic


SMU Data Arts, March 2020

There is still much to learn about the full impact that COVID-19 will have on our lives and the lives of those around us. We stand in solidarity with arts organizations, their employees, and artists as things continue to unfold and we encourage the community of audience members, donors, and grantmakers to do what they can to continue their support throughout this time of uncertainty. 

Now more than ever, we are here to empower arts and cultural leaders with high-quality data and evidence-based resources and insights that help to overcome challenges and increase impact.

Read More
Nonprofit arts organizations across the country are in economic freefall because of COVID-19 and our federal government must help


Americans for the Arts, March 18, 2020

The coronavirus has already had a devastating economic impact on America's nonprofit arts sector—financial losses to date are estimated to be $3.2 billion. Since the first U.S. case was reported on January 20, cancellations and closings have been reported in thousands of communities spanning all 50 states.

Read More
Why Marketing Matters During COVID-19 Closures - Key Factors to Consider


Colleen Dilen, March 18, 2020

If your cultural organization is closed to the public due to COVID-19, don't disregard marketing efforts. Here are four recommendations for consideration that we will give to any cultural entity right now – urban or rural, exhibit or performance-based, with tens of millions of dollars in operating revenue or of more modest means. A) Strategic deferral in paid media to local audiences B) Replace investments aimed at immediate activation ("visit now!') and focus instead on maintaining top-of-mind status and broad awareness C) Meet people where they are right now: Online.

Read More
Here is a list of resources addressing the economic impact of coronavirus on the cultural sector


The Art Newspaper, March 17, 2020

Organizations are offering medical emergency grants while other groups crowdsource data quantifying the impact of the health crisis on the cultural labour market. As the financial hit on workers in the cultural sectors in the US and UK begins to rise due fears surrounding the spread of coronavirus, The Art Newspaper has compiled an initial list of grants and other resources aimed at benefitting artists and cultural producers at this time.

Read More
City arts community needs a "Marshall Plan"


Crain's New York Business, March 25, 2020

Is it time to consider a cultural Marshall Plan to rescue and restore the financial health of New York City's arts community?  Karen Brooks Hopkins, former and long-serving President of the Brooklyn Academy of Music, proposes the creation of a public-private task force to design a comprehensive aid package to a key sector of the city's economy and civic life.

Read More
COVID-19 and Ontario Museums


Ontario Museums Association , March 16, 2020

Please see below for collected information and resources regarding the novel coronavirus and its impacts for Ontario museums. These resources are not to be taken as legal advice or a definitive answer for any particular museum, but rather as a guide for preparedness for the field. We encourage members to consult relevant policies & legislation.

Read More
The Empty Museum and a post-pandemic museum landscape


Medium, March 16, 2020

The need to adapt, adjust and rethink may now be a question of survival and a post-pandemic scenario may leave us with a new breed of museum netizens. These three out of many more possible medium to long-term reactions discussed here have been under discussion for quite some time and are certainly not new to many.
Consider your assets as a resource to be used beyond expert and connoisseur

Look for the opportunity to negotiate meaning rather than declaring meaning, relevance and significance

Consider your museum's identity as being both physical and virtual at the same time.
Read More
Coronavirus pushing arts and nonprofit groups to the edge: Pizarro


The Mercury News, March 14, 2020

A disaster relief fund will be needed — and it starts with all of us. We all know that the economic impact of the new coronavirus pandemic is going to be huge. But for South Bay nonprofit organizations and arts groups, it could be absolutely devastating.

The launch of the COVID-19 Fund for Feeding Families with multimillion-dollar donations from Sheryl Sandberg and her fiance Tom Bernthal, along with John and Eileen Donahoe, Mike Schroepfer and Erin Hoffmann, and Bill and Amy Gurley is a great model for keeping Second Harvest Food Bank going during the crisis. But that's just the tip of the iceberg.

Read More
Virtual Museums
10 of the world's best virtual museum and art gallery tours


The Guardian, March 23, 2020

The originals are out of reach for now, but you can still see world-class art – without the queues or ticket prices – with an online tour of these famous museums.

Read More
Taking virtual field trips while practicing social distancing


CHVN Radio, March 19, 2020

Families can still take their children to the museum, but in a different way, as we practice social distancing.

Classes in Manitoba will be cancelled for the next three weeks. Here are museums that families can explore in front of a screen as they stay home.

Read More
Canadian culture goes even more digital during pandemic


NUVO, March 19, 2020

Here is a list of existing online resources and resources from institutions that have, in astonishing time, made culture available online. In the spirit of community, if you know of other resources, please reach out to us and we will be happy to include it.

Read More
The top six hashtags to follow now as the art world moves onto social media #ArtCanHelp


The Art Newspaper, March 19, 2020

The museums of Modern art in New York and San Francisco are leading the way on promoting digital content on Instagram, Twitter and Facebook.

Read More
America's virtual museums take on new significance as COVID-19 lockdown deepens


The Art Newspaper, March 18, 2020

Art Institute of Chicago and Smithsonian are among institutions that have embraced technology, and more are set to ramp up their efforts.

Read More
You can take a virtual tour of Montreal's Museum of Fine Arts from your bathtub


Mtl blog, March 18, 2020

Though times are tough, heroes everywhere are spreading hope and stepping up for their communities. The Montreal Museum of Fine Arts is among them. The institution is making its virtual exhibition tours free while it remains closed as a protective measure to prevent the spread of COVID-19.

"We need the healing powers of art in our lives now more than ever," a statement reads.

Read More
Calgary's Glenbow Museum creates at home access to art during COVID-19 closure


Global News, March 18, 2020

The doors to Calgary's Glenbow Museum were closed on March 13, due to COVID-19 concerns — but that doesn't mean the public can't access the artwork inside the building.

Glenbow Museum launched its first "Glenbow from Home" exhibit on Wednesday. The website allows audiences to go online and virtually view exhibits inside the museum.

"We still want to create opportunities for you to experience art outside of Glenbow's walls," museum officials said in an online statement on Tuesday.

Read More
Some museums are offering 'Moments of Zen' amid the coronavirus pandemic by sharing therapeutic exhibits and artwork on social media


Insider, March 17, 2020

Amid the coronavirus pandemic and advice from experts calling on people to practice social distancing — or staying home and avoiding public spaces and crowds — many museums and cultural institutions have, for the time being, shut their doors.

But many museums are getting creative by sharing their collections via virtual tours and exhibits, and most recently, through "moments of zen" on social media.

Read More
How to get your culture fix in the age of social distancing


AnOther, March 17, 2020

There are ways to see exhibitions and visit museums without having to leave the house – here are some of the best virtual tours and digital archives on the web.

Read More
Travel plans on hold? You can visit 500 international museums from the comfort of your own home thanks to Google


Artnet, March 17, 2020

Tour the world's best art museums while practicing responsible social distancing.

Dying to visit an art museum, but stuck behind closed doors during the ever-evolving global health crisis? Google Arts and Culture can help. The tech giant's art website offers online access to 500 cultural organizations around the world, from museums to historic sites, all viewable without ever leaving your living room.

Read More
The ultimate guide to virtual museum resources, e-learning, and online collections


MCN, March 15, 2020

In the blink of an eye, once-crowded museums sit empty. We're preparing ourselves for social distancing and potential quarantine. This is the time for museum technology to step up and fill the void. The potential of online collections, virtual tours, and social media campaigns have always been there, but now the opportunity for impact is incalculable.

Access to endless open content. Educational resources for e-learning. Virtual retreats to art, culture, and history around the globe. This is the museum technology community's time to shine!

Read More
Bored during self-isolation? Tour these museums from the comfort of your couch


CTV news, March 13, 2020

TORONTO — As an increasing number of public spaces temporarily close their doors and "social distancing" keeps more of the population hemmed into their homes, the question of just what to do with our time is looming large in the minds of Canadians.

Here's a quick selection of some museum exhibits and archives you can explore from your computer or phone.

Read More
On coronavirus lockdown? Here are some online art tours to enjoy from home


The Art Newspaper, March 13, 2020

If you are in self-isolation or your local galleries have closed, here are the best digital initiatives to feed your need for art.

As coronavirus (COVID-19) continues to spread and disrupt the daily lives of people across the globe, forcing many to self-quarantine, we are compiling the best online offerings from artists, museums and galleries. Whether you are staying at home or your local museums and galleries have closed, here are some of the best digital initiatives to satisfy your creative cravings.

Read More
Stuck at home? These 12 famous museums offer virtual tours you can take on your couch (Video)


Travel and Leisure, March 12, 2020

Experience the best museums from London to Seoul in the comfort of your own home.

Read More
Art Online
The Art Institute of Chicago Puts 44,000+ Works of Art Online: View Them in High Resolution


Open Culture, October 25, 2018

After the fire that totally destroyed Brazil's Museu Nacional in Rio, many people lamented that the museum had not digitally backed up its collection and pointed to the event as a tragic example of why such digitization is so necessary. Just a couple decades ago, storing and displaying this much information was impossible, so it may seem like a strange demand to make. And in any case, two-dimensional images stored on servers—or even 3D printed copies—cannot replace or substitute for original, priceless artifacts or works of art.

Read More
Paris Museums Put 100,000 Images Online for Unrestricted Public Use


Kottke, January 13, 2020

Paris Musées, a collection of 14 museums in Paris have recently made high-res digital copies of 100,000 artworks freely available to the public on their collections website. Artists with works in the archive include Rembrandt, Monet, Picasso, Cézanne, and thousands of others.

Read More
Online Concerts
UNITED NATIONS CHAMBER MUSIC SOCIETY - PERFORMANCE TO PROVIDE SOLACE DURING THE CORONAVIRUS PANDEMIC


UN Chamber Music Society, March 20, 2020

In solidarity and support to all those affected by the coronavirus pandemic, especially the most vulnerable among us – the elderly, the sick, the poor and all those in harms way, the UN Chamber Music Society of the United Nations Staff Recreation Council (UNCMS), in association with Open Mind Project and Culturunners, presents this special webcast performance to pay tribute to all the acts of selflessness that are inspiring the world in these uncertain times, and to encourage physical distancing to stem the spread of COVID-19.

Read More
We're here for you - A MESSAGE FROM ELISA CITTERIO & CAROL KEHOE


Tafelmusik, March 17, 2020

Tafelmusik has always been known for being creative and resilient, and in the coming days, we will share details about how we hope to support you with the comfort of music throughout this rapidly evolving situation. Music and the arts are, after all, an expression of our collective humanity, and play an important role in our well-being during difficult times.

If you have not yet done so, please follow Tafelmusik on Instagram, Facebook, and Spotify to take advantage of the content we are putting together for you, and look out for the hashtag #TafelmusikTogether. We'll also be asking you via these platforms: what you would like to see from us over the next few weeks? How can we help, within the context of the music recordings, videos, and information that we have and can share with you?

Read More
Silkroad Home Sessions. A virtual concert series


Silkroadproject Instagram page, March 16, 2020

With social distancing in place, we want to continue sharing music and building community with audiences worldwide. Over the next few weeks, Silkroad artists will be giving short, musical performances on Facebook and Instagram. Silkroad Home Sessions will bring music of comfort and joy directly from our homes into yours!

Read More
In a Pandemic, Musicians Play in Empty Halls for Audiences Online


The New York Times, March 13, 2020

Bans on large gatherings have meant those tuning in aren't aping the live listeners. They are the only listeners.

Read More
Get Creative
Hi, Art


CBC, March 26, 2020

Are you an artist whose livelihood has been hit by COVID-19? (This list of resources will be updated as we receive new information.) Are you just struggling to make lockdown-life more productive and meaningful? (Here's an overwhelming number of ways to stimulate your creativity.)

Read More
Patrick Stewart is reading one of Shakespeare's sonnets each day on Instagram, and it's just what the doctor ordered


Comic Sands, March 25, 2020

These are dark times. But Sir Patrick Stewart, as always, is an international treasure and is determined to do his part to help us weather this crisis. Stewart, 79, has taken to reading a sonnet a day aloud and posting it on Instagram.

Read More
Activities to help keep your children curious and engaged from Children's Museum of Manhattan


Children's Museum of Manhattan, March 23, 2020

CMOM is a valuable resource for families with our art, health, science, reading, dance, cooking, singing and cultural learning activities that are both lots of fun and educational. Each day of the week will have a theme -- Magical Monday, Move to the Groove Tuesday, Our World Wednesday, and more! You'll see how to use tape to create a hallway obstacle course, bubble wrap for a lively dance party, baking soda for a surprise science project just to name a few of the activities coming your way.

Read More
Create to Connect


Do Think Share, March 18, 2020

Two weeks of fun, free creative challenges to do at home, starting on 23rd March 2020.

Read More
Cov-19 resources


Culture, Health and Wellbeing Alliance, March 18, 2020

We've put together a page that we will update as often as we can with resources from health and from the cultural sector. There are a few examples below but these are just a snapshot of the amazing work being put together by the cultural/creative sector.

Read More
Special Live Events


Calacademy, March 15, 2020

Recordings of Past Events. Click on the program title to access the recording and any materials needed. These recording can be used for classrooms or individual students at home.

Read More
Ten Digital Education Resources from the National Gallery of Art


National Gallery of Art, March 2020

To support parents and their children, teachers, students, and caregivers alike, our educators created this selection of activities, lesson plans, films, and other materials for learning at home.

Read More
Lord Cultural Resources values your privacy and does not sell or trade email addresses.
Please see our privacy policy for more information