| | |
| --- | --- |
| | SHARE ON |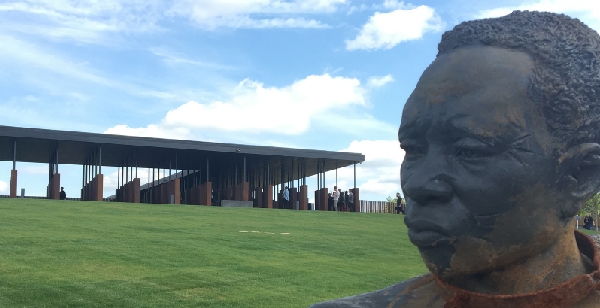 The National Memorial for Peace and Justice in Alabama. Photo: Shawn Calhoun/Flickr
In this issue
In this month's edition of Cultural News, our top stories are about how civil rights and equality can be memorialized, as seen by the opening of the powerful new National Memorial for Peace and Justice in Alabama and new exhibitions at Tennessee's National Civil Rights Museum. We're also paying attention to the impact of soft power on Amazon's shortlist for their new headquarters, getting excited about North America's best parks and gardens, and much more!
Our clients & Lord
Lord Cultural Resources at AAM
Join Lord Cultural Resources at this year's American Alliance of Museums (AAM) 2018 Annual Meeting & Museum Expo, taking place May 6-9 in Phoenix. Stop by booth #2424 to see Joy Bailey-Bryant (Managing Director, US), Kathleen Brown (COO), and consultants Lauren A. Merkel and Natalie Bornstein.
Joy Bailey-Bryant will also be on a must-see panel "Encouraging Engagement: A Myriad of Methods" on Sunday May 6, 4:00 – 5:15 p.m.
Read More
50 Years After Dr. King's Death, New Lessons for Today


The New York Times, March 28, 2018

The National Civil Rights Museum in Memphis is a monument to a movement and to its leader. Its permanent collection focuses on difficult, sometimes ambiguous historical data more than on pure celebration, and this past month opened a special exhibition comparing contemporary events like the Occupy movement and the Living Wage Campaign with King's Poor People's Campaign and sanitation strike. With this past month marking the 50th anniversary of Dr. King's assassination, the New York Times writes that the museum captures not only the past, but crucial insights for 2018 and the future.

Read More


Ottawa Art Gallery Opens its Doors to the Public


CBC News, April 28, 2018

The long-awaited Ottawa Art Gallery opened April 28 after almost three years of construction and over 10 years of planning. Senior curator Catherine Sinclair said that the gallery will be a "game changer" for the city: "it has beautiful exhibition spaces. It has incredible social spaces." The first show in the new gallery is a collection of art from around the Ottawa area spread over centuries called "We'll All Become Stories."

Lord Cultural Resources previously worked with the Ottawa Art Gallery (formerly the Gallery at Arts Court) on a feasibility study, including a fundraising campaign and a complete business plan.


Read More
With Chagall Headed for Auction, National Gallery Vies With Two Quebec Museums to Buy David painting


The Globe and Mail, April 16, 2018

"Deaccessioning", the official removal of an item from a cultural institution (typically in order to sell it), has become a hot topic in Canadian press in recent weeks due to the National Gallery's announcement that a Chagall masterpiece will be headed to auction. Gail Lord was quoted in the Globe and Mail: "It's treading a very fine line on the policy of deaccessioning … Museums are specifically not in the business of selling in order to buy and buying in order to sell. That's what a commercial dealer is doing."

Discussion around the painting's sale has included a plea to look to European collection models (CBC News, April 16) and a rebuke from the Marc Chagall Committee in Paris (Ottawa Citizen, April 24). The Baltimore Museum of Art also made headlines this month when it announced plans to deaccession seven works by white male artists in order to make room for more art by contemporary female artists and artists of color (Baltimore Sun, April 13).

Read More
The New Royal Alberta Museum: Building on a Legacy


Construction Canada, April 4, 2018

Construction on the Royal Alberta Museum's (RAM's) new building in Edmonton is now complete. Originally opened in 1967, the museum expanded its collections and programming over the decades and required new space. The new location will open its doors later in 2018 this year, to a public excited to see what changes have been made since the museum's closure in December 2015.

Read More


This Exhibit Will Change the Way You Think About Fashion


Refinery29, April 20, 2018

The Victoria & Albert Museum's next big fashion exhibition has arrived, inviting audiences to "trace the complex relationship between fashion and the natural world" from 1600 to the present day. "Fashioned from Nature", which will run until January 2019, explores how designers have been inspired by nature – from the feathers of birds to the fluidity of the sea – while simultaneously asking, "How can we design a more sustainable fashion industry?" and "What can we learn from the past?"

Read More


USA Today's Readers' Choice of Favourite Botanical Garden in North America
10best.com
Spring is in the air, the flowers are blooming, and the season to enjoy the beauty of parks and gardens has begun! The best gardens and arboretums in North America help promote and conserve the plant diversity of our planet while showcasing their collections in stunning, visitor-friendly ways. Voting is underway to determine the top choice of USA Today's readers, from a shortlist of 20 top gardens and arboretums chosen by a panel of experts. Learn about our work with these destinations on the shortlist:
View the full list
SakKijâjuk: Art and Craft from Nunatsiavut
SakKijâjuk: Art and Craft from Nunatsiavut is the first major exhibition of the breathtaking and long-hidden art of the Labrador Inuit. The group show includes work produced over seven decades and includes such diverse media as video, photography, sealskin-sewing, painting, saltwater grass basketry, and stone sculpture. The forthcoming opening on May 25 is presented in celebration of the future Inuit Art Centre at the Winnipeg Art Gallery, and is one stop on a national tour.

Learn more about Nunatsiavut art in curator Heather Igloliorte's Walrus editorial, or read details on the show on the Winnipeg Art Gallery's website.
Lord Cultural Resources previously worked with the Winnipeg Art Gallery on a space and facility program and subsequent functional program for the gallery's capital expansion.
Soft Power
Great Museums Seem to Matter for the Locations on the Shortlist for Amazon's HQ2


The Washington Post, April 20, 2018

It's no coincidence that almost all of the cities and counties on the highly competitive shortlist for Amazon's second headquarters can boast access to great art museums. Indeed, that quality seems to have been a critical consideration for selecting just 20 cities out of the 238 that applied. The

Washington Post

observes that, beyond just fine art display, the prestige and prominence of

art museums

make them prime tourist destinations; their health and quality are tied up with civic pride, with what makes a city desirable to live in. In short, for cities to attract smart people hoping to work for successful businesses and big corporations, investment in art museums – in soft power – is key. Among the many examples cited of art museums which contribute to city-building are Lord clients past and present:

Read More
Museums
A Lynching Memorial Is Opening. The Country Has Never Seen Anything Like It.


The New York Times, April 25, 2018

The National Memorial for Peace and Justice, which opened on April 26 on a six-acre site overlooking the Alabama State Capitol, is dedicated to the victims of American white supremacy. And it demands a reckoning with one of the nation's least recognized atrocities: the lynching of thousands of black people in a decades-long campaign of racist terror. The memorial is inspired by the Holocaust Memorial in Berlin and the Apartheid Museum in Johannesburg, and is unflinching in its documentation of the victims of white supremacy. Behind the project is the Equal Justice Initiative, a nonprofit "committed to ending mass incarceration and excessive punishment in the United States, to challenging racial and economic injustice, and to protecting basic human rights for the most vulnerable people in American society."

Read More
Celebrate This Month's Upcoming International Museum Day with ICOM's Interactive Map
ICOM
The worldwide community of museums will celebrate International Museum Day on May 18. This year's theme is "Hyperconnected museums: New approaches, new publics", and ICOM has launched an interactive map to help you find out what's happening in your city.
If you are affiliated with an ICOM participating museum, register and add your activity to the map before May 18 to contribute to the visibility and success of this annual event, which last year had more than 36,000 participating museums across 157 countries.
Read More
Holocaust Museum Surpasses Fundraising Goal


The Washington Post, April 9, 2018

The Holocaust Museum in Washington, D.C., celebrated its 25th anniversary on Monday with the announcement of a new goal: raising $1 billion by 2023. The funding will be directed at expanding the museum's educational impact and supporting its mission of inspiring people to "confront hatred, prevent genocide, and promote human dignity" at a global scale. The vice chairman of the museum's board, who is the son of two Holocaust survivors, says that the museum is not only a tool for remembrance, "it is education, prevention of genocide. There's no shortage of work to be done to continue to carry the message."

Read More
B.C. Museum Launches $500K Grant to Repatriate First Nations Artifacts, Ancestral Remains


CBC News, April 11, 2018

In museums around the world, cultural belongings and ancestral remains of B.C. First Nations are on display in glass cabinets and collection racks — many of them gathered without the consent of local communities. The Royal B.C. Museum announced a $500,000 grant this week to help First Nations communities recover cultural artifacts, ancestral remains and intangible heritage like songs, stories and language recordings from museums. The B.C. government had previously allocated $2 million to the museum in 2016 to develop the First Nations department and repatriation program.

Read More
Technology
Museums are the Best Places to Find Innovation in AR


Venture Beat, March 27, 2018

Museums are some of the most exciting testing grounds for AR, or "augmented reality", using the technology for everything from wayfinding to bringing objects to life to developing entirely new, digital artworks. And with rapid innovations happening in how we display and consume information, it's argued by some that AR will shift from mere novelty to absolute necessity in the cultural sector.

Read More
Is Instagram Ruining Art? One Museum Is Trying 'Photo Free' Hours


Time Magazine, March 17, 2018

One of the de Young Museum's popular exhibitions is "Bouquets to Art", a 34-year-old annual botanical event with a fine art twist. It's entrancing and also extremely "Instagrammable", to the point that it has become a problem; one that the Museum took an experimental step in rectifying by invoking "photo free" hours this past March.

Read More
Art & Culture
Migration and Police Shootings Tackled in Highly Political Turner Prize 2018 Shortlist


The Art Newspaper, April 26, 2018

Tate Britain has announced a highly political selection of artists in line for the Turner Prize 2018. The shortlist highlights "how artists are tackling the most pressing political and humanitarian issues of today and how important moving image in varying formats has become in exploring these debates", said the museum's director. Human rights violations, queer identity, and the migrant experience are among the topics explored in the art of the finalists, Naeem Mohaiemen, Charlotte Prodger, Luke Willis Thompson, and Forensic Architecture (a collaborative of 15 members, including a filmmaker, a lawyer and a design technologist).

Read More
Three History-Making Exhibitions of Indigenous Art and Culture Open in B.C.


The Globe and Mail, April 25, 2018

Three history-making exhibitions of Indigenous art and culture have recently opened in British Columbia. At Beau Dick: Revolutionary Spirit, the master Kwakwaka'wakw carver's masks and sculptural works will be displayed at the Audain Art Museum; is the first retrospective of the artist's work since his unexpected death in 2017. At the Museum of Anthropology at the University of British Columbia, a new historic show brings together work from six First Nations. And the Museum of Vancouver is displaying its large collection of Haida art in its entirety for the first time in the show Haida Now.

Read More
Creative Cities
In the Bronx, Stadium Scents Take Fans Out to the Ballgame


The New York Times, March 31, 2018

"Scents of the Game" is an unique olfactory exhibit which has installed in a Bronx nursing home that is home to hundreds of aging Yankees fans. The wheelchair-friendly kiosk features six ballpark scents, and beyond evoking fond memories, is aimed at stimulating the cognition in residents with Alzheimer's disease or dementia.

Read More
Arts in the Loop Have a $2 billion Impact, Chicago Loop Alliance Study Finds


Chicago Reader, April 11, 2018

According to a recent study, Chicago's Loop Arts District is the second most economically powerful arts district in the United States. And its 28.4 million annual visitors have a demonstrable interest in culture: its sales of 7.4 million performance tickets and museum entries annually is more than all the city's professional sports teams combined.

Read More
Lord Cultural Resources values your privacy and does not sell or trade email addresses.
Please see our privacy policy for more information