Cultural News
Cultural News is a monthly global round-up of what's happening in culture to help you be up to date with current topics and trends. Excerpts are directly quoted from the articles – here you can browse through the featured stories and access the full issues.
2021 Issues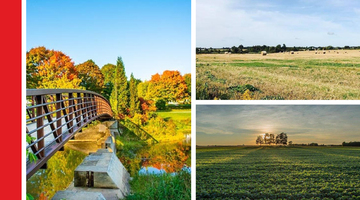 North Perth Council moves forward with Ag Science Centre
An Ontario municipality is moving forward with an Ag Science Centre, an exciting new learning and tourist attraction for the community. Their support was based on Lord's work on a feasibility study, market analysis, and interviews with stakeholders.
"It is a special talent of Lord that we help communities achieve outcomes that create value and meaning," says Gail Lord. "This often means helping them create a new concept and giving them the tools and confidence to implement it."
Lord Cultural Resources was selected to conduct a feasibility study for a children's museum to be located in North Perth, a small municipality that serves a substantially agricultural rural region. To avoid potential duplication with an existing children's museum in the larger region and to widen the age focus, we recommended a modification of the concept to be an agriculture-focused science centre – the Huron Perth Ag Science Centre - that would also include an area for very young children.
View All News