| | |
| --- | --- |
| | SHARE ON |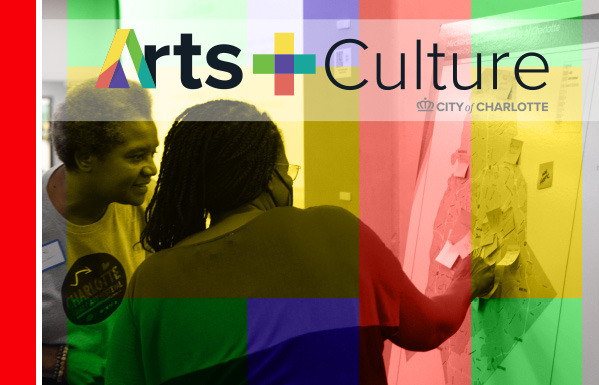 Charlotte Arts and Culture Plan
Featured Story:
City Releases Lord Cultural Resources Report on Current State of Culture in Charlotte-Mecklenburg Area
The City of Charlotte on Monday released the State of Culture Report, the Charlotte-Mecklenburg area's most up-to-date study of local arts and culture conditions. Residents and all local arts and culture participants are invited to provide additional input on the city's cultural planning efforts through a survey and during a virtual public meeting about the report.
The State of Culture Report is a common foundation of information for artists, cultural organizations, policy makers, patrons, funders and residents to understand the issues and conditions facing local arts and culture. Its findings will inform the strategies and action steps that will be included in the future Charlotte Arts and Culture Plan, due to be released later this year. The plan will be the culmination of the city's ongoing initiative to support economic sustainability and growth in the Charlotte-Mecklenburg arts and culture sector.
"We were able to really speak to people about what is important for them regarding arts and culture, and not just individual artists and arts organizations, but residents as well as educators," said Joy Bailey-Bryant, president of consulting company Lord Cultural Resources US.
OUR CLIENTS & LORD
First multi-faith Centre opens in the UAE on March 1


Atlantic Council, February 27, 2023

Lord Cultural Resources is thrilled to have had the honor of working on the Abrahamic Family House project, a multi-faith campus opening on March 1 in Abu Dhabi. The campus features a mosque, church, and synagogue, all in one location designed to promote interfaith respect and understanding. We are proud to have contributed our expertise to this exceptional project. We extend our heartfelt thanks to Marcy Grossman, former Canadian Ambassador to the United Arab Emirates for her continuing support of this project and for mentioning our role in her inspiring message. Please read her full article about the intent and impact of the Abrahamic Family House in the publication of the Atlantic Council of which she is a Senior Fellow

Read More


The Drive with Karl Dockstader


I Heart Radio, February 27, 2023

Town of Lincoln Ontario has initiated public art in a park dedicated to truth and reconciliation. Lord Cultural Resources thought leader Tim Johnson is the advisor and explains the project in the audio below.

Listen Here
Philadelphia Museum Creates Center for African Art


The New York Times, February 23, 2023

With a gift from the trustee Ira Brind, the center will aim to advance the museum's new Equity Agenda.

Read More


National Gallery Spent More Than $2 Million On Severance Over Period of 2 ½ Years


The Globe and Mail, February 20, 2023

The National Gallery of Canada spent more than $2 million on severance payments over a period of two and a half years, not including payments to four senior staff members let go in the fall, as it parted ways with employees during a push to reorient itself around a new inclusion-focused mission.

Read More


AAM to Highlight Sustainability and Community Engagement at Annual Meeting & Expo


Blooloop, February 16, 2023

The American Alliance of Museums (AAM) is set to highlight sustainability and community engagement as two of its leading topics during this year's Annual Meeting & MuseumExpo program. The comprehensive schedule of talks and discussions will cover a breadth of industry topics when it takes place in Denver from 19-22 May 2023.

Eve Moros Ortega, Director at Lord Cultural Resources, will present a session on the importance of cultural planning for museums, and of museums in cultural planning – demonstrating how planning across institutions deepens impact for all museums in an eco-system.

Read More
Mellon, Ford, Getty, and Terra Foundations Announce New $5M Initiative Designed to Advance Latinx Art in Museums


Ford Foundation, February 13, 2023

The new initiative represents the second phase of a multi-year funding collaboration seeking to nurture and prioritize US Latinx art. The funding partners have committed a combined $5 million, which will provide ten grants of $500,000 to institutions in support of the creation and formalization of ten permanent early and mid-career curatorial positions with expertise in Latinx art.

Lord Cultural Resources has been engaged to conduct a business plan and facilities review for El Museo del Barrio.

Read More
Tuscaloosa Officials Request Feedback for Saban Center Development Plans


WBRC, February 13, 2023

Lord Cultural Resources, a museum consultant for the Saban Center, launched an online community survey for the science and discovery center that will be known as IGNITE. The future evolution of the Children's Hands on Museum or CHOM will become IGNITE. It will focus on fun and educational STEAM. That's Science, Technology, Engineering, Arts and Math learning. The purpose of the survey is to understand the Tuscaloosa community's goals and desires for IGNITE so kids will come and enjoy it.

Read More
Johnson Fain Completes Curvilinear First Americans Museum After Decades of Work


Dezeen, February 13, 2023

The First Americans Museum (FAM) aims to educate the public on the cultures and histories of the 39 Native American tribes that exist in Oklahoma today. It is located in the state's capital, Oklahoma City.

Read More


Latinidad On Its Own Terms


Hyperallergic, February 8, 2023

Who tells a tale adds a tail: Latin America and contemporary art explores contemporary Latin American art without conforming to external expectations.

Read More


Human Rights Museum Highlights Manitoba's Black Entrepreneurs


Global News, February 8, 2023

The Canadian Museum for Human Rights is highlighting entrepreneurs from the Black community for Black History Month.

Read More


Forest County Potawatomi Community Museum Re-Opens with Exhibits Featuring The Past While Focused On The Future


WXPR, January 30, 2023

As the last beat of the drum song faded out, Donald Keeble, or Thigwé in his Neshnabe name, opened the doors and welcomed people to the newly renovated museum for the Forest County Potawatomi Community.

Read More


IDEA
The Artists Resisting the Gentrification of New York's Chinatown


Hyperallergic, February 15, 2023

Facing City Hall in Downtown Manhattan, a new exhibition by the Chinatown Art Brigade (CAB) collective is loudly protesting the neighborhood's gentrification. Featuring historical material from the nearly 40-year-old Committee Against Anti-Asian Violence (CAAV), the expansive Degentrification Archives show, up through March 25, documents the decades-long fight against displacement and celebrates the work of activists today.

Read More
"Don't Call Me Chief": Native Artists Protest Racist NFL Mascots


Hyperallergic, February 13, 2023

A group of Native artists and others held a protest outside the stadium in Glendale, Arizona, where the Kansas City Chiefs and the Philadelphia Eagles competed for the championship.

Read More
The Drag Queen at the Center of Tate Britain Protests Speaks Out After Clashes Outside the Museum


Artnet News, February 13, 2023

One man was arrested as LGBTQ rights supporters met right-wing protesters outside the London museum.

Read More
Who Gets to Honor Native Women in the US?


Hyperallergic, February 7, 2023

"Dignity of Earth and Sky," unveiled in 2016, raises questions about who should depict Native people and how they should be portrayed.

Read More
What Does an "Indigenous Inclusion Advisor" Do?


Hyperallergic, February 2, 2023

Passamaquoddy citizen Chris Newell is imparting his knowledge of the Wabanaki Confederacy to advise on the Portland Museum of Art's expansion.

Read More
MUSEUMS
Sacred Nuxalk Nation Totem Pole Finally Repatriated


Hyperallergic, February 22, 2023

Following the Nuxalk Nation's initial request for repatriation in 2019, the Royal British Columbia Museum finally repatriated the long-lost Snow family totem pole to Nuxalk territory last week. A fleet of 100 Nuxalkmc (Nuxalk people) escorted the truck carrying the totem pole throughout its approximately 600-mile journey back to Bella Coola, British Columbia.

Read More
Protests Erupt Outside Archaeological Museum in Athens as David Chipperfield Revamp Announced


The Art Newspaper, February 16, 2023

The whole of Athens, one might suggest, is an archaeological museum. Nevertheless, news that the city's 19th-century Archaeological Museum is going to be extended and restored by David Chipperfield Architects (DCA) is being received in Greece as a major cultural event.

Read More
Museum Of Natural History's New Science and Nature Center to Open to New York Public This Spring


The Art Newspaper, February 16, 2023

Dramatic extension to the 140-year-old building is inspired by the "Manhattanhenge" illusion.

Read More
Whitney Museum Promotes Curator of Groundbreaking Puerto Rican Art Show


ART News, February 16, 2023

Marcela Guerrero, the organizer of an acclaimed survey of Puerto Rican art since Hurricane Maria, has been promoted to curator at the Whitney Museum in New York. Alongside her new appointment came news that Jennie Goldstein, an assistant curator at the museum, will be associate curator of the collection.

Read More
Women Artists Gain Wall Space at Tate Britain as Museum Rehangs Collection


The Art Newspaper, February 16, 2023

Popular galleries dedicated to Pre-Raphaelite artists and JMW Turner will also be rehung with new rooms dedicated to John Constable and William Blake

Read More
Science Museum Sponsorship Deal with Oil Firm Included Gag Clause


The Guardian, February 16, 2023

The Science Museum in London signed a sponsorship contract containing a gagging clause with the Norwegian oil and gas company Equinor, agreeing to take care not to say anything that could damage the firm's reputation, it can be revealed.

Read More
When a Visit to the Museum Becomes an Ethical Dilemma


The New York Times, February 14, 2023

Western museums are major tourist attractions, drawing travelers from around the world. But what responsibility do we bear as spectators for patronizing institutions that display what critics say are stolen works?

Read More
How One Derbyshire Museum Took Initiative in Returning Indigenous Artifacts


The Guardian, February 13, 2023

Buxton Museum returned entire collection of Native American and First Nation artefacts to their original communities.

Read More
The Brauer Museum Is Under Fire for A $20 Million Deaccessioning Scheme Its Founding Director Deems 'Utterly Disgraceful'


Artnet News, February 13, 2023

Once again, an art museum has come under fire for plans to sell art from its collection. This time, the institution in question is the Brauer Museum of Art at Indiana's Valparaiso University, and it is looking to sell a trio of artworks by Georgia O'Keeffe, Frederic Edwin Church, and Childe Hassam estimated to be worth over $20 million to fund improvements to freshman dormitories.

Read More
Repatriated House Post Heading Back to B.C. Indigenous First Nation from Harvard Museum


Global News, February 12, 2023

A longhouse post originally taken from the Gitxaala Nation around 138 years ago, near Prince Rupert, B.C., is being repatriated to the territory from the Peabody Museum at Harvard University.

Read More
Museum Community Must Agree on Binding Protocols to Counter 'Increasing Political Interference' Across Europe, Leading Directors Say


The Art Newspaper, February 10, 2023

A slew of cases of museum directors forced from their positions is a "spectacular moment of crisis," the Museum Watch Committee chair said at annual museums conference.

Read More
US Museums Reduce Emissions with Help From Frankenthaler Foundation


Hyperallergic, February 9, 2023

In the wake of last year's trend of climate emergency demonstrations targeting art museums internationally, the Helen Frankenthaler Foundation has announced its third cycle of the Frankenthaler Climate Initiative (FCI), $10 million worth of grants to stimulate clean energy projects across cultural institutions in the United States.

Read More
'Black History Month Is Not a Checkbox—Museums Need to Work on Yearlong, Holistic Programming'


The Art Newspaper, February 1, 2023

As Black History Month begins in the US, arts administrator and historian Tsione Wolde-Michael gives three key points for institutions to consider.

Read More
ARCHITECTURE
Contract Awarded for RBCM Collections, Research Building


British Columbia, February 23, 2023

Construction will begin this summer on the Royal BC Museum's (RBCM) collections and research building as part of a long-term plan to protect the Province's collections that include more than seven million artifacts and the BC Archives.

Read More
The Dallas Museum of Art Launches An International Design Competition


Canadian Architect, February 23, 2023

The Dallas Museum of Art (DMA) and design competition organizers Malcolm Reading Consultants (MRC) are calling on all local, regional, national, and international architecture firms to participate in the reimagining of the Museum's campus.

Read More
'A Balance Between Wonder and Humility': 25 Leading Architects Imagine How Future Museums Will Look In A Post-Starchitecture World


Artnet News, February 9, 2023

Read an excerpt from the new book 'Imagining the Future Museum: 21 Dialogues With Architects.'

Read More
ART & CULTURE
A Museum in a Cargo Lorry: Tate Takes Art on The Road in Liverpool


The Art Newspaper, February 23, 2023

For the first time, the Tate is touring works from its national collection directly to the UK's regional communities in a newly conceived "mobile museum".

Read More
B.C. Government Announces $30 Million to Support Fairs, Events and Festivals


Global News, February 16, 2023

The B.C. government announced $30 million in funds will be allocated to B.C.-based events in response to calls from the sector for more help. The one-time $30-million grant will be provided to eligible events in response to challenges the industry is facing, such as loss of staffing and volunteers, supply-chain issues, and a cautious return of audiences.

Read More
At LA's Felix Art Fair, More Is More


Hyperallergic, February 16, 2023

The art displayed in the rooms of Hollywood's Roosevelt Hotel this year proves that Minimalism is officially dead.

Read More
The Countries Paying Youths to Simply Enjoy Art


Hyperallergic, February 14, 2023

Germany, France, Italy, and Spain offer cash stipends to their younger citizens in an effort to revitalize arts and culture after the COVID-19 pandemic.

Read More
Artist Renderings Revealed for New Kingston, Ont. Arts Centre


Global News, February 14, 2023

New architectural renderings have been released for the major revamp of one of Kingston's art galleries. The Agnes Etherington Art Centre on Queen's University campus is set to receive a three-storey addition.

Read More
1-54 Contemporary African Art Fair Returns To Marrakech After Two-Year Hiatus


The Art Newspaper, February 13, 2023

The number of galleries from Africa has more than halved since 2020, but sales were steady among the 12 new exhibitors.

Read More
Hangama Amiri's Kaleidoscopic Textile Art Summons the Strength Of Women In Afghanistan


Art in America, February 10, 2023

You can almost hear the cars and merchants and smell the spices and food in Hangama Amiri's large-scale tapestry Bazaar (2020). Rendered in a kaleidoscopic palette of jewel-tone fabrics—thick muslins, sturdy cottons, delicate chiffons, rich velvets, and shimmering satins—Amiri's bazaar is a dense arrangement of vendor stalls, shop doors, and goods on offer in her neighborhood market in Kabul, Afghanistan.

Read More
Rijksmuseum's Slavery Exhibition Is Coming to New York


Hyperallergic, February 8, 2023

The Rijksmuseum of Amsterdam has announced that an adapted version of its 2021 Slavery exhibition will be making a trip to New York City for a five-week display at the United Nations (UN) headquarters.

Read More
Near Cape Town, the São José Shipwreck Is a Unique Symbol of A Painful Legacy


Atlas Obscura, February 6, 2023

In 2015, a delegation from the Smithsonian Institution traveled to Mozambique to inform the Makua people of a singular and long-overdue discovery. Two hundred and twenty-one years after it sank in treacherous waters off Cape Town, claiming the lives of 212 enslaved people, the wreck of the Portuguese slave ship the São José Paquete D'Africa had been found.

Read More
UNESCO Adds the Ukrainian City Odesa to List of Endangered World Heritage Sites


Art News, February 2, 2023

The historic center of the Ukrainian Black Sea port city Odesa has been added to UNESCO's list of endangered World Heritage sites. The key strategic port city, known for its cosmopolitan history and architectural landmarks, has been the target of Russian bombing since its invasion of Ukraine began in 2022.

Read More
Anish Kapoor's Shiny 'Bean' Sculpture in New York Finally Completed


The Art Newspaper, February 2, 2023

Commissioned nearly 15 years ago, the bulbous outdoor artwork was delayed by the 2008 financial crisis and the Covid-19 pandemic.

Read More
National Arts Centre Gets Backlash Over First 'Black Out' Night for Black Theatre Goers


Global News, February 1, 2023

The National Arts Centre (NAC) has drawn criticism over plans for a first-ever Black Out night scheduled during Black History Month.

Read More
High Museum of Art Names Artist Ebony G. Patterson Recipient of 2023 David C. Driskell Prize


High Museum of Art, February 1, 2023

Artist Ebony G. Patterson is the 2023 recipient of the David C. Driskell Prize in recognition of her contributions to the field of African American art. Awarded annually by the Museum since 2005, the prize demonstrates the High's ongoing dedication to furthering artistic innovation and promoting research of African American artists and scholars.

Read More
Vancouver City Council Approves Plan to Revitalize Granville Street


Global News, January 31, 2023

The City of Vancouver is beginning another effort to revitalize and transform the historic Granville strip, home to some of the city's most recognizable and iconic theatres and buildings.

Read More
Indigenous Art at Center of Culture Policy


Illawarra Mercury, January 29, 2023

A new arts plan will boost the amount of Australian music, art and film with the government putting Indigenous culture at the policy's centre.

Read More
Canada Chooses Kapwani Kiwanga for Its 2024 Venice Biennale Pavilion


The Art Newspaper, January 26, 2023

Canada is the latest country to announce its artist choice for the next Venice Biennale (20 April-24 November), selecting Kapwani Kiwanga who works in video, installation, sound, performance and sculpture.

Read More
Venice Biennale 2024: All the National Pavilions, Artists and Curators Announced So Far


The Art Newspaper, January 25, 2023

Details of the Venice Biennale 2024 have already started to be announced. The 60th edition of the most prestigious and oldest-running art biennial will open on 20 April 2024 (until 24 November). To help you keep on top of the latest pavilion news, we have brought together all the participating artists and organisers announced so far.

Read More
Lord Cultural Resources values your privacy and does not sell or trade email addresses.
Please see our privacy policy for more information