| | |
| --- | --- |
| | SHARE ON |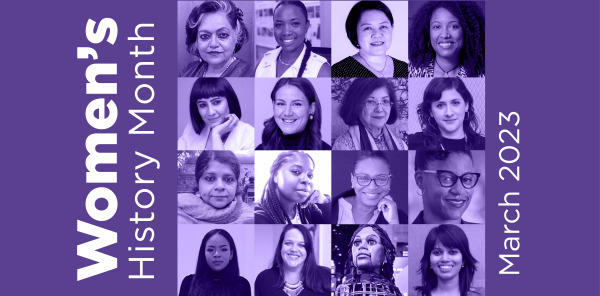 Featured Story:
Celebrating Women's History Month
As we conclude March 2023, International Women's History Month, we want to take a moment to reflect on the inspiring women who have made significant contributions in the cultural world. Throughout the month, we have dedicated a different week to honor four women who inspire us as Leaders, Trailblazers, DEAI Advocates, and Youth.
We are thrilled to present the final poster that captures the essence of our month-long celebration. We express our gratitude to all those who have participated in honoring these remarkable women and acknowledge their exceptional work in the cultural sector.

We invite you to download the poster and join us in continuing to celebrate and honor women who inspire us with their remarkable achievements.


DOWNLOAD POSTER HERE
OUR CLIENTS & LORD
What Would Ben Franklin Say? Artists Weigh the Dream of Democracy


The New York Times, March 23, 2023

The sun rises on a bold collaboration between the Pennsylvania Academy of the Fine Arts and the African American Museum in Philadelphia.

PAFA engaged Lord Cultural Resources in 2021 to conduct an in-depth analysis of PAFA´s business model, explore alternative options, guide the strategic vision of the institution, and develop a detailed financial model to ensure the institutions future sustainability.

Read More


Denver Art Museum Returns Donations from Associate of Antiquities Smuggler Douglas Latchford


The Art Newspaper, March 15, 2023

The Denver Art Museum has issued a statement further distancing itself from the late Emma Bunker, who allegedly falsified provenance documents for looted items from Cambodia.

Read More


Nungesser to Propose Museum Merger with Secretary of State Sites


Louisiana Illuminator, March 15, 2023

Nine state museums are the responsibility of the Louisiana lieutenant governor, and nine other sites are operated by the Secretary of State. Lt. Gov. Billy Nungesser wants to place them under the same umbrella and create regional entities to handle their management.

The Louisiana Legislative Auditor criticizes the condition of the state's museums and endorses the findings of Lord Cultural Resources 2019 study. The state is considering implementing Lord recommendations. Read More
National WWII Museum to Open Walt Disney Studios Exhibit


Attractions Magazine, March 10, 2023

Just in time for Disney's 100th anniversary, the National WWII Museum in New Orleans will host the traveling "The Walt Disney Studios and World War II" exhibit.

Read More


LACMA Adds More High-Profile Board Members as It Inches Closer To $750m Fundraising Goal For New Building


The Art Newspaper, March 9, 2023

The Los Angeles County Museum of Art has confirmed that it is now 98% of the way to its fundraising goal for the construction of its controversial Peter Zumthor-designed building.

Read More


With New Exhibit Montreal Artist Karen Tam Conjures The City's Historic Chinatown


The Globe and Mail, March 4, 2023

Montreal artist Karen Tam has mounted an exhibition at the McCord Stewart Museum entitled Swallowing Mountains. The exhibition features photographs and documents from Montreal's historic Chinatown as well as Tam's own creations inspired by traditional Chinese art forms.

Read More


Collector Mitchell Rales Donates $1.9bn To Glenstone, The Museum He and His Wife Co-Founded Near Washington, DC


The Art Newspaper, March 2, 2023

The Glenstone Foundation, which supports the private Glenstone Museum in Potomac, Maryland, received a $1.9bn donation from its co-founder, the collector Mitchell Rales.

Read More


Art Gallery Of Ontario Reveals Designs for New $73m Modern And Contemporary Art Wing


The Art Newspaper, March 2, 2023

Construction of the new gallery named the Dani Reiss Modern and Contemporary Gallery, is expected to begin in early 2024. The galleries opening is scheduled for 2027.

Read More


Two San Francisco Museums Launch Joint Curatorial Position Focused on Art of The African Diaspora


The Art Newspaper, February 28, 2023

The new curatorial position, created by SFMoMA and the Museum of the African Diaspora, will involve the development of exhibitions and other programmes at both institutions.

Read More


Are Abu Dhabi, Shenzhen and Doha The New Culture Capitals? A New Study Says So


The Art Newspaper, February 28, 2023

The number of new museums, opera houses and theatres in ambitious and cash-rich Asian and Middle Eastern countries outstrips those in Europe and the US.

Read More


DEAI
The Black Artists Claiming More Space Than Ever Before


The New York Times Style Magazine, March 24, 2023

As black artists claim more space in museums and cultural settings, new monumental works are filling landscapes and galleries. They argue for the freedom and power to play.

Read More
Military Museums Shining Spotlight on Women in Leadership in Armed Forces


CTV News, March 5, 2023

Military Museums are shining the spotlight on women in leadership in the armed forces in advance of International Women's Day next week.

Read More
BFI Flare Expanding to Offer World's First Virtual LGBTQ+ Museum


Blooloop, March, 2023

BFI Flare, London's major LGBTQIA+ film festival, is expanding offering a free programme of immersive projects including the world's first virtual LGBTQ+ museum.

Read More
UN Special Rapporteur on the rights of Indigenous Peoples starts 10-day visit to Canada


CBC News, March 1, 2023

For the first time since being appointed as the United Nations Special Rapporteur on the rights of Indigenous Peoples, José Francisco Calí Tzay is making an official visit to Canada.

Read More
MUSEUMS
Outdoor Museum an Art Pipeline into Community Health


The Hamilton Spectator, March 6, 2023

They call it a museum but it's three kilometres long, it's out of doors and when you cross you have to look both ways because there could be cars coming.

Read More
Extinction Rebellion Storms Rijksmuseum for Rembrandt Action


Hyperallergic, March 6, 2023

Changing tactics, the climate activists avoided gluing themselves to the masterpiece or smearing it with food products.

Read More
Paris Picasso Museum Reinvents Itself to Tackle Artist's Troubled Legacy


The Guardian, March 5, 2023

The Picasso Museum in Paris, with Paul Smith's help, is trying to attract younger audiences by confronting issues of misogyny and colonialism.

Read More
Secrets Of Manhattan's Hispanic Society Revealed After Six Year Renovation


The Art Newspaper, March 2, 2023

The first phase of the redevelopment of the New York Museum of Art from Spanish and Portuguese-speaking countries will open in April.

Read More
Tory Burch, Alice Walton, and Other Female Philanthropists Have Donated $55 Million to a New Smithsonian Women's History Museum


Artnet News, March 1, 2023

The opening of the forthcoming Smithsonian Institution's American Women's History Museum is likely at least a decade off, but efforts to establish a home for it have received a major boost: $55 million in donations.

Read More
ARCHITECTURE
NYC's Iconic Flatiron Building Is … Headed to Auction?


Hiperallergic, March 8, 2023

A protracted battle over control of one of New York City's most iconic buildings will finally be settled at auction later this month.

Read More
David Chipperfield, Architect of Renowned Museums From Margate To Mexico City, Wins 2023 Pritzker Prize


Milford Daily News, March 7, 2023

Chipperfield's building projects include Turner Contemporary and Museo Jumex, as well as expansions of Kunsthaus Zürich and London's Royal Academy.

Read More
Milford's Consigli Construction Just Won a Big Rehab Project In Washington, D.C.


Milford Daily News, February 27, 2023

Consigli Construction Co. Inc., a fourth-generation construction management firm that is behind many local projects, recently announced that it has been selected by the National Park Service to complete historic rehabilitation work to the Lincoln Memorial.

Read More
ART & CULTURE
Indigenous Art Forgery Ring Smashed in Canada


The National News, March 24, 2023

More than 1,000 paintings have been seized after an investigation into an organized criminal group allegedly sold fakes by pioneering artist Norval Morrisseau.

Read More
Dignity of Earth and Sky


Atlas Obscura, March 8, 2023

A striking sculpture has been built to honor the women of the Lakota and Dakota Nations.

Read More
Native American Painter Jaune Quick-To-See Smith Will Be the First Artist to Curate a Show at The US National Gallery of Art


The Art Newspaper, March 6, 2023

The exhibition will include work by around 50 living Native artists, including several pieces that have recently been acquired by the NGA.

Read More
Nadya Kwandibens On What It Means to Be Toronto's New Photo Laureate


The Globe and Mail, March 2, 2023

Nadya Kwandibens will be Toronto's new poet laureate, pending confirmation by city council in late March. An Anishinaabe (Ojibwe) from the Animakee Wa Zhing #37 First Nation in northwestern Ontario, she is the city's third laureate, after Geoffrey James (2016-19) and Michèle Pearson Clarke (2019-22).

Read More
Full Scale of Damage to Turkish and Syrian Heritage Emerges After Devastating Earthquakes


The Art Newspaper, February 27, 2023

Many archaeological landmarks and religious sites in the region have been heavily damaged or destroyed.

Read More
Lord Cultural Resources values your privacy and does not sell or trade email addresses.
Please see our privacy policy for more information