| | |
| --- | --- |
| | SHARE ON |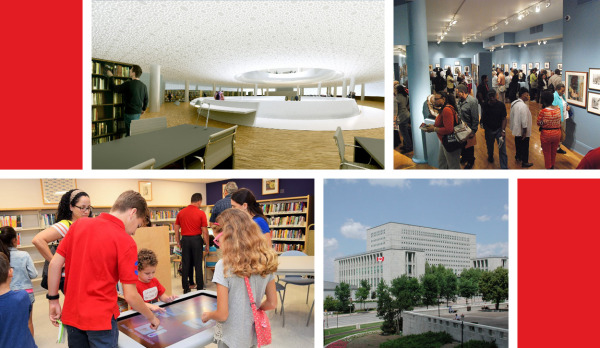 From top left to bottom right: King Abdulaziz Center for World Culture credit Snohetta; Schomburg Center for Research in Black Culture; Miami Dade Public Library System; Library and Archives Canada
Featured Story:
The golden age of public libraries dawns again
As the world enters 2022, public libraries are emerging as one of the bright spots — literally.
An abundance of new and newly renovated libraries have opened their doors in the past two years. In addition to being breathtakingly beautiful, many are exemplars of what great community spaces can and should be.
Libraries play a critical role in supporting communities. Lord Cultural Resources has played an integral role in the evolution of cultural institutions for forty years and is at the forefront of planning for libraries. We have developed expertise in planning for libraries throughout the world and bring sensitivity towards the unique character of each project. Some of our library projects include:
Read More
Our Clients and Lord
Christie, official display partner for Expo 2020 Dubai, creates 360-degree theater for Canada Pavilion


Inpark Magazine, January 26, 2022

Christie 1DLP laser projectors alight the Canada Pavilion at Expo 2020 Dubai. The 1,364 square meter (14,681 square foot) pavilion, located in the Sustainability District, welcomes guests with art installations, an interactive light and sound experience and a 360-degree theatre.

EllisDon, a Canadian contracting company, with Lord Cultural Resources, NGX Interactive and kubik maltbie as strategic partners, was awarded the contract to design, build and maintain the pavilion

Read More


Louvre Launches Three-Year Restitution Research Effort Backed by Sotheby's


ARTNews, January25, 2022

The Louvre in Paris is conducting a three-year restitution research project focused on works that entered the museum's collection between 1933 and 1945. As part of the initiative, which is being sponsored by Sotheby's, the museum will produce a series of public programs related to restitution.

Read More


The 25 Best Museum Buildings of the Past 100 Years


ARTNews, January 24, 2022

What makes a great museum? It's about more than just the art inside its walls—it's also those walls themselves, which are meant to work in service of what's on view. As many architects have realized over the years, museum buildings can, if anything, function like artworks themselves, as objects for appreciation. In some cases, these buildings have become just as identifiable as the masterpieces in museums' collections.

Read More


Seaport receives $519,000 in grants


The Day, January 14, 2022

Mystic Seaport Museum has announced it has received three grants totaling $519,999 from Connecticut Humanities, a nonprofit affiliate of the National Endowment for the Humanities.

Lord Cultural Resources has been engaged to facilitate a DEAI (Diversity, Equity, Accessibility, Inclusion) Plan for Mystic Seaport Museum.

Read More
Following Activists' Calls, Rubin Museum to Return Looted Nepalese Artifacts


ARTNews, January 11, 2022

The Rubin Museum of Art in New York said this week that it will return two ancient artifacts believed by researchers to have been looted from religious sites in Nepal following a review of the objects' provenance records. An activist group that tracks looted Nepali cultural property, the Nepal Heritage Recovery Campaign, had called on the museum to return the two wooden sculptures after identifying them as having been stolen in September.

Read More


Foster + Partners shelters subterranean art gallery with pyramidal roofscape


dezeen, January 6, 2022

Four peaks clad in weathering steel cover the underground galleries at the Datong Art Museum, which British architecture studio Foster + Partners has completed in northern China. The 32,000-square-metre art museum, which is now open in Datong, is designed by Foster + Partners as an "urban living room" with facilities for both artists and the public.

Read More


Reinvesting in 'cathedral of power' aims to boost Niagara Falls tourism


The Globe and Mail, January 4, 2022

For a century, Niagara Parks Power Station produced electricity; then, for a decade, the building lay abandoned, sad and neglected. Now, the monumental stone building by Niagara Falls has been reimagined and restored as a museum and event space to tell the story of how it helped power Ontario.

Read More


Yves Saint Laurent Aux Musées


Musée Yves Saint Laurent Paris, January, 2022

Taking an innovative approach to mark an important date, the exhibition YVES SAINT LAURENT AUX MUSÉES will convene six Parisian museums: the Centre Pompidou, the Musée d'Art Moderne de Paris, the Musée du Louvre, the Musée d'Orsay, the Musée National Picasso-Paris and the Musée Yves Saint Laurent Paris, and delve into the profound inspirational bond the couturier had with art in general, and the collections of French public museums in particular.

Read More


INCLUSION, DIVERSITY, EQUITY AND ACCESSIBILITY
City unveils sweeping Cultural Equity Plan


Yale Daily News, January 25, 2022

New Haven will seek to redistribute wealth and address centuries of exploitation by amplifying the voices of artists from marginalized communities through its new Cultural Equity Plan.

Read More
Witness blanket replica tours B.C. as testament to dark legacy of Indian residential schools


CBC, January 22, 2022

Over the next year, people living in B.C.'s Interior and north will be able to view the reproduction of a large-scale art installation currently touring museums across B.C. that commemorates the legacy of Indian residential schools.

Read More
How Newly Recruited Native Curators Are Changing the Narrative of American Art at Museums Across the Country


ArtNet News, January 12, 2022

As a tidal wave of racial reckoning has forced the museum industry to confront its dismal record on diversity, curators of American art are beginning to reassess galleries devoted almost exclusively to Hudson Valley landscapes and Rococo portraits by dead white men.

Read More
Palaeontology Has a Colonialism Problem


The Wire Science, January 7, 2022

A new study has shown that colonial history and socioeconomic factors affect the way researchers study palaeontological samples and interpret the data.

Read More
Why the Smithsonian is changing its approach to collecting, starting with the removal of looted Benin treasures


The Washington Post, January 6, 2022

Collecting is a core function of museums — a way to preserve the present for future generations and to educate and inspire visitors with objects from the past. And yet removing artwork — with the hope of returning it to its rightful owner — was one of the first moves made by the new director of the National Museum of African Art.

Read More
Archiving the January 6 Insurrection for History


Smithsonian Magazine, January 6, 2022

On the one-year anniversary of the attack on the Capitol, the National Museum of American History continues to collect related artifacts.

Read More
In 'African Origin' Show at Met, New Points of Light Across Cultures


The New York Times, January 6, 2022

Holdings from Ancient Egypt and sub-Saharan Africa come together in a masterpiece show. Now the Met should make clear how the wondrous works got here.

Read More
Community, connection and activism at the National Museum of African Art


blooloop, January 5, 2022

Ngaire Blankenberg, the new director of the Smithsonian's National Museum of African Art (NMAA), has been a consultant for museums and cultural destinations around the world. She draws on a rich experience in finding innovative ways to connect cultural resources to new audiences, and a commitment to re-imagining the museums of the future.

Read More
Museums
The National Gallery of the Cayman Islands are celebrating their 25th anniversary soon with a new exhibit


National Gallery of the Cayman Islands, January 28, 2022

Marking 25 years since the founding of the National Gallery in 1997, this exhibition explores the growth of their permanent collection over the past quarter-century – a period in which NGCI has consistently strived to ensure the safety and care of this precious cultural resource on behalf on the Caymanian people.

Read More
Dutch Museums Reopen as Salons and Gyms in Playful Protest Against Covid Lockdown


ARTNews, January 20, 2022

On Wednesday, museums and theaters in the Netherlands temporarily turned themselves into salons and gyms in protest over continued coronavirus restrictions on the arts sector. All non-essential businesses in the country have been closed since late December in an attempt to slow a surge in cases that threatened to overwhelm its intensive care facilities.

Read More
After a Decade of Uncertainty, the Jewish American History Museum Emerges With a Bright Future


Hyperallergic, January 12, 2022

Weeks before the pandemic necessitated its temporary closure, Philadelphia's National Museum of American Jewish History filed for bankruptcy in hopes of keeping its doors open.

Read More
2022 in new museum openings, re-openings and partial re-openings


Museum Next, January 4, 2022

It's always good to have something to look forward to at the beginning of a new year and in 2022 there are plenty of museum projects being completed including new museum openings, re-openings and partial re-openings.

Read More
A Major Pandemic Spike Is Forcing Museums to Close—Again. But This Time, It's Because Staffers Are Out Sick


ArtNet News, January 4, 2022

Several Smithsonian museums and the Wadsworth Atheneum are among institutions that have had to close temporarily.

Read More
Art and Culture
The most exciting exhibitions around the world in 2022


CNN, January 6, 2022

This year's must-see exhibitions include the return of the Venice Biennale and Documenta, blockbuster shows of Donatello and Cézanne, and a sculpture festival for the Qatar World Cup. Because of the ongoing Covid-19 pandemic, please check exhibitions are going ahead before you travel.

Read More
Hamilton's tiniest art gallery opens


The Hamilton Spectator , January 5, 2022

Matt Coleman recently opened the city's tiny art gallery on the front lawn of his Mapleside Drive home off Aberdeen. He's an art teacher with the Halton District School Board and a photographer.

Read More
From Immersive Everything to the Rise of Museum Unions, These 7 Trends Defined the Art World in 2021—and Will Shape the Year to Come


ArtNet News, January 3, 2022

A look at the movements that defined 2021 in the art world, and how they may evolve in the year ahead.

Read More
Lord Cultural Resources values your privacy and does not sell or trade email addresses.
Please see our privacy policy for more information