February 2018




A curated review of this month's cultural news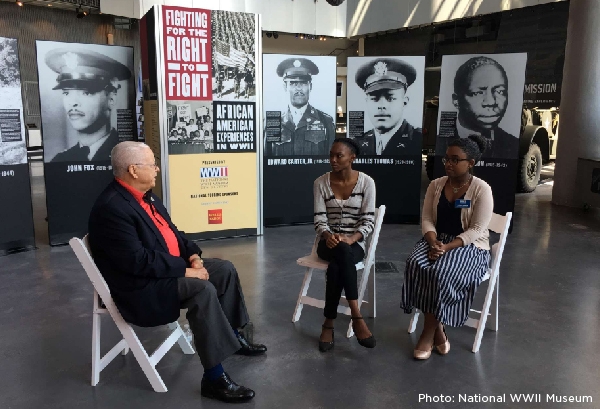 In this month's issue:
In this edition of Cultural News, in honour of Black History Month, we're paying particular attention to stories which celebrate the importance of Black history. Institutions worldwide have risen to the challenge of broadening audiences, questioning historical narratives, and developing barrier-breaking programming. These initiatives include Lord clients such as the National World War II Museum, the National Museum of African American History and Culture, and others: click through to read all of this month's news.
Our clients & Lord
Diversity as Strength from Around the Field


February 26, 2018

Joy Bailey-Bryant (Managing Director, US at Lord Cultural Resources), has written about the need to celebrate the importance of Black history year-round, as well as created a round-up of some of the most exciting news commemorating Black History Month 2018.

Read More
Reinventing Museums: An appearance by Gail Lord on TVO


TVO: The Agenda with Steve Paikin, February 21, 2018

Gail discussed the reinvention of museums, how are they facing their colonial roots, and connecting with communities at TVO's The Agenda with Steve Paikin, along with Silvia Forni (Royal Ontario Museum), Gordon Shadrach (artist) and Andrew Hunter (Art Gallery of Guelph).

Watch the Video
WWII Museum's online event to feature 'unheard' voices of the era


Fox News, February 20, 2018

This month, classrooms across the U.S. had the opportunity to attend a free "electronic field trip" to the National World War II Museum, for a special live event sharing experiences of black service members with younger generations. The event (which was live but is now available on demand), Fighting for the Right to Fight, featured World War II survivors and experts, and aimed to "analyze war-era racial injustices, examine artifacts from the museum's collections and explore WWII historic sites in order to share stories of struggle, setbacks, triumphs and heroism of individuals who changed history."

Read More


Officials tour proposed site of Sing Sing Prison Museum


News 12 Westchester, February 15, 2018

State and local officials toured the site of the proposed Sing Sing Prison Museum in Ossining on Thursday. The $50 million museum is hoped to begin construction next year, and have the museum open in time for the 200th anniversary of the prison in 2025.

Read more and watch video


National Museum of Intelligence and Special Operations coming to Northern Virginia


Fairfax County Times, February 12, 2018

The Office of Strategic Services Society has selected the Kincora development in Loudoun County for its National Museum of Intelligence and Special Operations. The 56,000-square-foot facility, which is anticipated to open in 2020 aims to "educate the American public about the fascinating history of American intelligence and special operations and their critical role in preserving freedom."

Read More


Harlem's Schomburg Center for Research in Black Culture ups its cyber presence


NY Daily News, February 8, 2018

Harlem's Schomburg Center for Research in Black Culture is named for Arthur Schomburg, who was known for collecting and imparting information about African history and culture. Today, the library branch's Digital Schomburg initiative continues to meet these goals in cyberspace.

Read More


Brampton seeking public input for culture master plan


Brampton Guardian, February 2, 2018

The City of Brampton is looking for ideas on how to shape its first culture master plan. Local planners have embarked on drafting a new strategy for the delivery of municipal cultural services and investments over the next 10 years.

Lord Cultural Resources in partnership with Nordicity is proud to have been selected to develop Brampton's Culture Master Plan. The plan, begun in late 2017, is expected to be revealed to the public in June.

Read More
Google Made a Futuristic 3-D Art Exhibit for the National Museum of African American History and Culture


Time, February 2, 2018

Just in time for Black History Month, Google and the National Museum of African American History and Culture are debuted a new 3-D art installation that highlights culturally significant historical items. 3-D scanning was used to recreate objects in the exhibition, which includes items that either couldn't be transported because they're too fragile or aren't on display due to a lack of physical space in the museum.

Read More


Toronto councillors back plan for museum at Old City Hall


CBC News, February 1, 2018

City council voted 35-3 to turn Old City Hall into a museum of Toronto, predicting tourists and Torontonians will flock to the exhibits. At present, it's estimated that the museum would cover about 110,000 square feet of the 406,000-square-foot building. Councillors spoke enthusiastically on the "incredible opportunity" and how the museum could "return old city hall to the people."

The building of such a museum has been a long-term Lord Cultural Resources initiative, including contribution to the recommendation currently under review by Toronto's City Council.

Read More
What's it like to work beyond the professoriate? Six PhDs explain


University Affairs , January 31, 2018

Lord Cultural Resources vice president Brad King talks about what to expect when moving from academia to the non-academic workplace in this 2-part discussion.

Read More
Thunder Bay Art Gallery, Alexander Henry share in $6M in provincial funding for Thunder Bay waterfront


CBC News, January 31, 2018

The Ontario government is pledging a little over $6 million for waterfront development projects in Thunder Bay, Ont., including $5 million to help the Thunder Bay Art Gallery realize its dream of moving to a new location.

Read More


Soft Power
Marrakech museum boosts Africa's burgeoning art scene


The Art Newspaper, February 20, 2018

Marrakech's Museum of African Contemporary Art Al Maaden (Macaal) opened this past month. One of the museum's founders, Othman Lazraq, says he doesn't have concerns about following too soon in the footsteps of 2017's opening of Zeitz Museum of Contemporary Art Africa (Zeitz Mocaa) in Cape Town. In fact, he says that "with the opening of Zeitz Mocaa we will have more initiatives like this on the continent ... we need 100 more like them."

Read More
How ghee, turmeric and aloe vera became India's new instruments of soft power


The Washington Post, January 29, 2018

India's 3,000-year-old tradition of holistic healing has been increasingly plundered by the West to sell expensive aloe vera face creams and $6 cups of turmeric-flavored "golden milk." Now Narendra Modi, India's 67-year-old, yoga-loving Prime Minister, wants to reclaim — and capitalize on — those culinary and medical traditions.

Read More
Museums
Why museum professionals need to talk about Black Panther


The Hopkins Exhibitionist, February 22, 2018

The newly released film Black Panther engages with, among many highly relevant contemporary topics, the complicated relationship between museums and audiences affected by colonialism. Indeed, this online museums journal argues that the institution of the museum is depicted in the filrm as "an illegal mechanism of colonialism, and along with that, a space which does not even welcome those whose culture it displays. And is there anything incorrect about that?" What steps can museums professionals take to ensure a better dialogue going forward?

Read More
Is Crystal Bridges, in rural Arkansas, the most woke museum in America?


The Washington Post, February 9, 2018

In the summer of 2016, curators at the Crystal Bridges Museum of American Art featured an unusual and somewhat irreverent piece of installation art as a bit of an experiment: What would visitors think of it? What they discovered about the museum's audience and their interests has led to changes at the museum, both provocative and praised.

Read More
New show returns ROM to African-Canadian issues — and scores a provocative success


The Toronto Star, January 28, 2018

Decades after an infamous misstep, the "Here We Are Here" exhibit of African-Canadian contemporary art has arrived at the AGO. Says Silvia Forni, the curator of the ROM's African collections and a co-curator on this show, "I think the community is finally starting to feel more welcome. We really needed 'Of Africa' — it gave us time to think, and to think with different people. Every step of it led us here."

Read More
Technology
Buying Art Doesn't Have to Be Intimidating: Yes, There's an App


The New York Times, February 20, 2018

A new category of apps is emerging on the market, with the aim of connecting intimidated buyers with art for sale and democratizing the market. Online art sellers like Art.com and Saatchi Art use virtual and augmented reality to try out works at home, while others let you tap into your phone's camera roll to see what your own photos would look like hanging in your hallway. The New York Times tests out a selection of what's available.

Read More
Art & Culture
The Masterful, History-Making Portraits of Barack and Michelle Obama


Artsy, February 12, 2018

Earlier this month, official portraits of former United States President Barack Obama and former First Lady Michelle Obama were unveiled at an emotional and historic ceremony at the National Portrait Gallery in Washington, D.C. This editorial praises the artists, both of whom are African American, for their success in capturing the first African Americans elected to serve as president and first lady in a building built by slaves, as well as their "deft, thoughtful comments on race and representation in America that also provide an intimate encounter with the psyche of their individual subjects."

Read More
Afrofuturism, sci-fi and why 'it is a radical act for Black people to imagine having a future'


CBC News, January 30, 2018

You may know about Black History Month, but what about Black Future Month? CBC Arts turned to Jamaican-born Nalo Hopkinson, award-winning science fiction author, to find out more about what the future means — and why it's so exciting to her.

Watch the video
Creative Cities
How 5Pointz Artists Won $6.75 Million in Lawsuit against Developer That Destroyed Their Work


Artsy, February 13, 2018

A group of 21 street artists emerged victorious in their suit against the developer who whitewashed their work from the historic Queens, New York graffiti mecca known as 5Pointz. The ruling provides closure for one of the most-watched legal battles in the art world. But because of how the legal win frames the moral rights of the creators, the impact of the suit may well echo far into the future.

Read More
Living on the Edge: Public buildings catalyze change


Architectural Record, February 1, 2018

Cathleen McGuigan, Architectural Record editor-in-chief, introduces the publication's most recent issue by discussing how "contemporary civic buildings remain crucial to the life of the city— and some turn out to be catalysts for reviving urban areas that have been in decline."

Read More
These Black Women Are Building Empowering Spaces in New York City


Vice, February 1, 2018

In part of an ongoing series highlighting the contributions of black women around the globe who are making a difference, VICE talks to 5 community builders in New York City. In fields as diverse as dance, data science, art, and neuroscience, these women are developing unique initiatives to champion underrepresented voices and advocate for their communities.

Read More
Lord Cultural Resources values your privacy and does not sell or trade email addresses.
Please see our privacy policy for more information