October 2018




A curated review of this month's cultural news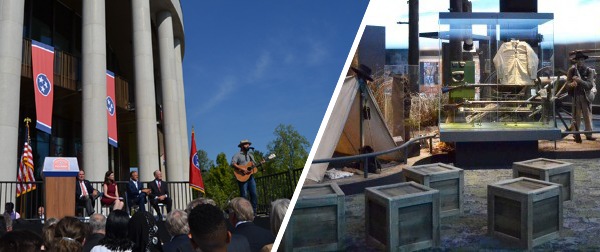 Featured Story:
In the October issue of Cultural News, we cover the new Tennesse State Museum, which opened to the public on October 4th, and includes state-of-art exhibits, back-of-house spaces, classrooms, digital theater, and prime rental facilities. Lord Cultural Resources developed the Master Plan upon which the new Museum is built. Read the full issue below. Read More
Our clients & Lord
Tennessee State Museum Brings History To Life In New $160 Million Home


Tennessean, October 1, 2018

The Tennessee State Museum has been redesigned to include state-of-the-art exhibits, back-of-house spaces, classrooms, a digital theatre, and prime rental facilities. "The museum is very visitor focused," said director Ashley Howell. "We want the visitor to be able to learn any way that they like to learn," whether that is through reading, seeing a documentary, studying the exhibit text or graphics, hearing stories or engaging with the staff.

Read More


Winners Announced for Toronto Park Competitions


Architectural Record, October 10, 2018

After an eight-month competition for the York Street Park and Rees Street Park, a winner has been selected from over 40 teams across the globe. The winning design for the York Street Park, Love Park, was proposed by Claude Cormier + Associés, a Montreal-based firm. Trees will surround a heart-shaped reflecting pool, creating a romantic oasis. The Rees Street Park winner was wHY Architecture in New York; Rees Ridge will create a barrier between the noisy Gardiner Expressway and the park, with a variety of experiences to enjoy – from a café plaza to a waterfall.
Lord Cultural Resources is a member of the Rees Street Park wHY Architecture Team.

Read More
The Museum Of Latin American Art Bestows First LEGADO Award On Opera Icon Placido Domingo


Cision PRWeb, October 9, 2018

World-renowned opera singer, conductor, and administrator Plácido Domingo has been award with the LEGADO: A Legacy for the Arts Award, for his significant contribution to the world through his dedication to inspiring young opera artists. The ceremony took place at the Museum of Latin American Art (MOLAA) in Long Beach, CA.

Read More


MOCA, the Universal Museum Revisited


Le Devoir, October 6, 2018

When the Museum of Contemporary Art switched from a Canadian art focus to a global focus, it opened the door to becoming more than just a trendy gallery. The current exhibition, Believe, fills two floors and features 16 artists from around the world who explore the beliefs and systems that inform our societal values and behaviours.

Read More


A Canadian Museum Rehangs Its Collection To Center Feminism and Race


Hyperallergic, October 4, 2018

In 2017, the Art Gallery of Hamilton's curator Tobi Bruce discovered that only 12% of works in their permanent collection were made by female artists. This staggering percentage is not unusual, and so the gallery is presenting a new exhibition to help bring the works of self-identified women back into the conversation. Despite its focus on women artists, Speaking for Herself is far from tokenism; the curatorial statement states that the exhibition creates: "conversations between historical and contemporary artists of diverse cultural backgrounds explore a broad range of themes including the body, identity, materiality, and private versus public selves."

Read More
The AGH Norval Morrisseau collection finally gets its day


The Hamilton Spectator, October 11, 2018

On Friday, 16 paintings of Woodlands artist Norval Morrisseau, will finally be hung on the walls of two rooms on the AGH's second floor as part of a new exhibition entitled simply "Norval Morrisseau," which runs until March 17.
The AGH is home to one of the largest collections of the art of Woodlands artist Norval Morrisseau ... but it's never reached the walls of the gallery until now.

Read More
'Who We Are As Albertans': Royal Alberta Museum Celebrates Grand Opening


Edmonton Journal, October 3, 2018

On October 3rd, the Royal Alberta Museum reopened to eager crowds, many of whom waited in lines for over an hour. The new museum tells the story of Alberta; from the prairie lightning storms and Albertosaurus, to the importance of the Metis and First Nations people whose land the museum inhabits. The $375.5-million facility is comprised of several sections; including natural history, human history, bug gallery, children's gallery, a feature gallery, and the "Museum Zone" which gives the public an insight into the "behind-the-scenes" of the museum.

Read More


Canada Needs New Museum Policy And Funding: Report


Canadian Art, October 3, 2018

In last month's Cultural News, we shared the CHPC Committee Report on the State of Canadian Museums. Among their 15 recommendations, the committee suggested a study on admission fees and their impacts on museum attendance, as advised by Gail Lord, co-founder and president of Lord Cultural Resources. The government has 120 days to respond to the report.

Read More
What Is The Future Of Governors Island?


Gothamist, October 2, 2018

Governors Island, located 800 yards from Lower Manhattan, is a beautiful 43-acre park with historic buildings and scenic views of New York City. The city is creating opportunities for development potential on the land, in an effort to complement and financially sustain the park and the island's operations. The beautiful island is teeming with possibilities, and the city is hoping for smart, sustainable development.

Read More


Chimczuk Museum Hosting Exhibit Of Canada's Waterscapes


Windsor Star, October 1, 2018

The Chimczuk Museum in Windsor, ON, is hosting an interactive exhibit exploring the rivers, lakes, and wetlands that make Canada so unique. The exhibit, Canada's Waterscapes — Yours to Enjoy, Explore and Protect, is a travelling exhibit created by the Canadian Museum of Nature; it features mini ecosystem models, wildlife specimens, and interactive activities.

Read More


City of Lake Worth Launches Arts & Cultural Master Plan for Downtown Lake Worth


In Florida, October 23, 2018

After an 18-month planning process, the City of Lake Worth, Lake Worth Community Redevelopment Agency (CRA) and the Cultural Council of Palm Beach County today announced the launch of the Arts & Cultural Master Plan for Downtown Lake Worth.

Funded by a grant from the Community Foundation for Palm Beach and Martin Counties and facilitated by Lord Cultural Resources and Jon Stover Associates, the plan aims to boost arts and culture within the City, create a thriving downtown and enhance the quality of life for Lake Worth residents and guests.


Read More


Small Town Gallery, World Class Art


The Canadian Press, October 22, 2018

Jon Shrubsole made the pilgrimage all the way from Dayton, Ohio. On the edge of the Saint John River, Fredericton's Beaverbrook Art Gallery has a back story — and a collection of works — ordinarily unlikely to be found in a sleepy provincial capital. The gallery — which turns 60 next year — is home to more than 5,300 works by artists including Salvador Dali, Lucian Freud, J.M.W. Turner and Thomas Gainsborough. "It has an international reputation and is one of the finest art galleries in Canada of its kind," director Thomas Smart says on a stroll through the building.

Read More


Refuge Canada a Heartwrenching, Heartwarming Exhibit at Pier 21


Truro Daily News, October 22, 2018

No one wants to be a refugee. Anyone can become one.

Refuge Canada at the Canadian Museum of Immigration at Pier 21 and is one of the most compelling exhibits staged to date. From the moment you step into the exhibit, the core theme hits home.

Refuge Canada explores several themes throughout the exhibit: Life before, fear, displacement, refuge and life in Canada. Visitors are exposed to case studies from major waves of people coming to Canada from around the world, including German Jewish and Hungarian, to Southeast Asian, Tamil and Rwandan refugees (and more.)

Read More


City of Dallas Cultural Plan


NBC-DFW 5, October 15, 2018

Jennifer Scripps, the Director of the Cultural Affairs Office for the City of Dallas, discussing the City of Dallas' Cultural Plan. To learn more, visit www.dallasculturalplan.com.

Watch Video


Montreal Holocaust Museum Planning Expansion in New Location


Canadian Jewish News, October 16,2018

The four-decade-old Montreal Holocaust Museum (MHM) has embarked on a $50-million project that could see it relocate to its own, much larger, space in downtown Montreal.

The MHM has been quietly exploring the feasibility of such an ambitious undertaking over the past year and a half, which it sees as necessary, due to a surge in visitors in recent years and a growing demand for its educational services and other programming, said MHM executive director Alice Herscovitch.

The Lord Cultural Resources study estimated that the number of annual visitors could reach 55,000-60,000 in a more accessible and visible location, she said, tapping into tourists more than it does now.

Read More


Stations of a Soldier's Life


Wall Street Journal, October 24, 2018

The National Veterans Memorial and Museum is not a war museum guided by materiel, strategy and context; it is a museum about the lives of those who served out of duty and belief.

Read More


It's been a thrilling few months at the Canadian Museum for Human Rights


CMHR Fall Newsletter, October 30, 2018

It's been a thrilling few months at the Canadian Museum for Human Rights. It seems every week I'm hearing about a new milestone that we've achieved, and seeing new ways that we're able to make an impact.

Just recently, we passed 1.3 million visitors since opening our doors in 2014, including over 100,000 students to our educational programs. In September we won a medal at the International Design and Communication Awards for our special exhibition Mandela: Struggle for Freedom — the 39th award we've received for our galleries, programs, communications, architecture and universal design. Just last week, we were one of the destinations that was singled out as Manitoba was named one of Lonely Planet's top regions to visit in 2019.

And of course, we've been given the incredible honour of being featured on the new $10 bill, alongside civil rights trailblazer Viola Desmond. Stay tuned for more details on the official launch of the bill, coming very soon.

Read More


Soft Power
Cultural Diplomacy, Graduation Day al MiBAC


Cattolica News, October 17, 2018

A prestigious place for an ambitious goal, the first graduation ceremony for the new master's degree in Cultural Diplomacy was held in the Cruise Hall of the Ministry of Cultural Heritage and Activities and Tourism.

This was an extraordinary occasion for the students who received their final diplomas after a year of intense work in the presence of Minister Alberto Bonisoli and the Ambassador of the People's Republic of China in Italy Li Ruiju .

Gail Lord acted as an advisor to the program on the invitation of the director, Federica Olivares.

Read More


Canadian Foundations Must Confront Inequality and Exclusion


Alliance for Philanthropy and Social Investment Worldwide, October 17, 2018

Typically, Canadian foundations remain very reticent to draw attention to themselves, unlike our more visible American neighbours. This is partly a matter of size. It's the rare Canadian foundation that grants more than $1 million a year to charities. These grants are spread across many recipients, most of them not engaged in public issues or controversies but occupied in delivering services to Canadian communities. This is generosity in action and there is much to be said for it. But there is also an argument to be made that even smaller foundations have a rare and unique capability to confront and change the conditions that create social isolation, exclusion and inequality. Such isolation and exclusion are drivers of what we see today, yes even in Canada, in populist politics, 'fake' news and social media's angry rhetoric.

It follows that foundations should be more willing to take on publicly the challenges of doing what is necessary to confront inequality and exclusion, even if this involves controversy or public attention. They should do this not just as a moral obligation, but because only they can.

Read More
Michael Bloomberg Thinks Midsize Arts Nonprofits Can Change American Cities, and He's Spending Over $100 Million to Prove It


ArtNet News, October 17, 2018

Bloomberg Philanthropies has expanded its American Cities initiative and is giving grants to hundreds of arts nonprofits. Since 2011, billionaire and former New York City mayor Michael Bloomberg has been quietly funneling a considerable portion of his fortune into helping small and midsize arts nonprofits flourish in cities across the US, through what's now known as the Arts Innovation and Management (AIM) program. AIM grew from Bloomberg's belief that small and midsize cultural organizations have been vastly under-appreciated in terms of their impact on metropolitan communities and economies. The program's expansion in 2018 has welcomed more than 200 new grantee organizations, which have been collectively promised over $43 million.

Read More
Berlin's Humboldt Forum: How its Director Plans to Confront Germany's Colonial Past


The Art Newspaper, October 17, 2018

Hartmut Dorgerloh says the institution will discuss presentation of non-Western art "together with critical friends and the communities." Funded 80% by the federal government, the new cultural complex will house Berlin's non-European ethnological collections and Asian art collections, which have moved from the state museums in the city's south-western district of Dahlem; permanent displays on the history of the city; spaces for temporary exhibitions; and an open research laboratory run by Humboldt University. The Humboldt Forum aims to stage around 1,000 events a year.

Read More
Cultural Diplomacy: Giving Voice to the Arts and Culture


Canada Council for the Arts, October 15, 2018

What difference can Canadian culture make abroad? All the difference in the world. Today, as citizens of the global village, we must ensure the diversity of voices in our society and our democratic values help promote a creative, altruistic, resilient, peaceful, harmonious and prosperous civilization for all—a civilization in which everyone can express themselves fully and freely.

To achieve this, our artists must have a larger presence on the world stage. We must build on the power of the arts to reinvent and their ability to captivate and engage in true cultural diplomacy—beyond excessive economic, geopolitical, organizational, political, national or even digital demands.

Read More
Museums
New Tour Tells Halifax's History Through Indigenous, Black Perspectives


CBC News, October 8, 2018

A new tour in Halifax will expose participants to a different side of Halifax's history, one that will be hard to find in textbooks or honored on plaques. The tour focuses on the history of Indigenous, black, and working-class people; a Mi'kmaq village that was destroyed during the Halifax Explosion and slave trading in the downtown area are just two of the stops. The tour was developed by Indigenous elder Billy Lewis, and Isaac Saney, a Dalhousie University professor. Lewis says: "For once, we're telling our history, and not yours."

Read More
National Museum In Rio Starts Rebuilding Efforts With Temporary Exhibitions


The Art Newspaper, October 1, 2018

After the fire, officials estimate that it will take at least a decade to restore the museum and what is left of its collection. In the meantime, new efforts are being devised to continue sharing the cultural heritage of Brazil without the use of the main building. Around 1.5 million objects from the museum's collection were stored in other facilities, and these objects are being put on display in tents outside the charred remains of the museum. Additionally, an initiative has been launched to lend objects to local schools for educational programing.

Read More
Canada's Unexplored Sikh History Documented For First Time


CBC News, September 29, 2018

Sikh families began gathering to Calgary and southern Alberta in the early 1900s, some as early as 1903. Michael Hawley, an associate professor at Mount Royal University, has started a project to uncover the history of these early pioneers who worked as miners, farmers, and lumber workers: "Sikhs helped to build Alberta. When you think of it that way, Sikhs are as much a part of Alberta history as any other group and it really challenges this idea that Sikhs are migrants or immigrants. No, they were here and they were founders and builders," says Hawley. The project has received positive responses from the Sikh community in Calgary.

Read More
China To Carry Out Nationwide Fire Safety Check On Museums And Cultural Relics


Global Times, September 15, 2018

There are currently close to 5,000 museums and over 50,000 cultural protection sites across China; the ancient architecture, mostly wooden buildings, is highly susceptible to rapid-spread fire. In the wake of the National Museum of Brazil fire, China is issuing a nation-wide safety check to protect their cultural relics.

Read More
Taking Action on Climate Change Video Series
Alberta Museums Association, the Coalition of Museums for Climate Justice and Shadow Light Productions
The videos address ways in which museum staff and museum visitors can engage in climate change action. They have been designed to be integrated into museum exhibition spaces and online platforms as a free educational tool. These videos are also intended to mobilize the museum sector to think differently about their role in climate change awareness and community resiliency, and to take action.
Read More
Doctors Can Soon Prescribe Visits to Montreal Museum of Fine Arts


Montreal Gazette, October 11, 2018

Art heals. That's the philosophy behind a new initiative from the Montreal Museum of Fine Arts, which will allow doctors to soon be able to prescribe a visit to a museum.

The Montreal Museum of Fine Arts announced Thursday that as of Nov. 1, physicians who are members of Médecins francophones du Canada will be able to send patients on visits to the MMFA, allowing patients, accompanied by caregivers or family members, to enjoy the health benefits of a free trip to see some art.
Read More
Architecture
Mecanoo's Weiwuying National Center for the Arts Opens in Taiwan


Architectural Record, October 12, 2018

The new National Kaohsiung Center for the Arts blurs boundaries in its design. The $280-million center combines five performances spaces, connected by organic, elliptically shaped hallways. The Dutch architecture firm Mecanoo was inspired by the large banyan trees located on the site; they created a building that has curving steel panels, open passageways, and a public plaza that invites patrons into a whole new experience.

Read More
Fuzhou's Massive Cultural Centre is Inspired by a Tiny Flower


Azure, October 24, 2018

In Fuzhou, China, PES-Architects has erected the sprawling Fuzhou Strait Culture and Art Centre, a five-building hub that resembles a jasmine blossom.

Situated on the bank of the Minjiang River in one of the largest cities in China's Fujian province, the new Fuzhou Strait Culture and Art Centre by PES-Architects takes influence from the city's flower – the jasmine.

Read More
A Museum Architect Sees Himself as a Matchmaker Between Artists and Art Lovers


HyperAllergic, October 16, 2018

Kulapat Yantrasast, who is designing the expansion for San Francisco's Asian Art Museum, prefers his museum designs to "take a backseat" to the art and visitors.

Read More
Art & Culture
President Rouhani Personally Takes Looted Ancient Relief Back From New York To Tehran


The Art Newspaper, October 11, 2018

In 1950, the Montreal Museum of Fine Art acquired an eight-inch tall relief; unbeknownst to them, the relief had been unlawfully removed from Persepolis after its excavation in 1933. A New York Supreme Court has ruled that the artifact, valued at $1.2m, should be repatriated. Iran's president, Hassan Rouhani, will be accompanying the relief back to Iran. A spokesman for the Iranian Embassy in London says: "Art in the current chaotic world of international relations is a space of relief."

Read More
Plucky Brits: Banksy Self-Destructs And Jenny Saville Makes £9.5m Record For A Living Female Artist


The Art Newspaper, October 6, 2018

The final artwork at Sotheby's was a piece by the renowned street artist Banksy. Just as the piece was sold (£1.04m), the artwork slipped through its frame and shredded itself in an apparent prank. The prank managed to overshadow the record-breaking sale of Propped by Jenny Saville, which, at £9.5m, became the most expensive work by a living female artist at an auction.

Read More
Metropolitan Museum Of Art Reclassifies Status Of Native American Art For New Exhibition


The Art Newspaper , October 2, 2018

For the first time in its history, New York's Metropolitan Museum of Art will present an exhibition of Native American artifacts. The exhibition is comprised of 116 works collected by Charles and Valerie Diker, who claim their motivation in collecting Native American art was, "not about purchasing an artist, but rather preserving a culture and an aesthetic." The Dikers donated their collection with the stipulation that the works be identified as "American Art" rather than "Tribal Art", to re-contextualize what society defines as "American."

Read More
Norfolk Botanical Garden Needs Help In Identifying The Men And Women Who Built The Garden 80 Years Ago


Daily Press, September 30, 2018

In the 1930s, Norfolk received a grant to overhaul twenty-five acres of land that were overrun with trees, thick underbrush, swampy water, snakes, tics, and mosquitoes. In total, 150 truckloads of soil was dug and hauled away to prepare for the 6,000 plants that would create the garden. The grueling work was completed by 200 African-American women and 20 men, who would be unable to enjoy the final garden due to segregation laws. Now, as the garden celebrates its 80th anniversary, researchers are trying to track down the names of these men and women in an effort to remember and honor their work.

Read More
Lord Cultural Resources values your privacy and does not sell or trade email addresses.
Please see our privacy policy for more information