| | |
| --- | --- |
| | SHARE ON |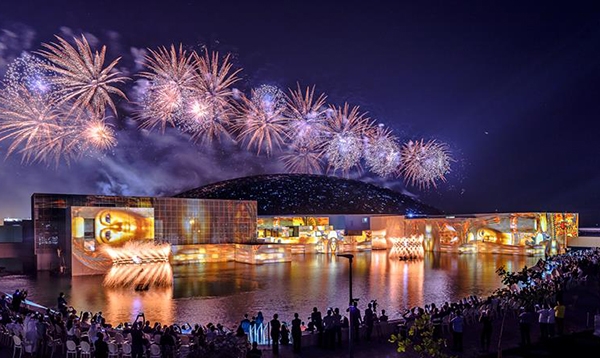 Photo: the Louvre Abu Dhabi via Facebook
Featured Story:
The much-anticipated opening of the Louvre Abu Dhabi took place on November 11. Click through to read the coverage of this exciting milestone event, as well as learn about other cultural news highlights from this past month.
Our clients & Lord
Opening of the Louvre Abu Dhabi
The much-anticipated opening of the Louvre Abu Dhabi took place on November 11. Coverage of this exciting milestone event includes:

Lord Cultural Resources was first commisioned for the project by the Abu Dhabi Tourism Development and Investment Company in 2006. Watch Gail Lord's interview from Abu Dhabi to learn more about our role in the project, or read about the project on our website.
$6 Million Diversifying Art Museum Leadership Initiative launched by the Ford Foundation and Walton Family Foundation


Ford Foundation, November 28, 2017

Studies have shown that the staff and leadership of art museums do not adequately reflect the socio-economic and racial demographics of the country. Through the Diversifying Art Museum Leadership Initiative, the Ford Foundation and Walton Family Foundation will support creative solutions to diversify curatorial and management staff at art museums across the United States. 20 art museums were selected for funding of pioneering programs. Among the winners of this competitive selection are Lord clients the DuSable Museum of African American History and The Studio Museum in Harlem.

The DuSable Museum engaged Lord Cultural Resources to develop an expansion plan that would integrate the existing Museum with the addition of a new building. Our work included visitor experience planning, facilities and operations planning, projections of attendance, operating revenues and expenses and an implementation schedule.

The Studio Musem in Harlem first engaged Lord Cultural Resources in 2012 for institutional planning and a program assessment, with subsequent engagements for capital project planning services and a business plan.
The celebration of the Bihar Museum opening continues
The opening of India's Bihar Museum, covered in last month's edition of Cultural News, continues to receive positive press. The Telegraph India reports on the Museum's high attendance rate during its first month of operation (November 2), and Architectural Digest has released interviews with architect Fumihiko Maki (November 14), and artist and curator Riyas Komu (November 15).
Whistler's Audain Museum: A World-Class Gallery in a Relaxed Ski Resort


Luxury Retreats, November 20, 2017

Travel publication Luxury Retreats describes the Audain Art Museum in Whistler, Bristish Columbia as "a small gem of an art museum with a stunning permanent collection and a slate of internationally compelling temporary exhibits". Gail Lord is quoted: "To see a collection you would expect to see in a major city in a ski resort and a building that is this sophisticated surrounded by mountains is a special experience." Read more and see pictures.




New Chicago Architecture Center working toward 2018 opening


Curbed Chicago, November 17, 2017

Work on the Chicago Architecture Foundation's brand new Chicago Architecture Center is moving into high gear. Earlier this month, a $4.7 million construction permit was issued for the riverfront project which will eventually become CAF's new base of operations following the organization's 25 year stint in the old Railway Exchange Building. Learn more the construction of the new space on Curbed Chicago.

Lord Cultural Resources was first commisioned by the Chicago Architecture Foundation in 2006 to assess the feasibility of a Chicago Architecture Center, and most recently was re-engaged to update the business plan and projections for this exciting new site and facility.

ACO Charrette Speculates on Future of Toronto Coach Terminal


Urban Toronto, November 15, 2017

Senior Lord Cultural Resources consultant Sarah Hill recently joined a panel of experts as a judge for Toronto's NextGen Design Charrette. This annual event focuses on adaptive reuse and rehabilitation of local urban spaces. This year's participants drew from a variety of interdisciplinary backgrounds to create proposals addressing the future of Toronto's Coach Terminal. Read more about the event on Urban Toronto.
Refugee and North Korean human rights stories on display at the CMHR
Metro News
The Canadian Museum for Human Rights continues to find innovative ways to share important stories with global perspective. Seeking Refuge is an art installation created by a Spanish 15-year-old, and is made out of abandoned lifejackets worn by refugees fleeing war across the dangerous Mediterranean Sea. Learn more on Metro News (November 7). Breaking the Silence focuses on human rights abuses in North Korea, and includes photos, videos, and text explaining the country's historical circumstances and violations. Learn more on Metro News (November 23).
Funding announced for new Montreal Holocaust Museum project
The Montreal Holocaust Museum (MHM) will be receiving a federal grant for its Beyond the Walls of the Montreal Holocaust Museum project. "This project will focus on providing educators in various Canadian provinces with the tools to teach about the Holocaust, genocide and human rights," says a federal government announcement. "Through this project, teachers and students will be better equipped to learn about contemporary issues related to human rights and diversity." Read more about the program on The Suburban.

Also in the media this month was the Museum's commemoration of the 79th anniversary of Kristallnacht ("the Night of Broken Glass"): read more on Global News.
Lord recently completed a study to determine the feasibility of an upgrade, expansion and potential relocation of the MHM to a more centrally located downtown site.
Motown Museum renovation to create jobs, bring new tourism experience


NBC News, October 31, 2017

A $50 million fundraising campaign is under way to expand and renovate the iconic Motown Museum, where artists such as the Temptations, Stevie Wonder, and the Supremes got their start. The campaign will build an additional 40,000-square-foot space behind the current site, an expansion which will revitalize the neighborhood and honour the Motown story of enterprise, entrepreneurship and creativity. Read more about the campaign on NBC News.

This year, Lord began developing an audience development and program plan for the Motown Museum.
Museums
This Exhibition Will Help You Make Sense of Your Senses


New York Times, November 23, 2017

The American Museum of Natural History's new exhibition, "Our Senses," challenges visitors' expectations of everyday reality across its 11 interactive galleries. "Our senses are the product of millions of years of evolution," said Robert DeSalle, the exhibition's curator. "That millions of years of evolution produces some really strange things in how we perceive the world."


Read More
Bilbao on the prairie: why does tiny Saskatoon need an $85m art gallery?


The Guardian, November 23, 2017

Saskatoon's awe-inspiring new Remai Modern has vast ambitions, but is the timing right for the city to receive a Bilbao-style introduction to the world stage of culture? Architect Bruce Kuwabara (KPMB Architects) argues that "This isn't just a gallery, it's an act of making a city".

Read More
Science & Technology Museum reopens 3 years after major renovation


Ottawa Magazine, November 15, 2017

November 17 marked the opening of the Canada Science and Technology Museum in Ottawa, after a 3-year, $80-million renovation. With a focus more on the future than the past, the exhibition space includes topics such as wearable technology, sound design, natural resource development and medicine. They have also added a 9,200 square foot temporary exhibition space for travelling blockbusters they were previously unable to accommodate.

Read More
Architecture
Greenbuild 2017
Architectural Record
Greenbuild 2017 was organized by the U.S. Green Building Council and held in Boston from November 8 through 10. Architectural Record covered a number of conference highlights, including:

Stirling Prize 2017 awarded for pier revival project


Dezeen, October 31, 2017

Architecture firm dRMM has been awarded this year's RIBA Stirling Prize for its revival of a seaside pier in Hastings, England. RIBA president and jury chair Ben Derbyshire described the project as a "masterpiece of regeneration and inspiration ... The architects and local community have transformed a neglected wreck into a stunning, flexible new pier to delight and inspire visitors and local people."

Read more
Technology
Mysterious Void Discovered in Egypt's Great Pyramid


National Geographic, November 3, 2017

Egypt's Great Pyramid of Giza—one of the wonders of the ancient world, and a dazzling feat of architectural genius—contains a hidden void at least a hundred feet long, scientists announced on Thursday. The void is the first large inner structure discovered within the 4,500-year-old pyramid since the 1800s—a find made possible by recent advances in high-energy particle physics.

Read More
The Kremer Collection launches VR Museum


The Kremer Collection, October 27, 2017

The Kremer Collection announced the launch of the Kremer Museum, an innovative new concept that combines cutting-edge technology with world-class masterpieces. Designed by architect Johan van Lierop (Architales, Studio Libeskind), the museum will feature over 70 17th century Dutch and Flemish Old Master paintings from the Collection and will be accessible exclusively through Virtual Reality (VR) technology.

Read More
Art & Culture
Douglas Coupland to create Calgary's largest public artwork


Canadian Architect, November 28, 2017

Renowned Canadian artist and author Douglas Coupland will add a new work of global significance to Calgary's vibrant public art scape. 'Northern Lights', a 160,000 square foot LED-based art installation at the new TELUS Sky tower, will become the biggest public art piece in Calgary.

Read More
How Art Is Helping Veterans Overcome PTSD


Artsy, November 6, 2017

Among the various clinical techniques and tools used to treat service members with PTSD, art therapy is a strong option. A 2012–14 survey at the National Intrepid Center of Excellence (Walter Reed Military Medical Center, Bethesda, Maryland) ranked art therapy among the top five most helpful techniques used to treat veterans.

Read More
Growing trend of art for social change reflection of a world in crisis


Metro News, November 8, 2017

Painter and activist Ilene Sova says more artists feel called upon by movements like Occupy, Idle No More and Black Lives Matter to apply their critical skills and participate in social justice. "There's a shift away from viewing art as a commercial product and more as something that's reflectve of society and people," she said. "People are thinking about a bigger ecosystem than just their pieces being shown and sold at art galleries."

Read More
Creative Cities
Ignored by big telecom, Detroit's marginalized communities are building their own internet


CNET, November 17, 2017

A coalition of local community members and nonprofits is looking to change the startling reality that 40% of Detroit's population has no access to the internet. Diana Nucera, director of the Detroit Community Technology Project, argues that "communication is a fundamental human right ... this is digital justice."

Read More
How Anti-Terrorism Design Can Also Make Cities More Livable


FiveThirtyEight, November 7, 2017

Public furniture, large art installations and trees can all make cities more livable – and safe. Researchers, urban planners and community activists say that city design is one of the best ways to ward off the growing threat of terror attacks that use motor vehicles as a weapon. According to one expert, "the goal shouldn't be to create a police state based on fear. It's possible to have thriving, dynamic, accessible spaces for people ... that doesn't mean a threatening environment."

Read More
Toronto designated a UNESCO Creative City of Media Arts


City of Toronto, October 31, 2017


The City of Toronto and the Canadian Commission for UNESCO (United Nations Educational, Scientific and Cultural Organization) have announced that Toronto is the first Canadian city to be designated a UNESCO Creative City of Media Arts. Created in 2004, the UNESCO's Creative Cities Network (UCCN) is organized into seven fields: crafts and folk art, design, film, gastronomy, literature, media arts and music. Toronto is the 10th city to be designated a UNESCO Media Arts City, with oher designated cities including Austin, Texas; Tel-Aviv, Israel; and Dakar, Senegal.

Read More
Lord Cultural Resources values your privacy and does not sell or trade email addresses.
Please see our privacy policy for more information