| | |
| --- | --- |
| | SHARE ON |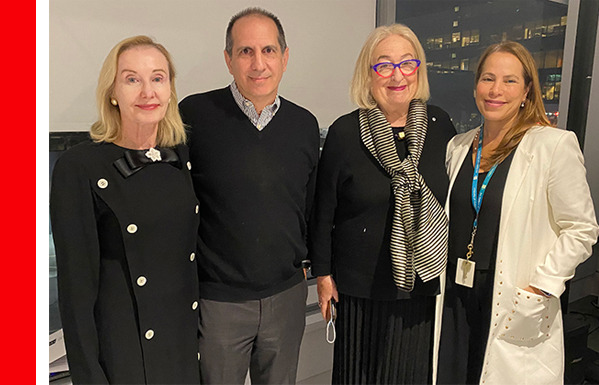 Art Gallery of Hamilton Premieres Edward Burtynsky Photographic Exhibition
Art Gallery of Hamilton Premieres Edward Burtynsky Photographic Exhibition




Art Gallery of Hamilton Premieres Edward Burtynsky Photographic Exhibition

On November 17th the Art Gallery of Hamilton premiered its most recent exhibition, Edward Burtynsky: Chai. This photographic exhibition features the 18 images from the limited edition Burtynsky portfolio of the same name. The images, commissioned for the National Holocaust Monument in Ottawa, were created as part of a 4,000 km journey by the artist and his team to capture the "scarred" landscapes of Holocaust sites from across eastern Europe.

The Chai portfolio and images were donated by Gail Lord as a gift to the Gallery.

Watch Video
OUR CLIENTS & LORD
Up Next at The New York Botanical Garden: Vultures


The New York Times, November 22, 2022

A major site-specific exhibition from the Jamaican visual artist Ebony G. Patterson is set to open in May.

Read More


The Leaf Set to Open Doors to Plant Diversity


The Free Press, November 20, 2022

Years in the making, the indoor portion of The Leaf in Assiniboine Park is preparing to welcome public for holiday season.

Read More


Charlotte City Council Still Vying for More Input on Arts Program It Created


Charlotte Business Journal, November 15, 2022

Nearly two years after city government embarked on a mission to revamp arts funding, the mayor and Charlotte City Council responded to a progress report during Monday's council meeting by calling for greater involvement in the process.
Lord Cultural Resources has been engaged by the City of Charlotte to create the Charlotte Arts and Culture Plan. A year-long process, the plan will be completed in 2023.

Read More
La Brea Tar Pits Begin an Unusual Rebrand


The New York Times, November 14, 2022

The Los Angeles institution is hoping to connect today's climate disasters with the ice age fossils discovered on its grounds.

Read More


Niagara-On-The-Lake Museum's Book Wins Award of Excellence


The Standard, November 11, 2022

The museum-produced book, "Making Her Mark: The Women of Niagara-on-the-Lake," which is a look at some of the town's historic women, has won the Excellence in Publication award at the Ontario Museum Association's Awards of Excellence.

Read More


Creating Inclusive Exhibitions: Webinar and Panel Discussion


Lord Cultural Resources – YouTube channel, November 9, 2022

Lord Cultural Resources is pleased to announce the release of its latest publication, the Manual of Museum Exhibitions 3rd Edition. To celebrate we hosted a webinar on the latest trends. During the hour-long webinar, we talked with the book's editor, Maria Piacente, followed by a panel discussion with museum and cultural expert contributors.




Plans Move Forward for A New Art Gallery in Yellowknife


NNSL Media, November 8, 2022

A new non-commercial, visual art focused gallery is in planning stages for Yellowknife. The Board of Directors of Friends of the NWT Art Gallery voted on Oct. 27 to proceed with their plans to create the gallery after receiving the results of a feasibility study by Lord Cultural Resources, an arts sector consultancy headquartered in Toronto.

Read More


Addressing Antisemitism


The Detroit Jewish News, November 7, 2022

Hamilton Jewish Federation will present the first #nomoreantisemitism International Conference in Hamilton, Ontario, Nov. 19-21. #nomoreantisemitism is a three-day event. Each of the three days features keynote speakers, as well as an exhibition with book sales, displays and booths hosted by community organizations.

Read More


The Forthcoming Chinese Canadian Museum Names Its First Chief Executive


The Art Newspaper, November 1, 2022

Just as the Rennie Museum in Vancouver's Chinatown has closed its doors after 13 years and a farewell exhibition featuring highlights from its extensive collection, the Chinese Canadian Museum (CCM) due to occupy the same space by next summer has hired Melissa Karmen Lee as its inaugural Chief Executive.

Read More


The Role of Funders in Cross Sector Collaboration and Paradigm Shifting


UF Center for Arts in Medicine YouTube Channel, October 10-11, 2022

Lord Thought Leader Jamie Bennett's first public appearance at the University of Florida's Center for Arts in Medicine moderating a panel that included NEA Chairman María Rosario Jackson.




IDEA
Disability History Month at Ancient House Museum: Touring Exhibition and Talk


Norfolk County Council, November 23, 2022

Ancient House is delighted to be hosting a touring exhibition called Nothing About Us Without Us, about the history of disability, created by young and disabled people living in Norfolk, UK. The initial idea came from Ancient House Teenage History Club alumni Bethan Rees. She worked with other young people to identify thirteen objects from across the Norfolk Museums collections which explore social attitudes to physical and hidden disability during the last 200 years.

Read More
Google Leader on Building Accessible and Inclusive Workspaces


HRD, November 17, 2022

Tracy Needles is leading the charge on building accessible spaces for all of Google's offices. Since 2020, she has served as the global lead for accessibility and inclusion for the tech giant's Real Estate and Workplace Services (REWS) division, which maintains the company's properties, transportation, and infrastructure.

Read More
Museum Staffs Are Starting to Diversify, Particularly Among Leadership Roles, According to a New Survey


Artnet News, November 16, 2022

Art museum staffs have grown more diverse in recent years, particularly in leadership roles, a new report reveals. But equal representation in the field remains far off.

Read More
MUSEUMS
Shanghai Astronomy Museum Wins International Award


Shine News, November 23, 2022

The Shanghai Astronomy Museum has won an "Oscar" in the themed entertainment industry for providing an immerse "universe" for its visitors.
It has become the nation's first of its kind to win a Thea Award for Outstanding Achievement announced by Themed Entertainment Association (TEA) at the International Association of Amusement Parks and Attractions (IAAPA) Expo in Orlando, Florida, last week.

Read More
Celtic Gold Coins Worth 'Several Million Euros' Stolen from German Museum


The Guardian, November 22, 2022

Thieves have stolen a hoard of Celtic coins worth several million euros from a German museum after apparently disrupting local telephone and internet connections.

Read More
Hundreds of Headdresses Telling Histories in Old Montreal Museum


CTV News, November 20, 2022

Nearly every culture around the world seems to adorn their heads.
"Headdresses around the World" is an exhibit at the Pointe-a-Calliere Museum that provides proof of this.
The exhibit includes around 300 headbands, bonnets, crowns, and more.

Read More
Rome's Newly Reopened Museum of Civilizations Is Decolonizing Its Collection. It Is a Rare Success Story


Artnet, November 8, 2022

Following a six-year renovation and, more significantly, a pivotal redo, Italy's Museum of Civilizations reopened its doors to the public on October 26.

Read More
Ontario Museum Association Awards


Galleries West, November 8, 2022

Sarah Quinton, the curatorial director emeritus of the Textile Museum of Canada, has won a Distinguished Career Award from the Ontario Museum Association.

Read More
The NOTL Poppy Project


Niagara on the Lake Museum, November 4, 2022

In 2020, the Niagara Falls History Museum collected thousands of crocheted and knitted poppies from around the world - over 11,000 of them! After developing their display, they donated some of their leftover poppies for us to continue the movement in Niagara on the Lake.

Read More
Get A Peek Inside The New CIA Museum


Atlas Obscura, November 4, 2022

For more than 30 years, the CIA Museum has been one of the most mysterious collections of artifacts in the world. Housed in the George Bush Center for Intelligence in Langley, Virginia—one of the most secure buildings in the United States—the museum tells the story of the government's clandestine undertakings from the Cold War through the CIA's mission in May 2011 to kill Osama bin Laden to today.

Read More
Climate Activists' Attacks on Art Are Misdirected, U.S. Museum Group Says


ART News, November 3, 2022

The Association of Art Museum Directors, a prominent museum group that includes many of the most important art institutions in the U.S. and Canada, released a statement speaking out against climate activists' recent protests in Europe, which have sometimes involved flinging liquids at artworks.

Read More
Roaming Climate Change Museum Pops Up in New York—and Sets Sights on a Permanent Space


The Art Newspaper, November 3, 2022

As part of the art world continued efforts to reduce their ecological footprint, the Climate Museum is marshalling the power of art to educate the public and motivate change.

Read More
ART & CULTURE
Digital Exhibitions Summit


Museum Next, December 5 - 6, 2022

How are museums bringing technology into their galleries? From immersive storytelling to games, augmented reality to robots, the Digital Exhibitions Summit will share important trends, the latest strategies, and inspiring projects from around the globe.

Read More
Former Nottingham Castle Chief Executive Calls for Independent Investigation as Uk Heritage Site Closes to Public


The Art Newspaper, November 23, 2022

Nottinghamshire site central to the Robin Hood legend received £33m in public funding less than a year ago but is now facing liquidation after being rocked by a series of internal misconduct allegations.

Read More
Sandra Laronde Appointed to The Order of Ontario


Red Sky Performance, November 5, 2022

On November 4, 2022, Sandra Laronde was appointed to the Order of Ontario for 2021 for her outstanding contribution to arts and culture in Ontario and elsewhere. The Honourable Elizabeth Dowdeswell, Lieutenant Governor of Ontario, and Chancellor of the Order of Ontario, will bestow the province's highest honour to the new appointees at a ceremony to be held on November 21, 2022.

Read More
The National Gallery of Art in D.C. Has Secured a $10 Million Gift to Fund Acquisitions by Female Artists


Artnet, November 2, 2022

The National Gallery of Art in Washington, D.C. has announced the Victoria P. Sant Fund for Women Artists, which will help grow the museum's collection of historic through contemporary artworks from female-identifying artists.

Read More
Lord Cultural Resources values your privacy and does not sell or trade email addresses.
Please see our privacy policy for more information