December 2017




A curated review of this month's cultural news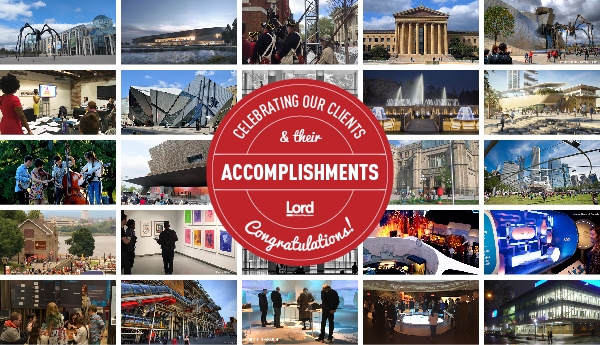 Featured Story:
As the new year begins, we're looking back on the many accomplishments of our clients over the past 12 months. From Munich to Miami, Bilbao to Bihar, there was much to celebrate in 2017, including anniversaries, openings, expos and more! Click through to see all our posts celebrating a plentiful year in global cultural accomplishments.

Looking to the future, Artnet's "Complete Guide to the Biggest, Baddest, Boldest Museum Openings in 2018" features Lord projects the Grand Egyptian Museum in Giza, Maryland's Glenstone Museum, and Seattle's Nordic Museum. Here's to the exciting year of culture ahead!
Our clients & Lord
Detroit's Motown Museum gifted $500K as expansion inches toward reality


Detroit Free Press, December 22 2017

Robin Terry, museum chairwoman and granddaughter of museum founder Esther Gordy Edwards, describes how funding gifts are not only just encouraging, but "send a message to the rest of the funding community about this project, the importance of this development and also makes clear that this is real ... This is something transformative that is really going to happen. This is going to take place in Detroit."

In 2017, Lord began developing an audience development and program plan for the Motown Museum.

Read More
New Bihar Museum a huge hit with pilgrims


The Telegraph India, December 29 2017

The Museum has had continued success following its October opening. A special exhibition of Sikh culture at the museum is drawing crowds, reportedly 2,000-2,500 tourists daily and up to 6,000 visitors on holidays.

Read More


"QUANTUM: The Exhibition" takes centre stage at newly reopened Canada Science and Technology Museum


Institute for Quantum Computing, December 21 2017

An exhibition on quantum technologies from the University of Waterloo's Institute for Quantum Computing (IQC) is captivating curious minds at the newly reopened Canada Science and Technology Museum. "QUANTUM: The Exhibition", which opened to the public this weekend, is an interactive exploration of the science of the very small. The installation showcases how quantum technologies will revolutionize computers, information security, medicine and geographical exploration.

Read More


"Imagine Greater Louisville 2020" funds 24 original arts and culture projects


Insider Louisville, December 15 2017

"Imagine Greater Louisville 2020" was created to answer one question: How can arts and culture best serve the community? With help from a variety of funding bodies, the organization has put $500,000 towards 24 original arts and culture projects, prioritizing support of at-risk neighborhoods, youth engagement, and specific populations.


Read More


National WWII Museum breaks ground on $66.5M, 8-story hotel, targets opening in 2019


New Orleans Advocate, December 7 2017

The hotel and conference center expansion, which including more than 18,000 square feet of meeting space, will support the National WWII Museum financially and educationally, according to Stephen J. Watson, the museum's president and chief executive officer.

In 2017, Lord was re-engaged by the NWWIIM to assist Museum staff with defining its strategy for education and learning in the 21st century.

Read More
Finding Light Through the Concrete of Canada's Holocaust Monument


Citylab, December 6 2017

Citylab describes architect Daniel Libeskind's vision of the Monument as "a contemplation of the humanity and politics behind genocide". Also quoted in the article are consulting historian Doris Bergen (University of Toronto) and project manager Susan Fisher (Canada's National Capital Commission).

Read More


Louvre Abu Dhabi by Ateliers Jean Nouvel


Architectural Record, December 1 2017

Architectural Record describes the experience of visiting the spectacular new structure, praising Ateliers Jean Nouvel's work for how it "enriches rather than competes with the art. It is all quite stunning, and a happy antidote to the generic white box of so many museum galleries."

The Louvre Abu Dhabi also topped the list of Architectural Record's favorite designs in 2017 (December 27).

Read More


Soft Power
Interview with Madeleine Grynsztejn: 'A great art work and a great museum do the same thing—they raise consciousness'


The Art Newspaper, December 19 2017

The director of the MCA Chicago, which is now in its 50th year, discusses the role of museums in building citizenship and soft power: "The museum is a tool for citizenship and for visual literacy… But at the same time, the museum is also a joy machine. It's a wonder maker. And it's never, ever not grounded in art."

Read More
The Man Helping Dubai Pivot from Oil to Art


Artsy, January 1 2018

Until mere years ago, Alserkal Avenue was an unknown area of Dubai even to its own residents. Property developer and patron Abdelmonem Bin Eisa Alserkal recognized the potential in the creative community that was beginning to gather in the neighbourhood: "I thought: 'why not have more of a destination, or a community, of art galleries and creative businesses?" What had started organically soon became a carefully planned ecosystem whose growth has been remarkable.

Alserkal Avenue also recently celebrated Canada's sesquicentennial anniversary (Gulf News, December 7) with a series of events including live music, workshops, art, and talks. Gail Lord participated on the panel Milestones, Culture and the Changing Identities of a Country alonside Henry Kim (director and CEO of the Aga Khan Museum) and Manal Ataya (Executive Director and CEO of the Sharjah Museums Authority).

Read More
Museums
A Woman Now Leads the Vatican Museums. And She's Shaking Things Up.


The New York Times, December 24 2017

Vatican City has been governed by men since it was established as an independent state in 1929. A year ago, however, a woman joined the upper ranks: Barbara Jatta, the first female director of the Vatican Museums. In the 12 months since her appointment by Pope Francis from an initial list of six candidates, Ms. Jatta has put her stamp on the role, resisting some of her predecessor's initiatives and forging her own path.

Read More
The top ten museum acquisitions of 2017


The Art Newspaper, December 18 2017

The Art Newspaper looks at 10 of the most important purchases and donations that entered public collections in 2017. The diverse list includes American photography (Art Gallery of Ontario), Native American sculpture (Metropolitan Museum of Art), 17th-century Dutch and Flemish paintings (Boston's Museum of Fine Arts), and even a "Pussyhat" (Victoria and Albert Museum).

Read More
Architecture
RIBA Announces 2018 RIBA International Prize Longlist for World's Best Building


Architecture Daily, December 13 2017

The longlist for one of the world's most prestigious architecture awards has been announced. RIBA President Ben Derbyshire describes the selection of 62 projects as illustrating "the meaningful impact and transformative quality that well-designed buildings can have on communities, wherever they are in the world."

British Columbia's Audain Art Museum, with whom Lord worked in 2012, is included on the list.

Read More
Vincent Scully, 97, Influential Architecture Historian, Dies


The New York Times, December 1 2017

Yale art historian Vincent Scully inspired students for more than 60 years and published writings on architecture which would have a decisive influence on its practice in the last half of the 20th century. A new urbanism ally and an advocate for historic preservation, he received the National Medal of Arts in 2004.


Read More
Art & Culture
The Year in Visual Culture


Artsy, December 22 2017

Artsy's editors argue that visual culture is a "an ever-expanding field, comprising not just art, photography, and design, but also memes, advertising, histories of representation, and the very technologies through which all this flows." Their list of the 25 individuals who had the biggest impact in changing the visual landscape this year is accordingly diverse, including accomplished artists, passionate activists, and visionary entrepreneurs.

Read More
Inuit Art Collective Isuma to Represent Canada at 2019 Venice Biennale


Canadian Art, December 13 2017

The National Gallery of Canada announced that the artist collective Isuma, led by Kunuk and Norman Cohn, will represent Canada at the biennale. Their filmmaking merges "early activist video with ancient values of collective survival," with stories which rooted in the Canadian north, have worldwide resonance. Their participation in Venice marks the first presentation of art by Inuit in the Canada Pavilion.

Read More
The Best Art of 2017


The New York Times, December 6 2017

The art critics of The New York Times (Roberta Smith, Holland Cotter and Jason Farago) share their picks for the best art of the year: a list includes New York gallery highlights, fashion, popular film and even protest.

Read More
Creative Cities
City of the Future? Humans, Not Technology, Are the Challenge in Toronto


The New York Times, December 29 2017

For a city striving to become a major technology center, it was a prize catch: A Google corporate sibling would spend the coming year planning a futuristic metropolis in a derelict part of Toronto's waterfront. The project is one whose success relies on "a marriage of data and urbanism"; sensors and data collection will be key components of developing, optimising, and maintaining the neighborhood. But tempering the excitement of some Toronto residents are concerns about surveillance and equity.

Read More
America's Leading Art Hubs


Citylab, December 7 2017

Where are America's leading art centers and scenes—the places where working artists actually work and produce art? Richard Florida digs into the data to explore connections between geography and creativity and how they've changed between 2011 and 2016.

Read More
Lord Cultural Resources values your privacy and does not sell or trade email addresses.
Please see our privacy policy for more information