January 2019




A curated review of this month's cultural news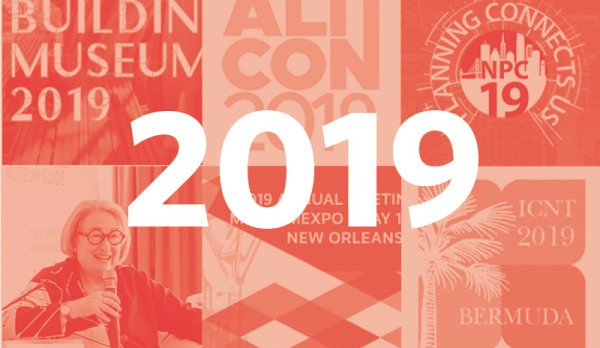 Featured Story:
Exciting year of conferences and events
In this edition of Cultural News, we look ahead to an exciting year of conferences and events. Members of our team will be speaking at a variety of conferences in Canada, the United States, Bermuda, Denmark, and elsewhere around the world. Meet our team and join us for presentations and conversations at AltCon2019, the Building Museums Symposium, the International Conference of National Trusts, the American Planning Association National Planning Conference, the Canadian Museum Association National Conference, the American Alliance of Museums Annual Meeting & Museum Expo, and the Ecsite Annual Conference. We look forward to meeting, and hearing from you in 2019.
Read More
Our clients & Lord
A brilliant new museum exploring Emirati heritage is now open in Dubai


What's On, January 24, 2019

The museum, a collaboration between Dubai Culture, Dubai Municipality, and Dubai's Department of Tourism and Commerce Marketing, promises visitors a fascinating insight into the rich past of the UAE.

Described as an 'all-encompassing venue for people interested in Emirati culture and who want to get a deeper understanding of what it entails', Al Shindagha Museum is filled with thought-provoking exhibitions. Read More


Central Bank museum reopens


News Day, January 17, 2019

The newly rebranded and reimagined Central Bank Museum reopened on January 15, after three years. It was formerly known as the Money Museum. Speaking at the launch, the bank's human resources, industrial and external relations senior manager Nicole Crooks said the reopening was a matter of perfect timing when all parties were able to be on board for the project. Crooks said management went through a conceptualisation stage and the right consultants were engaged.

Read More


Summit Emerging Media Awards for the Perlan Museum


Summit Awards, January, 2019

NGX Interactive, a Lord Cultural Resources partner, was granted the prestigious Summit Emerging Media Awards for the Perlan Museum Augmented Reality Cliff Viewers exhibit. This award recognizes and celebrates creativity, innovation, and those pushing the boundaries of creative excellence in all newer forms of emerging media. The cliff viewers received the highest award, the coveted Visionary Award.

Read More


The Museum of Latin American Art (MOLAA) Exhibits at the World Class LA Art Show


EIN PRESSWIRE, January 17, 2019

Los Angeles has quickly become the visual arts mecca and global player in art and culture. A huge part of that scene is thanks to the Museum of Latin American Art (MOLAA) in Long Beach where diversity is interwoven into the multi-cultural world of Latin American Art amidst the artful metropolis of the City of Angels. The Museum of Latin American Art is a cultural partner of the LA Art Show and is exhibiting Cristian Castro's site-specific installation, 27 Peces/27 Fish, from January 23-27.

Read More


El museo Chillida-Leku se reabrirá al público en abril de este año


El Pais, January 10, 2019

El museo Chillida-Leku, el imponente espacio artístico al aire libre que acoge más de 40 obras de gran formato del escultor vasco más universal, reabrirá sus puertas en abril de este año tras permanecer cerrado al público desde enero de 2011, cuando la familia del artista decidió el cierre por la crisis económica y la falta de ayudas oficiales. "Estamos francamente encantados ante esta nueva etapa que va a experimentar Chillida-Leku", afirma Luis Chillida en nombre de los herederos.

Read More


BC government's new Chinese Canadian history museum could cost up to $100 million


Dailyhive, January 10, 2019

The provincial government announced its partnership with the City of Vancouver last September to explore the creation of a new Chinese-Canadian museum, and it is now engaged in a public consultation process that will help guide the creation of a detailed proposal. As part of the consultation process launched earlier this winter, the provincial government released an independent report created by Lord Cultural Resources that evaluated possible preliminary options.

Read More
Six Nations works to preserve the 'difficult' history of a former residential school


CBC, January 09, 2019

Workers restoring the Woodland Cultural Centre in Brantford have uncovered writings on beams and walls from Six Nations students at the former residential school dating back as far as the early 1900s. The discovery has added a new dimension and poignancy to the $16 million project, which was already aimed at reviving the centre with a greater focus on its history as a residential school.

Read More
The best new things to see and do in Canada in 2019


The Globe and Mail, January 08, 2019

Green Gables Heritage Place, PEI: The setting for Lucy Maud Montgomery's Anne of Green Gables novels will get a larger visitor centre in the spring of 2019, with a revamped gift shop and new interpretive exhibits among the upgrades.

Read More


Intelligence museum receives $10 million donation


Fairfax County Times, January 04, 2019

One of the largest private foundations in the U.S. has donated $10 million to the National Museum of Intelligence and Special Operations, The Office of Strategic Services Society announced on Dec. 17.

Read More


AKC Museum of the Dog to Open in NYC


AKC, January 04, 2019

More than 180 pieces of dog artwork and half a dozen interactive digital exhibits line two floors and three stories of New York City's newest museum: The AKC Museum of the Dog. The museum will officially open February 8, 2019.

Read More


Human rights museum extending Nelson Mandela exhibit after positive response


CBC, January 03, 2019

Mandela: Struggle for Freedom will continue at Canadian Museum for Human Rights until Oct. 14

The CMHR says a survey in the summer found one-third of visitors to the Winnipeg museum came specifically to see the Nelson Mandela exhibition.

The CMHR will introduce new programming centred around Mandela's struggle to end apartheid and oppression in south Africa. A family-friendly guided tour on Saturdays, starting in February, will feature three interactive activities in the main gallery dedicated to Mandela and visit other areas of the museum where Mandela is featured. Read More


12 buildings to look forward to in 2019


Dezeen, January 02, 2019

Beijing's Zaha Hadid-designed airport and the M+ museum of visual culture in Hong Kong are among Dezeen editor Amy Frearson's picks of the most exciting new buildings opening in 2019.

Read More


Six big Miami-Dade library projects awaiting state grants


Miami Today, January 1, 2018

Miami-Dade is waiting on $3 million in state grant funds before proceeding with six library projects expected to cost a combined $31.1 million. On Dec. 4, commissioners unanimously OK'd an item sponsored by Javier Souto to approve the county's new five-year library plan, which library staff had worked on since February 2017 with planning consultants Lord Cultural Resources.

Read More


These Museums Are Opening In 2019


Forbes, December 30, 2018

Each new year ushers in new offerings; museum openings are among them. 2019 will welcome in new attractions within this sector, as new buildings or new additions are anticipated to open their doors and greet visitors with a variety of memorabilia, masterpieces or magnificent finds or collections. Here is a roundup of museums set to open in 2019.

See Our work with National Museum of African American Music and The Academy Museum of Motion Pictures

Read More
Soft Power
PM Modi unveils National Museum of Indian Cinema, lauds Bollywood for projecting India's soft power


My Nation, January 19, 2019

Prime Minister Narendra Modi on Saturday inaugurated the National Museum of Indian Cinema here and underlined the role Indian films have played in projecting the nation's soft power across the globe. Modi heaped praise on the artistes for taking Indian cinema to the level that it has currently reached.

Read More
West Baffin Eskimo Cooperative announces 60th Anniversary Program


Westbaffin.com, January 16, 2019

Congratulations to the West Baffin Eskimo Cooperative on its 60th Anniversary! To produce 60 years of great art in a cooperative setting is an achievement of great consequence to Canada and the world. Thank you for the beauty you have brought to us.

Read More
AGO to sell 20 A.Y. Jackson paintings to make space for underrepresented artists


The Globe and Mail, January 10, 2019

The Art Gallery of Ontario is taking the unusual step of selling off 20 paintings by famed Group of Seven painter A.Y. Jackson to make room for more works by underrepresented artists.

The AGO has given other Canadian galleries the first right to buy the paintings at a "preferential rate," before possibly taking the works to public auction. The gallery would not identify which of its Jackson paintings it is selling. Read More
UAE to take international lead on soft power


The National, December 27, 2019

Dubai Expo 2020, the opening of Louvre Abu Dhabi, billions spent on humanitarian aid around the world all are part of the UAE's goal of establishing itself as a "soft superpower" and the regional capital for ideas, culture, art and tourism.

Read More
Museums
Shredded Banksy work to go on long-term loan to Stuttgart museum


The Art Newspaper, January 23, 2019

Banksy's Love is in the Bin—the work sensationally shredded by remote control during an auction at Sotheby's in London in October last year—will enter the collection of the Stuttgart Staatsgalerie as a long-term loan, the museum says in a statement. The painting will first go on show in a four-week exhibition in Baden-Baden, Germany.

Read More
From the Pompidou Shanghai to MoMA's New Digs, Here Are 13 Major Museum Openings and Expansions Set for 2019


Artnet, January 22, 2019

If you thought 2018 was a big year for museum openings and expansions—think of the Victoria & Albert Museum of Design in Dundee, and the Glenstone Museum in Potomac, Maryland, to name just two prominent examples—then fasten your seat belts. The next 12 months are jam-packed with headline-worthy developments around the world.

Read More
Take part in creating the new museum definition!


ICOM, January 16, 2019

ICOM invites its members, committees, partners and other interested stakeholders to participate in the development of potential alternatives for the museum definition in time for the 25th ICOM General Conference, which will take place in Kyoto, 1-7 September 2019.

Read More
Museum and Memorial Receive Critical Acclaim


Museumandmemorial, January 10, 2019

Close to 300,000 people have visited the Legacy Museum and the National Memorial for Peace and Justice since they opened in April 2018. Local, national, and international visitors and media are describing the sites as powerful spaces for truthfully confronting American history. The New York Times declares, "There is nothing like it in the country. Which is the point." Congratulations to the new Legacy Museum and National Memorial for Peace & Justice on their courage and success.

Read More
Museums are sending each other their best duck pics on Twitter


Machable, January 09, 2019

Museums are having a field day with these duck pics. The Museum of English Rural Life, whose Twitter account is the internet equivalent of a hot cup of tea on a rainy day, asked the British Museum to give them their "best duck."

Read More
Polish collector Grazyna Kulczyk unveils 'off-grid' private museum in Swiss Alps


The Art Newspaper, December 29, 2018

Muzeum Susch aims to bring a "disruptive outlook" to the historic Engadin valley pilgrimage site. For the collector Grazyna Kulczyk, it will be third time lucky when she opens her private museum in the Swiss Alpine village of Susch on 2 January. After negotiations with the city authorities in Poznan and then Warsaw fell through in her native Poland, Kulczyk has realised her dream on the site of a 12th-century monastery that she discovered "by chance" during a day trip from her home in the Lower Engadin valley. The remote location, once a pitstop on the Medieval pilgrimage route to Santiago de Compostela, struck her as "the perfect place for the kind of activity I had in mind—a museum with a disruptive outlook", she says.

Read More
Architecture
Tod Williams Billie Tsien Architects' Modern Redo of the Hood Museum of Art Opens at Dartmouth Source: Architectural Record


Architectural Record, January 25, 2019

Architecture, a slow art that takes time to be realized, is expected to last for years. But surprisingly often, a building is remodeled, expanded, or even torn down, before its once-imagined expiration date. This weekend, the Hood Museum of Art at Dartmouth College in Hanover, New Hampshire, reopens as an intriguing case study of this process.

Read More
Guide to the best architecture, design and technology events for 2019


Dezeen, January 16, 2019

With hundreds of design fairs, conferences and trade shows taking place around the world every year, it can be hard to choose which to attend. To help you out, we've compiled a definitive guide to over 50 of the best events of 2019 for your calendar.

Read More
Technology
Tech-forward Cleveland Museum of Art embraces broad digital availability of its collection


Crain's Cleveland Business, January 23, 2019

Open up. And share.

That's the spirit behind the Cleveland Museum of Art's new Open Access digital policy, unveiled on Wednesday, Jan. 23, to make high-resolution digital images and collections data freely available. Read More
Science and technology museums built at 700 rural schools


The Telegraph, January 17, 2019

A total of 700 science and technology museums had been built by the end of 2018 at middle schools throughout rural China, providing better access to science and technology for three million students, Science and Technology Daily reported on 24 December.

Read More
Pioneering open access at the Musée de Bretagne


Europeana Pro, January 15, 2019

The Musée de Bretagne is an open access pioneer in the French museum sector, offering high-resolution public domain images free to download and use. Douglas McCarthy spoke with Céline Chanas and Fabienne Martin-Adam to learn about the genesis, impact and context of the museum's open access policy.

Read More
Virtual Museum Lets You View the Complete Works of Vermeer in Augmented Reality


My Modern Met, December 27, 2018

Johannas Vermeer is one of art history's most prolific painters. While his body of work comprises less than 40 pieces, his paintings can be found in a myriad of museums—both real and imaginary. In Meet Vermeer, a digital platform created by Google Arts & Culture and the Mauritshuis Museum, Vermeer's entire body of work is "illuminated in the virtual space" and presented in augmented reality.

Read More
Art & Culture
Germany and France to establish joint culture institutes


The Art Newspaper, January 25, 2019

France and Germany agreed to found at least ten joint cultural institutes by 2020, with the first four combined institutes to be established in Rio de Janeiro, Bishkek, the capital of Kyrgyzstan, Erbil in Iraq and Palermo, Sicily.

Read More
Singapore Biennale to look on the bright side of life


The Art Newspaper, January 24, 2019

"It may be said that the world is troubled," Patrick Flores, the biennial's artistic director, says in a statement. "We ask: what is the possibility of art, the artist, and the audience in light of this trouble? What is the responsibility of the artwork, its making, and its experience in the prospects of future action? As we believe, every effort to change the world for the better matters. SB2019 puts its faith squarely in the potential of art and its understanding to rework the world."

Read More
Saving Tutankhamen's Tomb


Getty Conservation Institute YouTube Channel , January 22, 2019

The story of nearly 10 years of research, conservation, and improvements to preserve the Tomb of Tutankhamen in Egypt.

This multiyear project was a collaboration of the Getty Conservation Institute and Egypt's Ministry of Antiquities. It focused on conservation and the creation of a sustainable plan for continued management of the tomb.

WATCH VIDEO
Penguin Sex and Stolen Artifacts: Museum Tours Through a New Lens


The New York Times, January 17, 2019

CAMBRIDGE, England — As he was leading a tour of the Polar Museum at Cambridge University one recent Saturday, Dan Vo drew the group's attention to a smooth white penguin egg found in Antarctica in the early 1900s. It had been collected on an expedition that included George Murray Levick, the author of a semi-secret 1915 paper "The Sexual Habits of the Adélie Penguin."

Read More
Museum Boards Have Struggled to Diversify. A $4 Million Gift to the American Alliance of Museums Aims to Help


Artnet news, January 16, 2019

According to a survey released in 2017, nearly half of museum boards are entirely white. Now, a $4 million gift from the Andrew W. Mellon Foundation, the Alice L. Walton Foundation, and the Ford Foundation aims to change that.

Read More
100 Gardens to Visit Before You Die


Gardenista, January 16, 2019

Some of the world's most beautiful gardens we stumbled across in our travels and others are known to everyone who loves landscapes.

Read More
Who Was the First Artist?


CNRS news, January 14, 2019

What if, long before Leonardo da Vinci or Michelangelo, the Neanderthals were humanity's first artists? At any rate, this is the hypothesis raised by new dating of Spanish rock paintings published in February 2018 in the journal Science, indicating that the hands and animals depicted on the walls of three caves date back 65,000 years. This would mean that they were painted 25,000 years before the arrival of the first Homo sapiens in the Iberian peninsula.

Read More
Bauhaus bus embarks on world tour to explore the school's global legacy


Dezeen, January 08, 2019

A mobile building that looks like the Bauhaus school in Dessau will travel between four global cities, aiming to "unlearn" the influential school's Eurocentric attitudes. Called Wohnmaschine, which means "living house", the small-scale Bauhaus bus will travel between four cities in 2019, the school's centenary year.

Read More
2019 Color Trends: The World's Most Popular Colors


Digital Synopsis, January, 2019

By collapsing pixel data and hex codes, the team at Shutterstock was able to see what hues their users are downloading most frequently. Using this information they've compiled a visual report of the top three universally popular colors, as well as local favourites from different countries around the world. Check out the report below.

Read More
Creative Cities
This city planner has big visions for the future of Hamilton


The Globe and Mail, January 13, 2019

City planning is often about big visions: shaping city blocks and transit routes and skylines. But Hamilton, Ontario planner Jason Thorne focuses his energy on small and intangible things – live music, street festivals, helping cyclists get around – that create a sense of place and pride.

Read More
Lord Cultural Resources values your privacy and does not sell or trade email addresses.
Please see our privacy policy for more information