Events
November 19, 2020
FUTURE CITIES CANADA: #UNEXPECTEDSOLUTIONS
Joy Bailey-Bryant is joining 130+ other speakers across sectors coming together to participate in 60+ virtual sessions, where she will be talking about designing cities for women. Led by EvergreenCanada and hosted by Future Cities Canada, this free six-week program runs from October 20th to November 26th, 2020.
Joy's session will air on November 19th at 10:00 AM EST.
Read More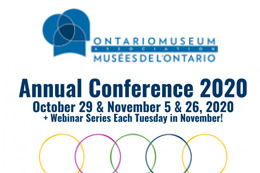 November 26, 2020
Ontario Museums Association 2020 Annual Conference
The OMA Conference program is inspired by the UN's Sustainable Development Goals (SDGs), but also plans to address the many challenges facing museums during the COVID-19 pandemic and social upheaval that have made 2020 an extraordinary year. Gail Lord, President and Co-Founder Lord Cultural Resources will be speaking at the Conference. Her session will take place on November 26 at 9:30am and will discuss the question "Is there a museum crisis?"
Read More