| | |
| --- | --- |
| | SHARE ON |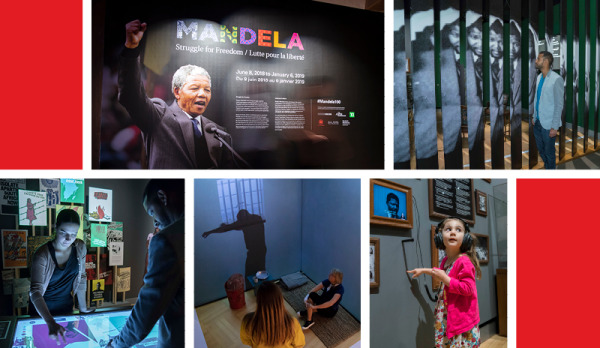 Mandela: Struggle for Freedom
Featured Story:
U.S. premiere of Mandela exhibition on view now at Holocaust Museum Houston
The premiere of "Mandela: Struggle for Freedom," at Holocaust Museum Houston is finally here.
The rich sensory experience uses imagery, soundscape, digital media and objects to explore the earthshaking fight for justice and human dignity in South Africa, as well as its relevance to issues of today.
On view now through Jan. 3, at Holocaust Museum Houston's Lester and Sue Smith Campus, at 5401 Caroline Street, visitors can experience the tiny cell where Nelson Mandela spent 18 of his 27 years in prison, take a stand in front of a giant 22-foot-long, 9-foot-tall armored vehicle, make a virtual protest poster on a digital light table, or enter a secret apartment for freedom fighters forced underground.
Lord Cultural Resources provided the Canadian Museum for Human Rights with tour management services for this travelling exhibition, including developing an offer package, identifying and coordinating venues, and managing tour schedules and logistics.
Read More
Our clients & Lord
First Americans Museum enters final year of construction


The Art Newspaper , October 19, 2020

Oklahoma City's First Americans Museum (formerly the American Indian Cultural Center) is set to open in September, 2021. After more than 25 years of planning and fundraising, the new museum will honor the history of the 39 tribes in Oklahoma — viewed through the fresh lens of contemporary Native art and culture. The Museum will present objects on loan from its partners at the Smithsonian Institution, with a focus on Oklahoma tribes. The Museum is also commissioning new works, to ensure all tribes are represented. A future phase will feature indigenous Oklahoma artists to support the state's creative community.

Lord Cultural Resources worked with the Museum from 2000 through 2015. We developed the initial plan for the visitor experience, the Program Brief, which involved extensive consultation, market analysis, and assessment of institutional relationships. We worked on the Vision, Mission and Mandate for the Museum, program plan, marketing strategy, facilities plan, staffing and governance recommendations, and projections for attendance, operating revenue, and expenses. We subsequently prepared the Implementation and Governance Plan and updated the Business Plan.

Read More
Gail Lord named one of the 50 museum influencers of 2020 by Blooloop


YouTube, October 14, 2020

President and Co-Founder of Lord Cultural Resources, Gail Lord, was named one of the 50 top museum influencers of 2020 by Blooloop. The inaugural Blooloop Museum Influencer List 2020 celebrates innovation, excellence and creativity in museums and science centers worldwide. They listed Gail as part of "The Power Ten" along with Lonnie Bunch, Secretary of the Smithsonian Institution, Laura Lott, CEO of American Alliance of Museums, and Manal Ataya, Director General of Sharjah Museums Authority.

SEE THE FULL LIST
'Boris u r a poo!': nation's children submit letters to prime minister for exhibition at London's Foundling Museum


The Art Newspaper, October 26, 2020

"Boris u r a poo"; "Boris Johnson you bloody carrot"; "Get down the toilet Boris!"

These are just some of 200-plus responses from children across the UK to Prime Minister Boris Johnson and the pandemic, currently on show in "The Covid Letters: A Vital Update at London's Foundling Museum" (until 17 January).

The works, gathered by the artist Jonny Banger, who also owns the subversive brand-mocking fashion label Sports Banger, are made from the letters sent by the prime minister to every household in the nation at the start of lockdown, urging citizens to stay home, protect the NHS, and save lives.

Lord Cultural Resources has worked with the Foundling Museum on various occasions preparing an Options Appraisal and Business Plan, Business Plan Update, Exhibition Development, and Implementation Services. In 2005, Lord published the historical non-fiction book A Home for Foundlings, which was nominated for the 2005 Norma Fleck Award.

Read More


'Stan' the T. rex just sold for $31.8 million—and scientists are furious


National Geographic, October 12, 2020

More than three decades ago in South Dakota, an amateur paleontologist named Stan Sacrison discovered a titan of the ancient Earth: the fossil of a mostly complete, 39-foot-long Tyrannosaurus rex. Nicknamed "Stan" after its discoverer, the beast was excavated in 1992 and has long been housed at the private Black Hills Institute of Geological Research in Hill City, South Dakota. But even if you've never been there, chances are good that you've seen this particular T. rex. Dozens of high-quality casts of its bones are on display in museums around the world, from Tokyo to Albuquerque, New Mexico.

Now, an auctioneer's hammer has thrown Stan's future into question, with the dinosaur bones sold off to the highest—and, so far, anonymous—bidder, stoking fear among experts that this beloved T. rex may be lost to science.

Lord Cultural Resources in currently working on a strategic plan update for the New Mexico Museum of Natural History & Science in Albuquerque, New Mexico where a high-quality T. rex cast of Stan is on display.

Read More
Advisers of Newburgh arts, culture study seek connection for 'disparate' artist networks


Times-Harold Record, October 5, 2020

A study in Newburgh seeks to pull elements of the city's diverse arts and culture community together by shedding light on what the city has to offer.

"One of the biggest findings is that awareness about arts activities is far, far, far too limited," said Russell Ger. "And our ability to transcend our own networks is also limited. So some kind of centralized network would be extremely useful."

Lord Cultural Resources, a consulting group working with the study, will share initial findings during The Summit on Dec. 5, and a final report before the end of the year, according to project manager Naomi Hersson-Ringskog.

Read More
12th Annual Art Gallery of Hamilton Film Festival increases free (online) programming


Global News, October 2, 2020

The Art Gallery of Hamilton's annual Film Festival is Hamilton's largest festival of international, independent, and Canadian film and will be screening exclusively online from October 16–25, 2020. Over the last 12 years, we have welcomed over 70,000 attendees, screened 500 films, and worked with more than 120 community and corporate partners to bring premium cinema to the region.

In 2020, the Film Festival will offer significant adaptations in order to respond properly to ongoing COVID-19 regulations. The biggest change this year will be the presentation of our films and events online. This change also brings with it an increase in the amount of free programming we can offer to our audiences, and will allow us to extend the reach of our Festival to include all of Ontario. It promises to be a very unique and pivotal year!

Lord Cultural Resources is working with the Art Gallery of Hamilton on a feasibility study and architectural plan to ensure they have a shovel-ready expansion plan ready when infrastructure funding becomes available. Learn more about Lord's shovel-readiness services.

Read More
A high-tech twin for a renaissance masterpiece


The New York Times, October 1, 2020

For the past five centuries, Michelangelo's David has been celebrated for its sculptural perfection and its embodiment of youthful beauty and strength.

Now, Italian officials want the sculpture to help showcase Italian craftsmanship and high-tech expertise in the digital age.

Over the next several months, a battery of Italian engineers, technicians, craftspeople and restorers will use what the project's coordinator has described as "the most advanced technologies available today" to 3-D print an exact copy of the 17-foot statue. The replica will then be the centerpiece of the Italy Pavilion at the next world fair, Expo 2020 Dubai, which was originally scheduled to open this month but was postponed until next October because of the coronavirus pandemic.

Lord Cultural Resources is currently working on the design, build, and operation of the Canada Pavilion for Expo 2020 with a consortium led by EllisDon Construction with Moriyama & Teshima Architects. The consortium is contracted by the Canadian federal government's Global Affairs Canada.

Read More
'Reclaiming the space': Celebrating First Nations cultures at a former residential school


TVO, September 30, 2020

Earlier this week, orange T-shirts flooded the gift shop of the Woodland Cultural Centre, an Indigenous cultural institution that includes a gallery, a museum, and a library. The merch arrived in anticipation of Orange Shirt Day, which falls on September 30 each year and draws attention to the devastating and long-lasting impact that Canada's residential schools had on an estimated 150,000 First Nation, Inuit, and Métis children.

As the centre is located on the grounds of the former Mohawk Institute, Canada's first and longest-running residential school, this year's memorial takes on added significance: 2020 marks 50 years since the school closed. Carley Gallant-Jenkins, a spokesperson for the centre, which is now owned by Six Nations of the Grand River, says that the plan had been to commemorate the anniversary with the completion of a $23.5 million fundraising campaign to renovate the Mohawk Institute building and establish it as a place to educate people about residential schools.

Read More


New Two Rivers Gallery executive director brings illustrious career to Prince George


Prince George Matters, September 30, 2020

Sarah Knelman has been appointed Executive Director of the Two Rivers Art Gallery in Prince George taking over from Carolyn Holmes before she departed in May to take an executive director position at the Nanaimo Art Gallery on Vancouver Island.

"The Two Rivers Gallery Board and staff are thrilled to have Sara join our team," Board President Cori Ramsay says in a release.

Sara Knelman is a former Consultant at Lord Cultural Resources. Lord has worked with the Two Rivers Gallery on a feasibility study prior to the gallery's opening in 2000.

Read More
Soft Power
Germany to create central digital platform for museum objects acquired in colonial context


The Art Newspaper, October 15, 2020

Germany's 16 states, the federal government and local municipalities have agreed on a joint digital strategy to list and publish online objects in museum collections that were acquired in a colonial context.

The measures include a central portal and a set of common standards to be developed with source countries and communities, for online registers of museum inventory. The digital strategy is to be coordinated by a national help desk set up this year by the states and federal government to assist individuals and institutions with information relating to repatriations of colonial-era acquisitions in museum collections.

Read More
Brooklyn Public Library announces launch of Center for Brooklyn History


Brooklyn Public Library , October 2, 2020

Brooklyn Public Library's President and CEO, Linda E. Johnson, and Brooklyn Historical Society's former President, Deborah Schwartz, announced today that the institutions have been combined, creating the Center for Brooklyn History, which will be home to the most expansive collection of Brooklyn history in the world. The new Center is housed at the landmarked Pierrepont Street building that was home to the Historical Society for nearly 140 years. It extends the collection and programming throughout the Library's 59-branch system. The Center will democratize access to Brooklyn's history and be dedicated to expanding and diversifying representation of the history of the borough by unifying resources and expertise, and broadening reach and impact throughout Brooklyn and beyond.

"The Center for Brooklyn History will democratize an astounding archive of our collective past, help us understand our present, and shape our city's future," said Brooklyn Public Library President and CEO Linda E. Johnson.

Read More
Two Baltimore museum trustees resign and donors rescind $50 million in gifts as the institution prepares to sell off blue-chip art


Artnet News, October 26, 2020

The controversy over planned sales of a trio of paintings by Brice Marden, Clyfford Still, and Andy Warhol is escalating at the Baltimore Museum of Art, where two former board chairmen say the deaccessioning and recent leadership direction have prompted them to rescind $50 million in pledged donations.

Director Christopher Bedford plans to fund diversity initiatives at the museum using an expected $65 million from the sale of the blue-chip artworks.

Meanwhile, two artist trustees, Amy Sherald and Adam Pendleton, have also resigned, though they did not specifically weigh in on the deaccessioning controversy in their letters.

Read More
Are art museums still racist? The COVID reset


Los Angeles Times, October 22, 2020

"Are art museums racist?"

That is the question asked by curator and critic Maurice Berger in a famous essay that bears that fraught yet simple inquiry as its title. He then laid out the ways in which white-led arts institutions had excluded and misrepresented the voice of Black artists over time.

"Who are the patrons of art, the museum board members, the collectors?" he asked. "Who is the audience for high culture? Who is allowed to interpret culture? Who is asked to make fundamental policy decisions? Who sets the priorities?

"Is the art world merely mirroring social changes or can art institutions actually play a role in challenging the conditions of institutional racism in America?"

Read More
The Met acquires Kent Monkman's grand diptych Mistikôsiwak (Wooden Boat People)


The Art Newspaper, October 8, 2020

The Metropolitan Museum of Art in New York has acquired Kent Monkman's monumental diptych Mistikôsiwak (Wooden Boat People) from 2019. Consisting of the paintings Welcoming the Newcomers and Resurgence of the People, the diptych has been on view in the museum's Great Hall since December and reflects on "the one-sided colonial version of history" that "dominates the narrative of so many museums", the Cree artist said when they were unveiled.

The paintings appropriate seminal European and American works like Emanuel Leutze's Washington Crossing the Delaware (1851), Thomas Crawford's Mexican Girl Dying (carved in 1848) and Théodore Géricault's The Raft of the Medusa (1818-19) to reimagine stories of Western conquest and the 19th-century characterisation of Indigenous communities as a vanishing race. Read More
Rotterdam's former Witte de With art centre chooses 'decolonial' new name


The Art Newspaper, October 2, 2020

The Rotterdam contemporary art centre known for 30 years as Witte de With, a name referring to a colonial naval officer, has chosen a new "decolonial" identity through an extensive community consultation. The centre will be known as Kunstinstituut Melly (Melly Art Institute) from January 27, 2021.

According to a press statement, the renaming process involved public input from more than 280 participants in Rotterdam, the Netherlands and internationally, although the final decision was made on 30 September by the centre's director, Sofía Hernández Chong Cuy, and its seven-person supervisory board.

Read More
Kevin Young, poet and author, is named to lead African American museum


New York Times, September 30, 2020

The Smithsonian on Wednesday named Kevin Young, a poet, archivist, author and editor, as the new director of the National Museum of African American History and Culture.

Young, 49, is currently director of the Schomburg Center for Research in Black Culture, a division of the New York Public Library, and poetry editor at The New Yorker magazine. He starts his new role in January.

He succeeds the museum's founding director, Lonnie G. Bunch III, who in 2019 became the secretary of the Smithsonian, its most senior position.

Read More
Museums
Why a German museum is displaying fake paintings from Its collections


Smithsonian Magazine , October 26, 2020

When museums discover a forgery in their collections, staff typically remove the artifact from view and stow it away with a mixture of shame and disappointment.

The Museum Ludwig in Cologne, however, is pioneering a different approach to fakes, transforming what could have been a mark against the German cultural institution into the focal point of a new exhibition.

Read More
Tennessee State Museum receives prestigious Urban Land Institute award


The Tennessee Tribute, October 11, 2020

The Tennessee State Museum has received an Excellence in Development Award from the Nashville Chapter of the Urban Land Institute in the Large Public Sector Project category.

The museum was one of seven private and public-sector projects to be recognized at ULI-Nashville's virtual award gala on Tuesday, Sept. 29. A jury comprised of representatives from Columbus, Ohio; Denver, Colorado; and Detroit, Michigan considered factors such as excellence and innovation in development, design, and construction; environmental stewardship; catalytic effect; and standard of industry excellence.

Read More
Architecture
Space race: how the pandemic is pushing museums to rethink design


The Art Newspaper, October 7, 2020

As US art institutions consider how they welcome visitors and guard their health in a vastly changed environment, the coronavirus pandemic is spurring a deeper rethinking of future museum design.

After a nationwide shutdown in March, many museums have gingerly reopened with stringent social distancing rules that profoundly affect the flow of people through entrances and galleries. With visitors often limited to 25% of usual capacity and no clear timeline for a Covid-19 vaccine, museums are opening a conversation about longer-term changes to their buildings. Some ideas have sprung from stopgap safety measures adopted since reopening, while others were germinating even before the pandemic.

Read More
Harriet Tubman Underground Railroad Visitor Center named AIA Maryland Public Building of the Year


GWWO Architects, September, 2020

GWWO is thrilled to announce that the Harriet Tubman Underground Railroad Visitor Center has received an Excellence in Design Merit Award and been named the 2020 AIA Maryland Public Building of the Year. The organization's most prestigious award, the Public Building of the Year may be any built project commissioned by a government or non-profit agency, within the State of Maryland, created with a civic purpose.

Chosen from over 100 submissions, the jury praised the building's design, expressing: "There are so many aspects of this project that made it the winner of Building of the Year. In terms of design excellence, the forms and organization of the structure not only fit within the landscape but also help tell Harriet Tubman's story. The choice of exterior materials and how they will weather over time worked not only as a beautiful pallet, but also as a strong metaphor."

Read More
Technology
Fisher-Price opens a virtual museum on Instagram to celebrate 90 years of its toys


USA Today, October 15, 2020

Fisher-Price has created a virtual museum on Instagram to celebrate its toy stories.

The toymaker, founded in 1930, has created an explorable online archive with more than 90 exhibits organized by decade, including the rolling Snoopy Sniffer from 1938 and wearable Roller Skates, first introduced in 1983.

It's an interactive experience your family can visit without leaving home. "We hope consumers around the globe take a moment, relive a happy moment in your childhood and remember what it was like when you got to be 3 and 5 (years old)," said Chuck Scothon, senior vice president and global head of infant and preschool at Mattel, which acquired Fisher-Price in 1993.

Read More
Creative Cities
Arts for community control: Planning an arts and innovation district without displacement


Planetizen, October 6, 2020

In 2019, local resident Jason Moreno was elected to the youth board of Dudley Street Neighborhood Initiative (DSNI) and spent the summer in its youth program, envisioning how a former bank building recently acquired by DSNI's community land trust could be redeveloped into a youth-friendly space. The program's culminating project was activating the building with temporary installations using recycled materials, inviting people to interact with what it might be like in the future. For one afternoon, the youth repurposed the first floor of the building into a bowling alley and arcade, Zen garden with koi pond, and movie theater/café.

These arts-based and interactive methods have become part of how DSNI and its community partners are collaborating with the city of Boston to revitalize the Upham's Corner commercial district into an "arts and innovation" district.

Read More
Lord Cultural Resources values your privacy and does not sell or trade email addresses.
Please see our privacy policy for more information