| | |
| --- | --- |
| | SHARE ON |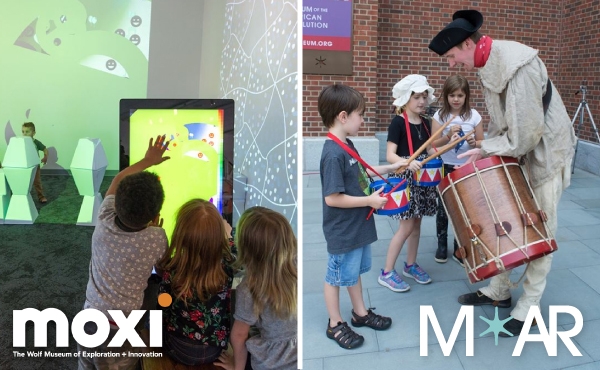 Featured Story:
USA Today released its list of best new attractions in the United States in its "10Best" award series, in which a shortlist is compiled by a panel of travel experts and winners are decided by reader vote. Among the winners were two past Lord clients: Philidelphia's Museum of the American Revolution and Santa Barbara's MOXI, The Wolf Museum of Exploration and Innovation.

Click through to read the January 2018 edition of Cultural News.
Our clients & Lord
Food is the New Battlefield Among Museums, and Singapore has Set the Bar


Quartz, January 27, 2018

Modern museumgoers have increasingly high expectations when it comes to the quality and inventiveness of food available to them at cultural institutions. As Gail Lord describes, "we are certainly living in a foodie age when people snap photos of food with the same enthusiasm they do for the Mona Lisa". While the National Gallery Singapore is indeed setting a competitve standard with Michelin-quality dining on-site, Gail notes examples of museums from the 1980s onward which are integrating food into visitor experience.

Read the article
NMAAHC named Beazley Design of the Year 2017


Beazley, January 25, 2018

The National Museum of African American History and Culture was named the 2017 Design Of The Year in the architecture category, as well as overall. The awards are a partnership between Beazley and the Design Museum, and alongside architecture recognize achievements in the categories of Digital, Fashion, Graphics, Product and Transport.

The Guardian (January 25) covered the award, describing the NMAAHC as "already iconic" and chronicling its century-long journey to being constucted.

Read More


After years of neglect, Old City Hall deserves Toronto's attention


The Globe and Mail, January 21, 2018

The Globe and Mail argues that it's time to bring the history and craftsmanship of Toronto's Old City Hall back to light, repurposing the building with facilities such as a new Museum of Toronto: "This is something Toronto should have had 40 years ago, a huge missing link among its cultural institutions and a needed forum for discussion of the past and present."

The positive opinions on a Museum of Toronto at Old City Hall are shared by The Toronto Star ("Turn Old City Hall into a Museum of Toronto", January 18), and Spacing ("LORINC: City needs to be thoughtful on how to run Museum of Toronto", January 24).

The building of such a museum has been a long-term Lord Cultural Resources initiative, including contribution to the recommendation currently under review by Toronto's City Council.

Read More
Clamber inside a blue whale's heart at Telus Spark's new exhibit


CBC News, January 21, 2018

Visitors to Calgary's Telus Spark have a unique opportunity — to clamber inside a life-size model of a blue whale's heart. The opening of Whales Tohorā, an exhibit from the National Museum of New Zealand, included the performance of traditional Blackfoot and Maori blessings. Telus Spark's manager of exhibits Allison Simpson says that "It's about the cultural connections between humans and whales, and also the scientific research that's happening."

In 2016, Lord was engaged to provide strategic planning services to set out the institution's goals to the year 2024.

Read More


Ottawa's Bytown Museum celebrates its 100th anniversary


CBC News, January 10, 2018

One of Ottawa's oldest museums celebrated its 100th anniversary by modernizing its collection. The Bytown Museum is housed in an old stone building next to the Rideau Canal locks, and it tells the story of Ottawa's early beginnings. The Museum's executive director shares highlights with Adrian Harewood on CBC's Our Ottawa.

Watch the video


AIA New York Announces 2018 Design Awards Recipients


AIANY, January 9, 2018

Among the winners of The American Institute of Architects NY (AIANY) 2018 Design Awards are two Lord projects, the Canadian National Holocaust Monument and the Smithsonian National Museum of African American History and Culture. Winning projects are chosen by a jury of independent architects, educators, critics, and planners on the basis of design quality, response to context and community, program resolution, innovation, thoughtfulness, and technique.




The Bentway Makes Magic in a Hostile Urban Space Beneath the Gardiner


The Toronto Star, January 5, 2018

The Star writes that Toronto's Bentway skate trail, which opened early this month underneath the city's contentious downtown expressway, is "an inspiring vision". While still a work in progress, it's already a successful neighborhood amenity for thousands and a city-wide destination.

The Globe and Mail also covered the well-attended opening ("The Bentway's surprising success shows Torontonians are hungry for unconventional public spaces," January 8).

Read More


Dallas' Next Great Plan. Maybe.


D Magazine, January 4, 2018

Dallas will soon unveil a new cultural plan. D Magazine asks if it will matter, in light of the city's history of "failing to support its culture". But their conclusion is optimistic, citing Lord's commitment to gathering community input from a variety of sources and drawing out specific and actionable goals from the planning process.

The Dallas Observer also covered the productive and spirited discussion around Dallas' literary arts scene (January 26, 2018). Hosted at a local independent bookstore, the workshop is one of many which will inform the new Cultural Plan.

Read More
Museums
'Ultra-technologists' to Open Digital-only Museum in Tokyo


CNN, January 27, 2018

Coming this summer to Tokyo: a 107,000 square-foot museum based entirely around the display of digital art. Behind the operation is teamLab – a group of self-described "ultra-technologists" including designers, computer scientists, engineers and programmers, who as an experimental collective have been exploring the field of immersive digital experiences for more than 15 years.

Read More
Lacma Seeks to Expand Its Footprint Into South Los Angeles


The New York Times, January 24, 2018

The Los Angeles County Museum of Art is planning to create a satellite campus, or possibly two, in South Los Angeles — the area once known as South Central but rebranded 15 years ago because of its association with riots and crime. The proposition is one being heralded as "a radical idea, not being done at this scale by any museum in America", and a move that "turns the traditional, elitist museum model on its head".

Read More
Met Changes 50-Year Admissions Policy: Non-New Yorkers Must Pay


The New York Times, January 4, 2018

One of the more contentious museum topics beginning this year has been the announcement of the Metropolitan Museum of Art's change to its admission fee structure, from a $25 suggested admission price for all, to mandatory $25 payment from visitors outside New York State (with some exceptions). As the world's largest cultural institution, the Met's decision has sparked wide-ranging discussion, including critique from the Times' chief art critic and a creation of a widely-signed petition (Artforum, January 11).

Read More
Architecture
What Canada's Entry at the Next Venice Biennale Really Means


The Globe and Mail, January 5, 2018

The exhibition "Unceded" will be Canada's entry at the 2018 Venice Architecture Biennale. Curated by the eminent architects Douglas Cardinal and David Fortin and arts curator Gerald McMaster, it will bring together work by a range of architects from across North America. The Globe and Mail writes that by bringing an Indigenous voice to the world's premier forum for architecture, "Unceded" could be a bold step in reconciliation and a revolution in how we build.

Read More
Ottawa Architect Argues for National Architecture Policy


CBC News, January 5, 2018

With Quebec's order of architects pushing for a provincial architecture policy, an Ottawa architect is calling on the federal government to set goals for the whole country. Toon Dreessen told CBC Radio's Ottawa Morning that "it's not so much just about ugly buildings, but really about what does the built environment say about us as a people?"

Read More
Tall Buildings in Numbers: 2017 Year in Review


CTBUH, December 13, 2017

Each year, the Council on Tall Buildings and Urban Habitat (CTBUH) publishes a study on all 200-meter-plus buildings completed during the preceding year. In their interactive online version of the 2017 report, buildings are sortable by criteria such as city, function, and material, as well as viewable together as a skyline. With 144 buildings completed in 2017 across 23 countries, the year was the busiest and most geographically-diverse on record.

Explore the report
Technology
How Google Became a Major Producer of Cultural Content


The Art Newspaper, January 19, 2018

The Google Arts & Culture mobile app recently experienced a surge of popularity, due to its app which allowed users to find their "art doppelganger" (as covered enthusiasm by New York Times and, more pessimistically, the Globe and Mail). But what is "Google Arts & Culture"? The Art Newspaper looks into this not-for-profit branch of Google, which was founded 2011 as part of the company's "Cultural Institute".

Read More
The Future May Be Virtual, But Who Is Running the Show?


The Art Newspaper, January 10, 2018

Virtual reality (VR) art is no longer the niche domain of coders: prominent artists such as Marina Abramovic and Jeff Koons are beginning to create work using the technology, and start-ups are springing up in the race to distribute and sell them. But as the tech goes mainstream, legal and ethical questions about copyright and authorship are being raised: who owns the art, how is work protected, and who has the right to place art in virtual public places?

Read More
Art & Culture
What's Right About The Wrong Biennale?


The New York Times, January 22, 2018

Counting its viewership in the millions, "The Wrong" just might be the world's largest art biennale – only internet access is needed to attend. The biennale presents the work of some 1,500 creators, and takes a decentralized, accessible and democratic approach to participation whether as an artist, curator, or visitor.

Read More
Why Thousands Are Lining Up Online for a Selfie with AGO's Blockbuster Infinity Mirrors


CBC News, January 18, 2018

The Art Gallery of Ontario has experienced a ticket-buying frenzy for its upcoming Yayoi Kusama show, "Infinity Mirrors", an experiential series of mirrored rooms creating the illusion of infinite space. In what is looking to potentially be the gallery's most popular exhibit ever, Toronto is only the fourth city in North America where people can see the full exhibit.

Between these statistics and the Montreal Museum of Fine Arts' record-breaking 2017 attendance (CBC News, January 16), it seems that big-name gallery shows have the potential to bring in bigger crowds than ever before.

Read More
Lord Cultural Resources values your privacy and does not sell or trade email addresses.
Please see our privacy policy for more information