| | |
| --- | --- |
| | SHARE ON |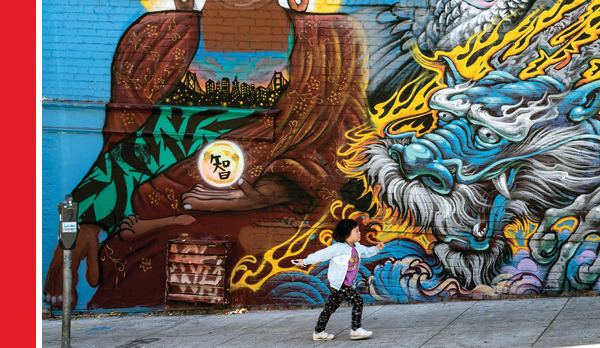 Chinatown, San Francisco, California. Highsmith, Carol M., 1946-, photographer
Featured Story:
Looking ahead to Asian Pacific American Heritage Month
May is Asian/Pacific American Heritage Month. This annual celebration means more than ever this year in light of a recent rise in anti-Asian violence in the US, Canada, and elsewhere. We invite you to start the month off right by visiting this beautiful portal into current exhibits, collections, and other materials related to Asian and Pacific American heritage. We thank the Library of Congress, National Archives and Records Administration, National Endowment for the Humanities, National Gallery of Art, National Park Service, Smithsonian Institution, and United States Holocaust Memorial Museum who joined together to create this outstanding tribute to generations of Asian and Pacific Islanders who enrich America's history — and its future.
Lord Cultural Resources has been honoured to work with many great museums and cultural centers across North America preserve the history, heritage and culture of Asian Americans, including the Asian Art Museum of San Francisco, Wing Luke Museum of the Asian Pacific American Experience, and the Asia Society.
Read More
Our Clients & Lord
Where did the Gardiner Expressway go? Once a barrier, now exciting things are happening underneath


Globe and Mail, April 25, 2021

Something strange, unexpected and kind of neat is happening to the Gardiner Expressway.

Read More


Chicago Will Turbocharge Its Public Art Budget by 15,000 Percent as Part of a New $60 Million Cultural Recovery Program


ArtNet News, April 20, 2021

It's the city's largest support plan for the arts sector in years.

Read More


Parks Canada Releases Minister's Response To Round Table Consultations


National Parks Traveler, April 19, 2021

Canadians wants Parks Canada to work harder to make racialized communities, Indigenous peoples, LGBTQ2+ communities and people living with disabilities feel welcome in its parks, conservation areas and historic sites.

Read More


Grand Egyptian Museum Gives Historic Artifacts a Modern Context


ArchDaily, April 15, 2021

Designed by Irish architecture firm Heneghan Peng, the long-awaited Grand Egyptian Museum devoted entirely to Egyptology is set to open this summer, sitting on the edge of the Giza Plateau, 2 km away from the Pyramids. Considered as the largest museum in the world dedicated to one civilization, the cultural complex will accommodate about 100,000 ancient artifacts, and will include 24,000m² of permanent exhibition space, a children's museum, conference facilities, educational areas, a conservation center, and extensive gardens inside and around the museum's plan.

Read More


Lord and Black Artists' Networks in Dialogue Announce New BIPOC Fellowship


Lord Cultural Resources, April 8, 2021

Canada is one of the most culturally diverse countries in the world, yet due to systemic racism, few of our cultural institutions reflect our diversity.

As a result, Canadians today and potential future generations are not experiencing the creative potential that Black, Indigenous, and other People of Colour (BIPOC) could bring to arts organizations, museums, and libraries as leaders; moreover BIPOC professionals are marginalized from leadership, often leaving the field and even the country to pursue opportunities elsewhere. Read More
Beyond Monet: The Immersive Experience Will Donate Portion of Ticket Sales To New BIPOC Fellowship


SamaritanMag, April 6, 2021

Not only will the world premiere of Beyond Monet: The Immersive Experience at the Metro Toronto Convention Centre this summer provide a cultural and safe sensory audio-visual art experience, but will raise money in the process.

The new production created by Normal Studio and produced by Beyond Exhibitions Inc. will donate one dollar for every ticket purchased to the Black, Indigenous and People of Colour (BIPOC) Fellowship, to help magnify the creative vision and voices in Canada of the BIPOC community. The fellowships will launch in the fall. Read More
Removing the colonial lens: The push to decolonize museums in Canada


APTN News, April 2, 2021

It's no secret that museum collections have benefitted from the colonization of countries occupied by imperial powers such as Britain and France.

But in recent years, spurred in part by the 2007 United Nations Declaration on the Rights of Indigenous Peoples (UNDRIP), there is a global push to decolonize museums.

And in Decolonizing Museums, Part 1, APTN Investigates takes a look at how that push is going in Canada – beginning with the Canadian Museum for Human Rights (CMHR). Read More


INCLUSION, DIVERSITY, EQUITY AND ACCESSIBILITY
Indigenous housing crisis inspires 'hopeful' art in MMFA exhibition


Montreal Gazette, April 22, 2021

There's a surprising sense of lightness, and life, to Anishinaabe-Québécoise visual artist Caroline Monnet's solo show Ninga Mìnèh.

Read More
'Still much work to be done': artists and US museums react to Derek Chauvin conviction in George Floyd murder trial


The Art Newspaper, April 21, 2021

Former police officer faces up 40 years in prison, but systemic racism must now be addressed, says San Francisco Museum of Modern Art.

Read More
Undoing the Damage of Urban Freeways - Digital Event


Third Way, April 2, 2021

Transportation investments shape our communities — not always for the better. For decades, transportation planners invested in urban freeways that destroyed many communities of color. Recently, the Department of Transportation halted a planned expansion of I-45 in Houston, a project that would have displaced not only families, homes, and businesses but historic Black and brown communities.

Read More
Museums
What's Gogh-ing on here?! At least 3 different Van Gogh light shows are happening this spring


CBC, April 22, 2021

It's one of the few things you can see doing during lockdown, but why are they all about Van Gogh?

Read More
Rembrandt exhibition to headline National Gallery's exhibitions when it is allowed to open this spring


Ottawa Citizen, April 22, 2021

The first major Rembrandt exhibition in Canada in 52 years will headline the National Gallery of Canada's spring-summer 2021 season — as soon as Ontario's pandemic restrictions loosen, permitting art-lovers to enter the building.

Read More
Some New York museums will ramp up to 50% visitor capacity next week under relaxed limits announced by governor


The Art Newspaper, April 21, 2021

Others welcome the change while scrutinising their Covid-19 safety procedures

Read More
B.C. museum creating collection of COVID-19 pandemic artifacts for future generations to study


CBC, April 21, 2021

In the same way we look back on the 1918 Spanish flu pandemic, comparing, for instance, our face masks to theirs, future generations may, one day, wonder how British Columbians fared during the COVID-19 pandemic of 2020.

Read More
When you can't go to an auto museum, these cars Zoom to you


Driving, April 20, 2021

Ontario's Canadian Automotive Museum hosts online presentations about Canada's auto history.

Read More
Australian billionaire's proposed museum for $380m art collection angers rural community


The Art Newspaper, April 20, 2021

Planning application for Melbourne businessman Lindsey Hogg's Rosemaur Gallery has international support but faces local opposition.

Read More
'Squidgy' and glowing entrance revealed for Melbourne's newest museum


The Sydney Morning Herald, April 16, 2021

As any performer can tell you, first impressions count. And to make a good first impression, you need to think about your entrance.

This old thespian trick applies to cultural buildings, too. When the team behind the University of Melbourne's new Science Gallery museum – set to open in June – turned their minds to their front door, they wanted it to reflect the themes that inspired the institution.

Read More
UCLA's Fowler Museum to reach out to Nigeria about returning its Benin bronzes


The Art Newspaper, April 14, 2021

As restitution momentum builds, director of Smithsonian's National Museum of African Art says it could lead discussions for the return of looted Benin objects in US museum collections.

Read More
Cairo's palatial museum full of Impressionist treasures—closed for a decade after a Van Gogh was stolen—finally reopens to the public


The Art Newspaper, April 12, 2021

Egypt's Mr & Mrs Mohamed Mahmoud Khalil Museum holds important works by artists including Paul Gauguin, Pierre-Auguste Renoir and Claude Monet.

Read More
V&A will not scrap focus on materials in restructuring U-turn


The Art Newspaper, April 1, 2021

An updated proposal will keep the collection organised around mediums instead of switching to a chronological approach.

Read More
Lord Cultural Resources values your privacy and does not sell or trade email addresses.
Please see our privacy policy for more information