| | |
| --- | --- |
| | SHARE ON |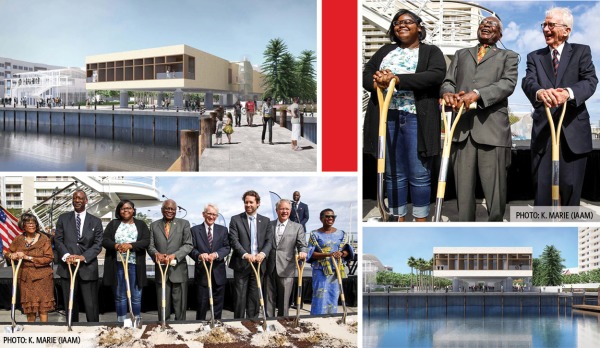 Featured Story:




International African American Museum Breaks Ground Amid Fanfare

This month's issue of Cultural News features the International African American Museum (IAAM) that held its groundbreaking ceremony Friday, October 25th at 10 a.m. The overflow crowd included friends and supporters from over the nearly twenty years the IAAM has been in development. Honored guests included Congressman Jim Clyburn (D-SC), Congressman Joe Cunningham (D-SC), Governor Henry McMaster (R-SC), Mayor John Tecklenburg (Charleston, SC), former Charleston mayor Joe Riley, and Mayor Yvonne Aki-Sawyerr (Freetown, Sierra Leone). The IAAM will tell the story of the hundreds of thousands of enslaved Africans who were taken from West Africa, entered North America in Charleston, SC, endured hardship and cruelty, and then contributed so significantly to the greatness of America and the world. The Museum will honor the site where these enslaved Africans arrived and thousands died, tell their untold stories, and in doing so, will promote compassion and empathy among all people. "I argued that this had to be an African American museum," said Congressman Clyburn. "It cannot just be about the institution of slavery. It has to be about what African Americans are, can be, and will be."

IAAM engaged Lord Cultural Resources to prepare a strategic business and facility plan to support architectural and exhibition planning and design, projecting attendance, operating revenues and expenses for the Museum. See Our Work with International African American Museum. Read More
Our clients & Lord
Chicago Architecture Biennial Opened to The Public


Metalocus, October 27, 2019

The third edition of the Chicago Architecture Biennial is open to the public, bringing together more than 80 contributors from 22 countries — including Theaster Gates, MASS Design Group, Forensic Architecture & Invisible Institute, RMA Architects, Jimmy Robert, Vivien Sansour, and Wolff Architects, to name a few — and engaging over 50 partner sites and 100 partner organizations across Chicago. This year's biennial, titled "..and other such stories", explores the way architecture shapes, and is shaped by, culture, history, and nature around the world, asking critical questions about how architecture has informed our present, and the power the field has to shape a better, more sustainable, and more equitable future.

Lord Cultural Resources recommended the creation of the Chicago Architectural Biennial as a part of the Chicago Cultural Plan of 2012.

Read More


Toronto to expand Ireland Park and promises big changes to lands at the foot of Bathurst Street


The Globe and Mail, October 25, 2019

Most Torontonians know Eireann Quay as the road to the airport. This downtown street does lead to Billy Bishop Airport – but it also contains a school, community centre, park and memorial to the Irish presence in Canada. The balance between taxis and public space began to shift on Friday. At a media conference, Mayor John Tory and local councillor Joe Cressy announced the construction of six separate projects in this area, centred on Ireland Park. "This time next year, it will be safer, and more beautiful, and better connected to Toronto's history," Mr. Cressy said in an interview.

This exciting project will help fulfill the vision for the 1938 office building as a new centre for culture that Lord Cultural Resources has been helping the Ireland Park Foundation to articulate and realize.

Read More
New York opens applications for two new monuments honoring black history


The Art Newspaper, October 24, 2019

The city forges ahead with its campaign to build new memorials, as public officials face pressure to reform selections process. Artist applications opened this week for two recently announced monuments in New York that aim to recognize the history of African American families in the city. But while the city forges ahead with its plan to create new memorials to overlooked figures, some historians have called for a reform of the selection and design process.

Read More


A collection of young thinkers about city building


Some-thoughts.org, October 2019

Over the past two years, Sidewalk Toronto has brought some important questions about cities – and our collective futures – into sharp focus. Some of those questions are new; others we've been asking for a long time. This is a collection of ideas to help build on and continue these discussions.

Gail Lord is one of more than 90 urban thought leaders invited to contribute an entry to this collection. The entries are presented in tables, to represent conversations that might happen over a meal. Read Gail's entry "Building Livable Communities" as part of the discussion at Table 14.

Read More
Illuminating the Plight of Missing and Murdered Indigenous Women


The New York Times, October 23, 2019

An exhibition in Toronto's Gardiner Museum was created with the hope of bringing visitors face to face with the issue.

"Anybody can have access to it," said Gail Dexter Lord, president and co-founder of Lord Cultural Resources, a Toronto-based museum and gallery consultancy. "That's important." Ms. Lord visited the Gardiner to see the work after its installation in late August. She was impressed with what she called the work's "transformative, spiritual quality." She said, "Every piece of it is reverential."

Read More
Mandela: Struggle for Freedom Opening Event


Gail Lord LinkedIn page, October 21, 2019

A short video compilation of the Mandela: Struggle for Freedom opening event last week. A powerful exhibition about an extraordinary man! Go see it with your friends and family and let us know what your thoughts are.

Read More


See The Statue Of Liberty's Italian Sister – And Possible Inspiration – In A Special Exhibit On Ellis Island


Forbes, October 21, 2019

Three years before the Statue of Liberty was erected in New York Harbor, a similar monument, representing equivalent values, was installed at the Basilica of Santa Croce in Florence. They were designed by different sculptors, and there's no evidence that the Frenchman Frédéric Auguste Bartholdi ever met the Italian Pio Fedi, let alone that Bartholdi was copying Fedi's design. But as a new exhibition at the Ellis Island National Museum of Immigration suggests, the statues are deeply related, and the significance of each monument is enhanced by the other statue's presence.

Lord Cultural Resources worked on contend and graphic development for the exhibition.

Read More
Harlem African Burial Ground Project Begins: City Accepting Bids


Patch, October 21, 2019

HARLEM, NY — The city is starting to accept bids for a long-planned project to redevelop the former 126th Street bus depot into a memorial for a historic African burial ground and a large mixed-use development, city officials announced Monday. The New York City Economic Development Corporation is kicking off the process with a "Request for Expressions of Interest" for the 18,000-square-foot memorial on East 126th Street between First and Second avenues. The city agency is looking to partner with a nonprofit or cultural organization to operate the memorial and an associated cultural center after its built, according to Monday's announcement.

Read More


Charleston Navy base group starts planning for H.L. Hunley museum


Post and Courier, October 18, 2019

The caretaker of the former Navy base property in North Charleston has hired an architect to kick off the planning phase for a new museum that would display the historic H.L. Hunley submarine and other maritime artifacts. The Charleston Naval Complex Redevelopment/Naval Base Museum Authority said Friday it awarded the job to Thomas & Denzinger Architects. The Charleston-based firm is working with seven other companies, including engineers, contractors and exhibit designers.

Lord Cultural Resources is a member of a planning team for this project.

Read More
Here is Dallas' new idea for the land on Stemmons where it wasted $5M to build the Trinity toll road


The Dallas Morning News, October 17, 2019

"Downtown is being built out," Council member Omar Narvaez said. "This area to me has been neglected for so long. I saw this tract of land and thought, 'What could we do there to begin the revitalization of this area?' And my brain goes straight to arts and culture, because this is an arts-and-culture desert."

Actually, it's an everything desert, which is why City Hall once thought nothing of slicing through it with a toll road. Narvaez spoke for a long time about wanting to turn this nowhereland into something more than a place you merely drive past on the way to somewhere else. He envisions this arts center as a centerpiece to something that more closely resembles the Design District, for decades just warehouses and docks along a levee.

Read More


Art Gallery of Hamilton Film Festival


Raise the Hammer, October 16, 2019

Fall has descended and it's time to cocoon with a good movie. Luckily, the 11th annual Art Gallery of Hamilton (AGH) Film Festival gets underway Thursday October 17th ushering in a smorgasbord of current and retro Canadian and international documentaries, dramas, and comedies screened at five of the best venues the Hammer has to offer.

Lord Cultural Resources is currently working with the Art Gallery of Hamilton in developing a Strategy for Future Success.

Read More
Gallery show a 'tour' around Georgian Bay


The Sun Times, October 10, 2019

A new show at the Tom Thomson Art Gallery invites people to "walk with" artists who have painted around Georgian Bay over the past century. Footprints in Time, co-curated by Art Gallery of Ontario senior curator emeritus Katharine Lochnan and local artist Louise Moore, includes 45 works from the Owen Sound gallery's permanent collection. The art – inspired by landscapes, animals, boats and other features around the bay – has been hung in the show by location, providing visitors with an opportunity to take an imaginary tour circumnavigating Georgian Bay. "We've laid it out so that you begin in Manitoulin with the Indigenous artists and that's an island sacred to the First Nations," Lochnan said in an interview.

Lord Cultural Resources worked with Tom Thomson Art Gallery on a workshop.

Read More
Digital Reach – A New Initiative to Use Technology to Reach New Audiences


National.ballet.ca, October 3, 2019

"Digital Reach is cultural organizations working together to use technology to connect with more people" said Mr. Hughson. "It expands upon the work we are doing with Canadian Opera Company and SIRT and the Digital Stage project. Through Digital Stage we are exploring the possibilities of new technology and with Digital Reach we are learning how to effectively implement and distribute it. These exciting new initiatives will help the National Ballet, and our peers, forge pathways towards a digital future, ensuring that we are effectively leveraging new technology to reach new audiences and to promote our art forms while creating sustainable practices that will change the way we do business."

Led by the National Ballet and generously supported by the Canada Council for the Arts Digital Strategy Fund and the City of Toronto, Digital Reach is a collaborative project with three consulting partners: Nordicity, Lord Cultural Resources and OCAD University. There are 12 partner Toronto arts organizations: The National Ballet of Canada, Canadian Opera Company, Dance Umbrella of Ontario, Esprit Orchestra, Gardiner Museum, Luminato, Museum of Contemporary Art (MOCA), Royal Ontario Museum, Tapestry Opera, TOLive, Toronto Alliance for the Performing Arts and Toronto Caribbean Carnival.

Read More
New exhibit at Chimczuk Museum highlights region's cartographic history


CBC, October 2, 2019

The maps are part of the Chimczuk Museum's new "Navigating our Way — Maps of Windsor and Essex County" exhibit, which started its run on Sept. 28 and is expected to continue until March 2020.

According to Della Valle, the Chimczuk Museum has approximately 600 maps in its collection, ranging from copies to first editions to lithographs of original cartographs.

Read More


Soft Power
Soft power is about attraction rather than coercion


The National, October 27, 2019

Real soft power flourishes when people are free to be creative and calls for nations to be magnetic. Every autumn, diplomacy geeks look forward to the annual Soft Power 30 report, which goes one step further than the Organisation for Economic Co-operation and Development's review of global education. In the report published by the UK-based Portland Communications, countries are ranked by their appeal across culture, education, digital and foreign policy. In a field where qualities are not easily quantifiable, author and political scientist Joseph Nye calls it the "clearest picture of global soft power to date". Governments are still a long way from an effective way of measuring, let alone marshalling, their soft power assets. There are weaknesses in the ranking. Smaller countries rightly complain that it is hard to get a look in. Many countries, including in the Middle East, don't yet feature in the list, despite ambitious cultural diplomacy programmes. The criteria still looks weighted towards the West. These tools are evolving and I suspect they will be outdated within a decade. But they are the best guide we currently have to how nations are seen by the rest of the world.

Read More
2019 SOFT POWER 30 RELEASED: FRANCE REGAINS #1 SPOT


Softpower30, October 24, 2019

France is back topping the charts as the nation with the strongest soft power, according to the newly released Soft Power 30 Index & Report, jointly produced by Portland Communications, Facebook and CPD. With essays contributed by a number of CPD affiliates, the report is a timely accounting of the world's nation-states per their public engagement, technology, foreign policy, education and leadership, to name a few critical indicators of soft power fortitude.

Read More
Fine Arts & Exhibits


The New York Times, October 23, 2019

More than ever, the creators and purveyors of art are speaking out on some of the most pressing issues of the day — race, politics and the environment among them. The New York Times devotes an entire Sunday section to activism in museums and the arts.

Read More
Museums
Preserving the Past for Museum Visitors of the Future


The New York Times, October 23, 2019

Conservators come out of back rooms into public spaces, sharing the once closely held secrets of restoring works of art. Across the United States and around the world, museums are increasingly using conservation to engage visitors and help expand their understanding of what museums do. In some cases, the public efforts began when pieces were too big to move, leaving conservators no choice but to work in an open gallery.

Read More
The 'Mona Lisa' Experience: How the Louvre's First-Ever VR Project, a 7-Minute Immersive da Vinci Odyssey, Works


Artnet, October 22, 2019

Sometimes visitors to the Louvre can have a hard time glimpsing the Mona Lisa. It's just 30 inches tall, tucked behind a layer of bulletproof glass and, more often than not, a throng of tourists jostling to capture selfies. While the museum has recently introduced a single-file line system to try and get around the over-crowding, around 80 percent of the museum's 10 million yearly visitors still wend their way to the Salle des États to catch a glimpse of the work. The problem is so great that the painting could not be included in the museum's blockbuster Leonardo da Vinci retrospective, which opens on October 24, for fear that it would make the exhibition "practically unvisitable," according to its curators. But the museum has found a creative solution for the landmark exhibition. Working with the VR headset producer HTC's Vive Arts program, the Louvre has launched its first-ever virtual reality initiative, offering visitors a seven-minute experience of a work titled Mona Lisa: Beyond the Glass.

Read More
Architecture
MoMA in New York reopens after expansion project by Diller Scofidio + Renfro


Floorature, October 30, 2019

The MoMA, the Museum of Modern Art in New York reopened its doors on October 21, 2019, unveiling its new look to the public after the extension project designed by the Diller Scofidio + Renfro firm, in collaboration with Gensler. The expansion will allow the museum to exhibit a significant number of works using new interdisciplinary methods.

Read More
Hariri Pontarini Architects Wins 2019 RAIC International $100,000 Prize for Excellence in Architecture


CanadianAarchitect, October 28, 2019

The Royal Architectural Institute of Canada (RAIC) is pleased to announce the Baha'i Temple of South America in Santiago, Chile as the winner of the 2019 RAIC International Prize. The architects are Hariri Pontarini Architects of Toronto, Canada. The winner was revealed on October 25, 2019, during an awards ceremony and gala at the Westin Harbour Castle in Toronto, attended by over 260 members of the Canadian and international architecture community.

Read More
Beyond buildings: the expanded vision of the 2019 Chicago Architecture Biennial


Wallpaper, October 1, 2019

The title of this year's Chicago Architecture Biennial (CAB) '…and other such stories', seems like a riposte to that of the previous installment, 'Make New History'. In some ways it's more than that – almost a riposte to architecture itself, to the degree that artistic director Yesomi Umolu felt compelled to note, at the opening panel in September, that she was 'not against architecture'. Just the same, the show's focus is definitely expanded, with its 80 plus contributors taking on pressing social issues like climate change, inequality and race.

Read More
Technology
BMO Lab in Creative Research in the Arts, Performance, Emerging Technologies and AI


cdtps.utoronto.ca, October 7, 2019

Bank of Montreal today announced that it is making a $5 million investment in a new University of Toronto lab called the BMO Lab for Creative Research in the Arts, Performance, Emerging Technologies, and AI.

The BMO Lab will host high-profile, public artistic events, and aims to create a global network of artists and researchers that combine art and technology. The BMO lab will be housed within the University of Toronto's Centre for Drama, Theatre, and Performance Studies. Students from the arts, humanities, sciences, and engineering will be able to explore how AI and other technologies can impact artistic expression. Read More
Neuroscience gets into the mind of the museum visitor


Attractions Management, October 1, 2019

Every museum would like to know more about what goes through its visitors minds as they wander the floors looking at exhibits. How emotionally or intellectually engaged are they by an artwork? How much information about each exhibit is it optimal to provide to visitors?

Read More
How to make your museum future-proof? Three trends to keep in mind.


Barco, October 2019

Is the existence of museums in danger? Definitely not. But fact is that the increasing popularity of modern media is changing the way culture is consumed. In order to move away from the traditional passive approach and stay relevant to the demanding audiences of today and tomorrow, museums need to look into the potential of current social and technological (r)evolutions.

Read More
Art & Culture
How Modernity Came to Europe


The New York Times, October 28, 2019

Imagine a society where, within the space of a single generation, human innovation all but collapses the most formidable geographic distances, allowing individuals and information to travel the globe with unprecedented swiftness and ease. Where new platforms radically transform the ways in which news, music, books and art are created and consumed. Where media-driven celebrity trumps older modes of authority and forms new elites, endowing famous artists and performers with peerless cachet. Where audiences converge in a worldwide culture of "sharing," and diversity and connectedness join equality and freedom as the shibboleths of Western liberalism. Where, at the same time, legislation struggles to keep pace with technological change; capitalism and consumerism destroy even as they enrich; and nationalism, racism and xenophobia poison the public discourse, threatening disaster. This is the society Orlando Figes examines in "The Europeans: Three Lives and the Making of a Cosmopolitan Culture," and it is the world of mid-19th-century Europe, "an international culture that vanished on the outbreak of the First World War."

Read More
'Lessons in visual literacy': how art can help us look more carefully at language


The Guardian, October 28, 2019

In a new exhibition, the importance of studying the messaging we receive from both the government and the media is highlighted.

With more than 70 artworks, from the 1980s to the present, the exhibition looks at how artists add, remove or play with language in relation to the government and the media. "Most of the artists are trying to make us think and look more carefully at the words the media and the government uses," said Michael Darling, the museum's chief curator. "I would sum it up as lessons in visual literacy."

Read More
What To See And Snag At Toronto's Foremost Art Fair


Forbes, October 26, 2019

Art Toronto is not your average art fair, now that Mia Nielsen has been appointed as its new director. Marking the fair's 20th anniversary, the fair features over 100 art galleries and a new section for public artworks, as well. "We believe art should be accessible to all," said Nielsen. "That's the beauty in public art, and why we decided to make it an important and celebrated part of this year's fair."

Read More
Creative Cities
Hanover launches Cultural Master Plan


Blackburn News, October 29, 2019

The Town of Hanover hosted several community groups at a Cultural Exchange Event at the Special Events Centre on Monday to launch a cultural master plan.

"This was an opportunity for us to launch our cultural plan by having all of our cultural stakeholders into one room," said Economic Development Manager April Marshall. "We're having some facilitated networking, and trying to get some ideas as far where there are opportunities for collaboration."

Read More
Second edition of the Cultural and Creative Cities Monitor


europa.eu, October 8, 2019

The second edition of the Cultural and Creative Cities Monitor measures and assesses the performance of 190 'Cultural and Creative Cities' in Europe vis-à-vis their peers, using both quantitative and qualitative data. The quantitative information is captured in 29 indicators relevant to nine dimensions, and reflecting three major facets of cities' cultural, social and economic vitality. The 29 individual indicators were selected following an extensive literature review and several rounds of expert consultations:
Cultural Vibrancy measures a city's cultural 'pulse' in terms of cultural infrastructure and participation in culture;
Creative Economy captures the extent to which the cultural and creative sectors contribute to a city's economy in terms of employment, job creation and innovation;
Enabling Environment identifies the tangible and intangible assets that help cities attract creative talent and stimulate cultural engagement.
Read More
In a Moving Public Art Project, Jenny Holzer Will Project Firsthand Accounts of Gun Violence Onto Rockefeller Center


Artnet, September 27, 2019

For three nights next month, New York's Rockefeller Center will be aglow with the testimonies of those affected by gun violence in the US. Whereas most Creative Time efforts come together over the course of many months or even years, Holzer's project has been pulled together in less than 8 weeks.

Read More
Lord Cultural Resources values your privacy and does not sell or trade email addresses.
Please see our privacy policy for more information