| | |
| --- | --- |
| | SHARE ON |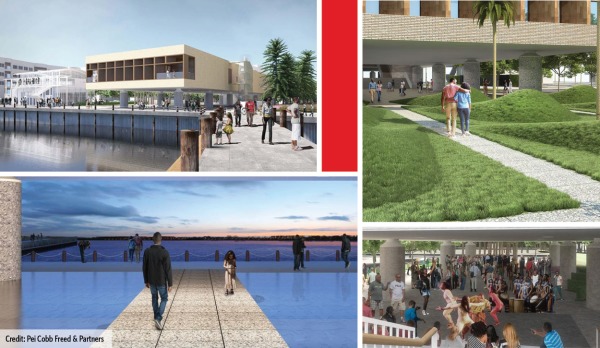 Images by Pei Cobb Freed & Partners
Featured Story:
Construction of the International African American Museum is underway at Gadsden's Wharf
As January draws to a close and we begin to mark Black History Month, this issue of Cultural News features the International African American Museum. Construction has begun on this prestigious project, which has been designed by Pei Cobb Freed & Partners to honour the site at which enslaved Africans were brought into the US. Initially proposed in 2000 and now scheduled for completion in late 2021, the 41,800sq ft (3,900sq m) facility is being constructed on Gadsden's Wharf in Charleston, South Carolina. It is estimated that up to 80 per cent of African Americans in the US today can trace their ancestry to the wharf.
"For many Africans headed into the forced labor of slavery, Gadsden's Wharf was the beginning, the landing place, after a treacherous Transatlantic journey. The International African American Museum at this site is an incredibly important opportunity to connect America — especially the nearly 80% of African Americans, that can potentially trace an ancestor to arrival in Charleston — with the stories of ancestors whose names we will never know," said Joy Bailey Bryant, Vice President at Lord Cultural Resources.
Lord Cultural Resources is proud to be a trusted partner with IAAM, having completed the Business Plan in 2018 in preparation for groundbreaking.
See Our Work with International African American Museum.
Read More
Our clients & Lord
The fight to preserve African-American history


The New Yorker, January 27, 2020

Historic preservation has its own history. The first preservation laws in the United States protected the land itself, beginning with Ulysses S. Grant's designation of Yellowstone National Park, in 1872. But, with the Civil War barely over, battlefields, cemeteries, and burial sites quickly became a priority for preservation. The passage of the Antiquities Act of 1906 gave Presidents the right to create national monuments, and that meant that they could protect both the terrain and the artifacts of indigenous cultures found there.

Lord Cultural Resources is proud to be a strategic planning partner with Weeksville Heritage Center, an interpretive support to Lumpkins Jail Site and planner for many other sites of memory to sustainably preserve these important stories of African American heritage.

Read More
How the Montreal Holocaust Museum is teaching kids through stories


CBC, January 26, 2020

MONTREAL — With Monday marking the 75th anniversary of the liberation of the Nazi death camp Auschwitz, the Montreal Holocaust Museum is using literature to teach children about one of the darkest chapters in human history. On Sunday, January 26, the Museum was visited by Anne Renaud, author of 'Fania's Heart.' The book tells the tale of a birthday card in the shape of a heart that was made for a young girl while she was imprisoned in Auschwitz. The Holocaust is a weighty and disturbing topic, but Renaud said there are ways to write about it that are educational for kids.

Read More


As close to the moon as you'll get without becoming an astronaut


CBC, January 22, 2020

The moon is setting down in Calgary this week, or at least, it's the closest representation you might ever experience. "It's about bringing the celestial body within our reach, within our grasp," Ryan Doherty said. He's the chief curator at Contemporary Calgary, formerly the planetarium. Luke Jerram's Museum of the Moon is an inflatable installation, six metres in diameter. Its surface is a high resolution rendering of the actual moon, at a scale of 1:500,000. That means every centimetre of the replica represents five kilometres of the real thing.

Read More


City's free Brampton 2040 speaker series starts Jan. 22


Brampton Guardian, January 21, 2020

The first of 10 speakers and "international experts" on city planning will hit the stage at the Rose Theatre on Wednesday (Jan. 22) as part of the city's Brampton 2040 Speaker Series.

"The Brampton 2040 Speaker Series is part of a larger project aimed at developing the Brampton 2040 Plan (new Official Plan). It will be the first of many events that will help transform the Brampton 2040 Vision from a concept of what Brampton will become over the next quarter century, into an actionable plan to guide Brampton's growth," said the city in a release.
Brad King, Vice President with Lord Cultural Resources, is speaking as part of series on February 5, 2020.

Read More


Motown Museum gets another grant to boost expansion effort


North Shore News, January 21, 2020

Detroit's Motown Museum announced a $1 million grant from a southeastern Michigan foundation toward its expansion.

The money from the Vera and Joseph Dresner Foundation will support Hitsville Next, the museum's "creative hub for entrepreneurship," officials said. The facility was designed to offer what officials called "innovative education and community engagement programs."

Read More


Big News for the future of the Museum of Ontario Archaeology


Twitter @MuseOntArch, January 17, 2020

The MOA is grateful to the Ontario Trillium Foundation (@ONTrillium) for $74,800 towards developing new core interpretive narratives at the museum.

Lord Cultural Resources is currently working with the Museum of Ontario Archaeology on developing an Interpretive Master Plan.

SEE THE TWEET
Displays and displacement


Monocle Newspaper, January 16, 2020

Museums improve urban spaces — we must ensure that their soft power isn't used as a force for gentrification. Today there are somewhere between 50,000 and 80,000 museums in the world, depending on how you count them and what you count. There have been two main museum-building booms: the first, in the global north and west, occurred between 1780 and 1900, stimulated by nation-building and colonialism as royal collections were transformed into national museums. The second, which started in 1980 and is still going, is fuelled by urbanisation and rising urban real-estate values world-wide; in 2008 we became majority urban dwellers for the first time in history as the number of people living in cities surpassed 50 per cent.

READ GAIL'S LORD ARTICLE IN MONOCLE NEWSPAPER
ACD gets first Duesenberg and establishes joint promotional effort with neighboring NATMUS


The Classic Cars Journal, January 16, 2020

The Auburn Cord Duesenberg Automobile Museum and its next-door neighbor, the National Auto & Truck Museum, are not merging, but they are cooperating in a visitor-oriented effort being termed "The Auburn Automobile Experience." Armed with a grant from The James Foundation of Auburn, the neighboring museums launched a 6-person committee and asked the highly recommended Lord Cultural Resources from Canada to do a study last year to determine how the museums could work together for their mutual benefit.

"We have this incredible story to tell, and we have to tell it together," Brandon Anderson, ACD Museum executive director, told KPC Media Group and its local newspaper, The Star.

Read More


Shifting audience tastes are dictating the future of art in Ottawa


Ottawa Citizen, January 16, 2020

Alexandra Suda took over the top job at the National Gallery of Canada last year in time to see two major exhibitions challenge the notion of a blockbuster show. Gallery staff expected the year's big attraction would be the summer exhibition of portraits by the famed post-Impressionist French master Paul Gauguin, the world's first to focus on his portraiture. They weren't sure what to expect with the fall exhibit, Àbadakone: Continuous Fire, which put the spotlight on contemporary Indigenous art from around the world.

Read More


The AGYU is opening a major new art gallery in North York


Now Toronto, January 12, 2020

The Art Gallery of York University (AGYU) wants to make North York a destination for art lovers. Thanks to a $5-million donation from patrons Joan and Martin Goldfarb, York University is planning to build a stand-alone new home for its contemporary art gallery.

"The gallery's location on the subway [line] is huge," says Toronto-based museum planner and consultant Gail Lord. "And the accessibility of North York to the rest of the province is very important."

Lord sees the initiative as contributing to an ongoing democratization of the arts across the city. Recent developments include the city's new public art strategy, which will get a big push in 2021, and annual art event Nuit Blanche's forays into Scarborough, Etobicoke and North York. She notes the new gallery will join the Ontario Science Centre, the Aga Khan Museum and the Meridian Arts Centre as North York venues with an arts focus.

Read More
Nelson Mandela exhibit to open next month in Kitchener


Kitchener Today, January 9, 2020

A major new exhibition, Mandela: Struggle for Freedom, opens at the Ken Seiling Waterloo Region Museum in Kitchener on February 7, 2020. A rich sensory experience of imagery, soundscape, digital media and objects is used to explore the earth shaking fight for justice and human dignity in South Africa — and its relevance to issues of today. Among its many dramatic visual features and original artifacts, the exhibition replicates Mandela's eight by seven foot prison cell. When entered, the cell becomes a digital theater whose walls tell a story of repression and resilience.

Read More


Louisiana State Museum's Rodneyna M. Hart will reign over Mid City Gras Parade


The Advocate, January 7, 2019

Rodneyna M. Hart, division director for the Louisiana State Museum, will be the grand marshal of the 2020 Mid City Gras Parade. Hart received her scepter and crown during ceremonies on Monday night. Hart has been instrumental in the development of local art and cultural advancements in the Baton Rouge area for more than 10 years, a news release says. In her post with the Louisiana State Museum, Hart oversees the four regional museums. "In this capacity, she adds structural support to further the success of each institution through programming, promotion, partnerships and exhibitions that strategically meet the needs of the communities served," the release also says.

Lord Cultural Resources is currently working to assess, design and propose an optimal Governance System and Implementation Strategy for the Louisiana State Museum.

Read More
This is the design of the Canada Pavilion at Expo 2020 Dubai


Daily Hive, January 6, 2020

Construction is well underway on the Canada Pavilion for Expo 2020 in Dubai, which will mark the first time Canada has participated in the World's Fair since Expo 2020 in Shanghai.

The federal government's Global Affairs Canada (GAC) department contracted the project to a consortium led by EllisDon Construction, with Toronto-based Moriyama & Teshima Architects behind the design. Other partners in the design, build, and operation contract entail Lord Cultural Resources, along with Hatch, Kubik, Thornton Tomasetti, NGX, and Cisco.

Read More
Future of Farmington Museum to be determined


Farmington Daily Times, December 31, 2019

An eventful year for the Farmington Museum at Gateway Park came to an end with the launch of a months-long process to develop a new strategic plan for the facility. A public meeting was held Dec. 11 to solicit public input for the plan, with the global consulting practice Lord Cultural Resources having been hired by the city to facilitate the process. The plan is intended to guide the decision-making of museum officials over the next several years. A final version is expected to be delivered to the City Council for its consideration by May.

Read More
Soft Power
These museums are fighting to bring more inclusivity to art


M GEN, January 21, 2020

If museums aren't showcasing art in which visitors can see themselves, are they failing their audiences? Perhaps this question can be answered in Baltimore, where two museums are upgrading the art museum experience to serve the needs of a community and nation through representation.

Read More
Arts leaders seek formal role in cultural diplomacy


Ottawa Citizen, January 20, 2020

Canadian diplomats should rely on the expertise of the country's cultural Crown corporations when it comes to practising cultural diplomacy, Simon Brault, director of the Canada Council for the Arts, said during a panel discussion on the arts hosted Monday by the Canadian Club of Ottawa at the Château Laurier.

"I'm arguing right now that it's really important for the government, Global Affairs, to ingrain the role of the cultural crown corporations in the governance of cultural diplomacy," Brault said in an interview. "That's my message."

Read More
Nathalie Bondil on redefining museums' roles, positive impact of cultural diversity on creativity


Global News, December 27, 2019

Nathalie Bondil is the director general and chief curator at Montreal's Museum of Fine Arts. Throughout her career, Bondil has devoted her time and efforts to making the art world accessible to all museum-goers and city-dwellers. Bondil spoke with Global News about the past decade, redefining museums and what comes next for Montreal's innovative and growing art scene.

Read More
Museums
What happens when an art museum is conceived to cash in on the experience economy?


Artnet, January 22, 2020

At Fotografiska New York, you enter through the gift shop. The Swedish photography hub, which opened last month inside a dramatic, Gilded Age mansion on Park Avenue, is one of America's only for-profit art museums. (Another one, the Museum of Sex, is located just a few blocks north.)

"Photography lends itself to the for-profit model because it helps foster a cultural experience," Yoram Roth, the museum brand's chairman and majority shareholder, tells Artnet News. "But you can't just put art on the wall and hope people come back. This is the experience economy."

Read More
The museum that defines the Instagram age wants visitors to ditch their phones


Quartz, January 21, 2020

The Museum of Ice Cream pops on camera. Celebrities like Beyoncé flock to the museum to pose amidst plastic bananas dangling from the ceiling. Parents snap joyful portraits of their children lying in a pool filled with oversized foam sprinkles. The most recent Instagram post of the museum's co-founder and CEO, Maryellis Bunn, is a striking snapshot of the twentysomething entrepreneur reading a pink newspaper in a room designed to look like an all-pink subway car, bound for the fanciful New York City destination "Skybeca."

Read More
'Part-science lab, part-playground': how kids made museums take fun seriously


The Guardian, January 19, 2020

From London to California, architects are helping museums provide interactive learning experiences that can't be found on screen. Since Victorian times, children's museums have involved interactive exhibits and a degree of button-pressing. But over the past 20 years this has grown exponentially. Progressive architects and designers have been reimagining, extending and building spaces. The noughties saw a spate of revamps in the US, including the expansion of the Brooklyn Children's Museum — which opened in 1899 and claims to be the first of its kind in North America.

Lord Cultural Resources worked with the Brooklyn Children's Museum on Strategic Plan.

Read More
Architecture
First building on Zaha Hadid Architects' Unicorn Island nears completion


Dezeen, January 21, 2020

Zaha Hadid Architects has released a video revealing a sinuous white exhibition centre that it is close to completing on Unicorn Island in Chengdu, China. Start-Up exhibition and conference centre will be the first building to reach completion in the Unicorn Island masterplan, which Zaha Hadid Architects is developing for the Chengdu government on the eastern shore of Xin Long Lake. The island is being developed to support the growth of China's technology and research sectors by catering for unicorn companies — start-ups with a value of at least $1 billion (£767 million).

Read More
New museums and major expansions opening in 2020


The Art Newspaper, January 1, 2020

From Tutankhamun's new king-sized home in Cairo to Munch's sleek space in Oslo, here is our pick of the big openings this year.

Read More
Technology
The art world has discovered the Dolly Parton meme challenge


Hyperallergic, January 24, 2020

Musée d'Orsay, Sotheby's, and the Museum of Fine Arts, Boston are among the institutions to poke fun at their LinkedIn, Facebook, Instagram, and Twitter personas.

When Dolly Parton posted a grid of four photos of herself labeled "LinkedIn, Facebook, Instagram, and Tinder" — ingeniously captioned "Get you a woman who can do it all" — she may not have predicted the extent of the Internet's fascination with grouping things into categories. The meme is officially having a viral moment, with celebrities from Mindy Kaling to Janet Jackson creating their own interpretations of themselves, their pets, or inanimate objects as each of the four social media platforms.

Read More
Reinterpreting interpretation: how the National Gallery took da Vinci digital


Advisor Museums and Heritage, January 21, 2020

Immersive shows have been popping up with increasing frequency at museums around the world of late. The challenge facing institutions holding these exhibitions is how to strike the balance between replacing traditional interpretation with digital alternatives while also ensuring visitors can understand what's going on. Leonardo: Experience a Masterpiece at the National Gallery has proven a perfect litmus test for this.

Read More
Design Shows take on the future. And it's not pretty.


The New York Times, January 21, 2020

Museum curators and mindful millennials seek visions of a "clean," sustainable future. In Philadelphia, designers offer ideas to provoke.

PHILADELPHIA — Design isn't what it used to be in the museum world. Just a few years back, exhibitions about the future were typically filled with bright and shiny objects, presented as new ideas to make life better. The unspoken theme pervading those shows was consumerism — a tacit endorsement of shopping and acquiring. Today, museum curators are promoting the view that conspicuous consumption is bad for the planet, that luxury items exclude those who can't afford them, and that designers need to acknowledge differently shaped and differently abled bodies. Current shows are meant to provoke conversation, not admiration.

Read More
Art & Culture
The K-pop boyband BTS launched an international art project


Hyperallergic, January 21, 2020

BTS, described as the "biggest boy band in the world," announced an international public art project with 22 contemporary artists across five cities. Its first exhibitions opened at London's Serpentine Galleries and Berlin's Gropius Bau.

LONDON — K-pop and contemporary art may seem like strange bedfellows, but as of late they have been getting more and more friendly. In 2016 the rapper T.O.P. from K-pop band BIGBANG guest-curated a Sotheby's auction of Western and Asian contemporary art, which pulled in $17.4 million. And now the K-pop megaband BTS has launched a global public art project involving 22 contemporary artists across five international cities.

Read More
'Portraits for the Culture' is a unique way to preserve black history #ForTheCulture


Wusa9, January 16, 2020

Artist Robert 'Rohaun' Stephenson paints portraits in exchange for stories about black history and culture.

HYATTSVILLE, Md. — Robert 'Rohaun' Stephenson, a visual storyteller, has created an art series called 'Portraits for the Culture' out of his quest for self-discovery as an African-American.

"I didn't feel a part of this culture," Rohaun said. "I think that had to do with the fact that I was missing some — there were some gaps in my understanding of what black culture was."

Read More
The museum openings not to miss in 2020


Apollo Magazine, December 27, 2019

The doors of the former Berlin Palace — destroyed by Allied Bombs in 1945, and now reconstructed to the tune of some €590m — are slated to open at long last in September. Described by some as Berlin's answer to the British Museum, the Humboldt Forum will house the city's collections of ethnographic and Asian art, while also aiming to stage some 1,000 events a year — and expecting around 3 million visitors. At a time when the status of ethnological collections in European institutions continues to be debated vociferously, the opening promises to be a watershed moment.

Read More
11 of the most groundbreaking discoveries of 2019, from the Priceless Painting in Grandma's Kitchen to the Secret of Stonehenge


Artnet, December 25, 2019

As 2019 draws to a close, it's time to once again revisit the year's most exciting discoveries in art history and archaeology, from long-lost paintings to buried treasures and everything in between.

As always, some discoveries are the result of years, if not decades, of concerted research on the part of experts. Others are made by happenstance, such as a set of solid gold bands found by an amateur metal detectorist in the UK or an eagle-eyed 12-year-old who spotted an ancient mammoth tooth during a family gathering in the woods of Ohio.

Read More
Creative Cities
Kelowna getting smarter with Intelligent Cities Strategy


Kelowna Capital News, January 20, 2020

The city wants to use technology to improve Kelowna and the lives of those who live within it.

On Monday morning (Jan. 20), Kelowna city council reviewed the strategy, which builds upon Kelowna's designation as a smart city and moves towards being an intelligent city.

Read More
10 places in the US you need to visit in 2020


Insider, December 23, 2019

The answer is probably somewhere hip, with cool hotels, good food, and plenty to do, and not anywhere overpriced or overrun with other tourists. We looked across the US to find destinations that fit this bill, based on chatter we've been hearing, people moving en masse, rankings from other publications, and exploding food scenes. We found up-and-coming hot spots, old classics experiencing a renaissance, places in the midst of reinvention, and cities that are still flying under the radar. From Milwaukee, Wisconsin, to San Juan, Puerto Rico, here's the pick of 10 places in the US to visit in 2020.

Read More
Lord Cultural Resources values your privacy and does not sell or trade email addresses.
Please see our privacy policy for more information