Art & Energy: How Culture Changes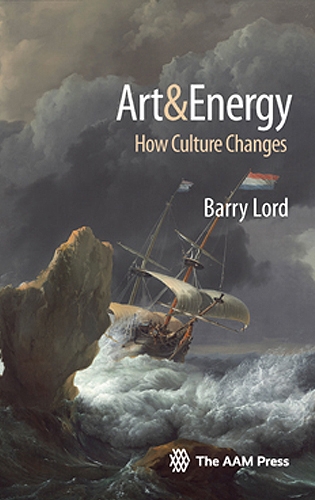 Stewardship of the earth and the body is the cutting-edge culture in the arts and in our lives that accompanies the new renewable energy sources. It must do battle with the culture of consumption that was brought to us by our still dominant energy sources, oil and gas.
Barry Lord's Art & Energy: How Culture Changes, published by The AAM Press of the American Alliance of Museums and distributed worldwide by the University of Chicago Press, shows that such major cultural shifts have accompanied each energy transition since our mastery of fire. Illustrated with 60 colour plates, the book links the course of art history to the energy sources that made our cultures possible.
Stewardship and consumption are just part of the mix today, which is also characterised by the culture of anxiety associated with nuclear energy, the culture of transformation (modernism) that came to us with electrification, and the culture of production that is the legacy of coal and the industrial revolution. The book shows that the so-called energy debate is really a conflict of cultures.
This provocative, engrossing work will inspire all of us to look at art, energy and culture itself from an entirely new perspective.
---
About The Author
« Barry Lord is one of our world's great cultural thinkers. In Art & Energy, he explores the powerful relationship between culture and our fixation on and need for energy as fuel for all endeavors. It is a must-read for anyone concerned with meaning-making in an increasingly complex world. »

Jeff Melanson, President, The Banff Centre

« Barry Lord tells a compelling story of how the human pursuit of energy changes our values, our cultures and our art over time. I did not expect to learn about cooperation, collective identity, mass markets, transformation, consumption, anxiety and stewardship when I cracked open Barry Lord's Art & Energy. But I did, and I will never think of energy or art in the same way again. »

Charles H. Walter, Executive Director, New Mexico Museum of Natural History and Science
Discover More about Art & Energy