Cultural News
Cultural News is a monthly global round-up of what's happening in culture to help you be up to date with current topics and trends. Excerpts are directly quoted from the articles – here you can browse through the featured stories and access the full issues.
2019 Issues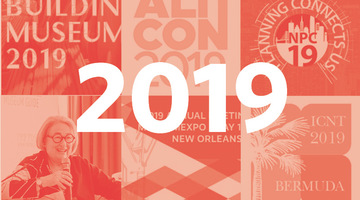 Exciting year of conferences and events
In this edition of Cultural News, we look ahead to an exciting year of conferences and events. Members of our team will be speaking at a variety of conferences in Canada, the United States, Bermuda, Denmark, and elsewhere around the world. Meet our team and join us for presentations and conversations at AltCon2019, the Building Museums Symposium, the International Conference of National Trusts, the American Planning Association National Planning Conference, the Canadian Museum Association National Conference, the American Alliance of Museums Annual Meeting & Museum Expo, and the Ecsite Annual Conference. We look forward to meeting, and hearing from you in 2019.
View All Topics