News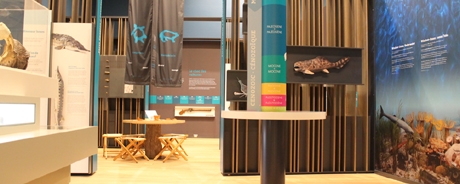 February 18, 2016
Museum Windsor's Chimczuk Museum Celebrates a Public Grand Opening
The 11,000-square-foot Chimczuk Museum (the newest addition to Museum Windsor) is celebrating a Public Grand Opening with two special events for the community: Ribbon-Cutting Ceremony on February 18 and Community Celebration on February 20, 2016.
As part of the $5.7 million expansion project, Windsor's Community Museum has rebranded to reflect its expanded scope. "Museum Windsor" encompasses the François Baby House, the Chimczuk Museum and the Interpretive Centre at the Duff-Baby House in Sandwich. The Chimczuk Museum occupies the main floor of 401 Riverside Drive West, while the Art Gallery of Windsor occupies floors two and three.
The City of Windsor and surrounding Essex County has a rich history and has played a pivotal role in many important developments in Canada and North America over the last few centuries. The Windsor area is the oldest continuously-inhabited French colony west of Montreal and was the first permanent European settlement in all of Ontario. As part of the Museum Expansion Project, The François Baby House — one of the oldest houses in Windsor and built by an early French-Canadian, François Baby — has been renovated to house exhibitions highlighting aspects of Windsor's history that were important to the history of this house. The permanent exhibit in the François Baby House opened on December 2, 2015.
Lord Cultural Resources is proud to have been part of the development plan to expand the Windsor Museum. In 2011, our firm was engaged to develop an implementable and sustainable plan to expand the Windsor Museum and conducted a Feasibility Study. In 2014, Lord was engaged to execute the plan, expanding the City of Windsor Museum in order to better serve the Museum's visitors, collections, and staff. Together with a team including Hariri Pontarini Architects, WeatherstonBruer Associates, and Holman Exhibits, Lord was responsible for Interpretive Planning, Concept Design and Content Development.
With the grand opening happening during heritage week, special tours and programming are taking place at the Chimczuk Museum, Maison François Baby House and the Art Gallery of Windsor. Both days (February 18 and 20, 2016) are offered free to the public.
To learn more, visit www.museumwindsor.ca. Read press release and an article in Windsor Star.