Press Releases
November 1, 2011
Chinese Museums Association Signs MOU with Lord Cultural Resources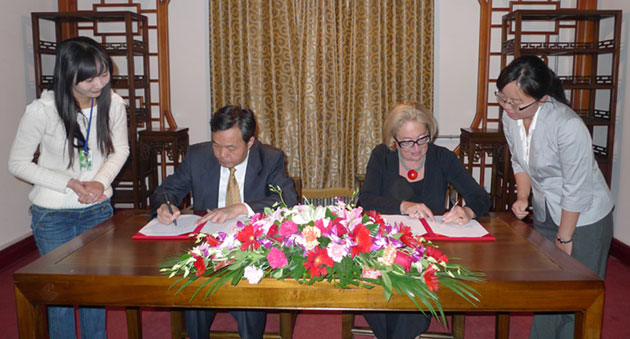 On October 19, 2011 in Beijing, a Memorandum of Understanding was signed between the Chinese Museums Association and international Museum Consultants Lord Cultural Resources.

Mr. Song Xinchao, President of the Chinese Museums Association, and Deputy Director-General, State Administration of Cultural Heritage, said: "China Museums Association should extend its role of guidance and coordination in order to promote the administrative management and academic research of Chinese museums. In response to the strategy on cultural development, we should energetically serve for the scientific development of Chinese museums."

Ms. Gail Dexter Lord, Co-President, Lord Cultural Resources, said: "This is a historic moment for our international company. We are very honoured to be collaborating with the Chinese Museums Association in creating opportunities to facilitate the development of the museum field in the People's Republic of China."

The Memorandum of Understanding provides an opportunity for the two organizations to collaborate for a three-year period on museum study and professional standards, and realize information and resource sharing, including training opportunities related to museum operation and a wide variety of related topics, including, among others:
Museum project evaluation
Museum strategic planning
Museum human resource development
Museum related organizational development
Museum facility standards
Museum management and operational standards
Visitor experience and content development standards
The Chinese Museums Association is the officially authorized non-profit organization to liaise with museums in the People's Republic of China. The Association provides related services and promotes professional activities as well as international exchange programs, aims to supervise museum professional self-discipline and promote museum professional development.

Lord Cultural Resources is the world's largest and oldest cultural planning firm, with major offices in Toronto, Canada, New York, USA & Paris, France. Established in 1981, the company has worked on more than 1900 projects in 49 countries worldwide, with many of the world's most prestigious museum clients, including: The Hong Kong Heritage Museum (Sha Tin, Hong Kong S.A.R); The Asian Civilisations Museum (Singapore); Le Louvre (Paris, France); The Tate Modern (London, U.K.); The Smithsonian Institution (Washington DC, U.S.A.); The National Museum of Saudi Arabia (Riyadh, Saudi Arabia); The Zayed National Museum (Abu Dhabi, U.A.E.); and The Grand Egyptian Museum (Cairo, Egypt). The books The Manual of Museum Management and The Manual of Museum Exhibitions written and edited by Lord Cultural Resources Co-Presidents Gail and Barry Lord have been translated and published in China.

For media information, contact Andrea Ott, Director, Marketing and Client Relations at aott@lord.ca.