Press Releases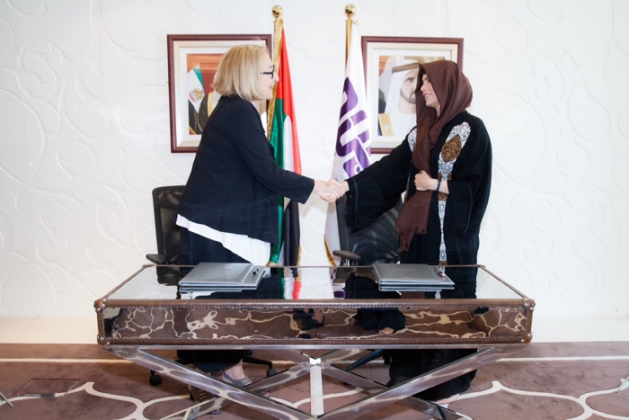 May 20, 2015
Dubai Culture signs MOU with Lord Cultural Resources to Develop Museums and Creativity
DUBAI, UAE; May 20, 2015 — Her Highness Sheikha Latifa bint Mohammed bin Rashid Al Maktoum, Vice Chairman of the Dubai Culture & Arts Authority (Dubai Culture), signed a landmark Memorandum of Understanding (MoU) with Lord Cultural Resources, one of the world's largest cultural and museum consultancies, to drive educational training for Emiratis and to create professional development programmes in the field of Museum Studies and culture. Gail Dexter Lord, Co-President of Lord Cultural Resources signed the agreement, coinciding with International Museum Day celebrations.
HH Sheikha Latifa bint Mohammed said: "The agreement will enable talented Emiratis to evolve as creative and knowledgeable professionals who can contribute to strengthening the nation's cultural scene. This complements our commitment to the Dubai Plan 2021 announced by His Highness Sheikh Mohammed bin Rashid Al Maktoum, UAE Vice President and Prime Minister and Ruler of Dubai, to establish Dubai as a city of happy, creative and empowered people. It also meets the goals of the UAE National Agenda to empower Emiratis with professional skills to demonstrate their excellence in various sectors."
Her Highness added: "As the world's foremost authorities in museum planning and cultural consultancy, Lord Cultural Resources will share their best practices and vast body of knowledge with the Emirati professionals. They can, in turn, contribute to the nation by brining innovative ideas and initiatives that will further establish Dubai as a global cultural hub."
Gail Dexter Lord said: "We have been working with Dubai Culture on various initiatives such as the Al Maktoum Hospital project. The passion, enthusiasm and creativity that the authority's professionals bring to driving Dubai's cultural scene is indeed inspiring. Through our collaboration, we can nurture a new generation of Emirati cultural professionals, especially in developing and managing museums, as well as further build the skills of existing team members. It will help build a talent pool of professionals who can effortlessly partner and drive various cultural initiatives planned and executed by Dubai Culture."
The programmes, specifically on Museum Studies, will cover various aspects such as collection management and acquisition policies, strategic planning of museums and project development planning. It will also enable future developments of guidelines for both the public and private museum sector in addition to strengthening the skillsets of Emirati professionals in hosting international seminars in the fields of cultural development.
Dubai Culture currently manages a number of Heritage Sites in Dubai including museums and is actively involved in developing the Al Maktoum Hospital Museum, a first-of-its-kind tribute to the UAE's first hospital. Preserved through the eyes and experiences of its very first patients, doctors, and nurses, among other personnel, Dubai Culture collates the data to pay homage to the site through a nationwide crowdsourcing programme, encouraging people to share their tales.
Lord Cultural Resources is honoured to have signed the MoU with the Dubai Culture & Arts Authority to help young Emiratis achieve their professional development goals in the cultural field. Lord has been working on numerous projects in the Gulf region and West Asia since 1996, such as Saudi Arabian National Museum & Darat Al Malik Abd Al Aziz in Riyadh, Saadiyat Island Cultural District, Zayed National Museum and UAE MIlitary Museum in Abu Dhabi, King Abdulaziz Center for Word Culture in Dhahran, Khor Dubai Cultural and Heritage District and Al Maktoum Hospital Museum in Dubai, the Qatar Museum of Islamic Art in Doha and Qatar Pavilion Rio +20 among others.
(Source: WAM)