Press Releases
July 10, 2015
Join Us at Ontario's Celebration Zone to Celebrate the Best of Ontario!
t's officially open! Ontario's Celebration Zone, situated on Toronto's waterfront at Harbourfront Centre, opened today on Friday, July 10, 2015.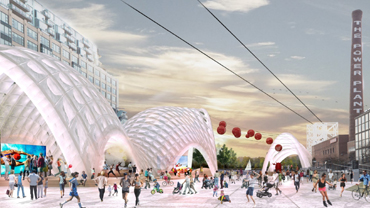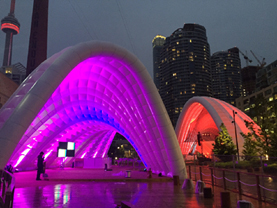 The province of Ontario has created exciting celebration sites during the 2015 Pan American and Parapan American Games, where locals and visitors will have the opportunity to enjoy diverse cultural, culinary, arts and sport programming. Ontario's Celebration Zone, called "the brashest and most playful structure of the games" by www.yongestreetmedia.ca will run from July 10 - August 16 during the 2015 Pan Am Games. It will feature 38 jam-packed days of the best of Ontario, with over 500 free events and activities. Highlights include: nightly concerts, theatre and dance productions, celebrity chef demonstrations and a weekly farmers' market, Latino-Hispanic and Caribbean events, performances featuring artists with disabilities, First Nations and Francophone showcases, water-based sport demonstrations, an accessible 400-foot zip line and more than 100 family-friendly activities and shows. Drop in and visit us at the wild and wonderful Ontario's Celebration Zone to celebrate the Best of Ontario!
Lord Cultural Resources is honoured and delighted to be part of the excitement of the games through the celebration of culture, art and music. The Lord team in association with EllisDon,Hariri-Pontarini Architects, Infinite Stage Design, Parleview, and Astound Group was awarded a contract to plan and deliver daily programming, concerts, exhibits, and other activities in Ontario's Celebration Zone throughout the 38 days of the 2015 Pan American and Parapan American Games.
Maria Piacente, Vice President, Lord Cultural Resources, said: "We are very proud and honoured to share in the successful opening and excitement of Ontario's Celebration Zone and the celebration of the Games taking place in our city. Working on this project was a real team effort, and I would like to thank the Lord team and our partners for their boundless creativity and tireless work during the planning and implementation stages to present our visitors with the best Ontario has to offer."
So please join us in the excitement and activities. Bring your family and friends. And check out the full daily program schedules online at www.Ontariotravel.net or follow on Twitter at@EpicIsON, @LordCultural and www.facebook.com/LordCultural.
We hope to see you there!