Press Releases
April 15, 2016
Lord Cultural Resources Appoints Kathleen Brown Chief Operating Officer
TORONTO, ONTARIO, CANADA — Gail and Barry Lord have appointed Kathleen Brown as Chief Operating Officer (COO) of Lord Cultural Resources effective immediately. The Co-Presidents made the announcement saying, "Kathleen is ideally suited to be our COO due to her depth of familiarity with the history and inner workings of the company, her 30-plus years of experience as a respected consultant and her proven management skills. We have every confidence that Kathleen will shepherd the company into a bright future—we welcome her enthusiasm and positive energy in this new role."

Lord Cultural Resources is the world's largest and most renowned cultural planning firm, having successfully concluded more than 2200 planning assignments in 56 countries and celebrating its 35th anniversary in 2016. The COO role will provide leadership, direction and strategic thinking to drive efficient, effective and creative solutions for clients and to develop and enhance Lord Cultural Resources' products and services.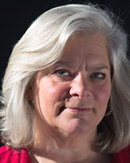 Kathleen has a long history with Lord, first founding Lord Cultural Resources' US operations as Managing Director in 1992 and returning as Director of Business Development to the Toronto headquarters in April of last year. "I am thrilled for the opportunity and honoured to further Gail and Barry's vision and contributions to our field," responded Kathleen. "I am delighted to take on this new challenge and look forward to working with my colleagues to achieve new heights of professional practice."
As COO, she will be responsible for the day to day management of the company, its 5 offices worldwide and the coordination of all its functions including consulting, planning, human resources, business development and marketing. This new role is envisioned to allow company leadership further opportunities to advance our intellectual assets and brand through our robust thought leadership initiatives as we celebrate our 35th year and beyond.

Kathleen can be reached at 416. 928.9292 extension 235 and at kbrown@lord.ca.