Press Releases
May 14, 2014
New Book from Acclaimed Museum Planner Barry Lord Explores the Historic Link Between Art and Energy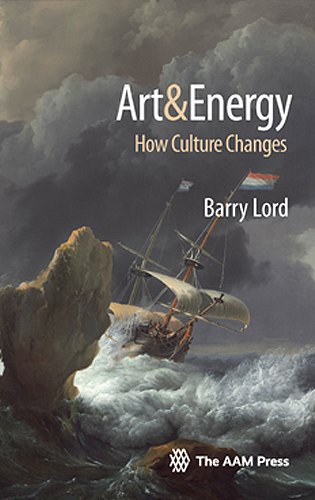 New from Barry Lord
World-Renowned Museum Planner and Thought Leader
Art & Energy traces how the development of each new source of energy, from the prehistoric mastery of fire to renewable energy today, becomes a powerful engine of cultural change.
"Barry Lord is one of our world's great cultural thinkers. In "Art & Energy", he explores the powerful relationship between culture and our fixation on and need for energy as fuel for all endeavors. It is a must-read for anyone concerned with meaning-making in an increasingly complex world."

—Jeff Melanson, President, The Banff Centre
In Art & Energy: How Culture Changes, renowned museum planner and analyst Barry Lord has authored a provocative new work tracing how our pursuit of new sources of energy – a driver of everyday life from the dawn of time – is inextricably linked to the art we create. Art & Energy is an engaging, authoritative and transformative work that offers the kind of singular insight for which Lord is internationally known.
Art & Energy is the first of a series of works that Barry and Gail Dexter Lord – the acclaimed husband-and-wife team – will publish with The AAM Press. An initiative of the American Alliance of Museums, the world's largest museum service organization, The AAM Press is the leading publisher of titles on museum practice and thought. Art & Energy will debut at the AAM Annual Meeting & MuseumExpo in Seattle, May 18-21.
To purchase the book, visit Rowman & Littlefield. Media copies are available via Dewey Blanton, AAM's director of strategic communications: dblanton@aam-us.org.
In Art & Energy, Lord argues that human creativity is deeply linked to the resources available on earth for our survival. From our ancient mastery of fire through our exploitation of coal, oil and gas, to the development of today's renewable energy sources, each new source of energy fundamentally transforms our art and culture—how we interact with the world, organize our communities, communicate and conceive of and assign value to art. By analyzing art, artists, and museums across eras and continents, Lord demonstrates how our cultural values and artistic expression are formed by our efforts to access and control the energy sources that make these cultures possible. Ultimately, Art & Energy reveals how, in Lord's words, "energy transition is a powerful engine of cultural change."
Richly illustrated and thoroughly researched, Art & Energy is a must-read for anyone with an interest in art and museums, and for those with a passion for history, science, technology and their influence on culture.
"Barry Lord tells a compelling story of how the human pursuit of energy changes our values, our cultures and our art over time," said Charles Walter, executive director of the New Mexico Museum of Natural History and Science. "I did not expect to learn about cooperation, collective identity, mass markets, transformation, consumption, anxiety and stewardship when I cracked open Barry Lord's Art & Energy. But I did, and I will never think of energy or art in the same way again."
Barry and Gail Dexter Lord's present and future contributions to The AAM Press catalogue will reflect their vast experience drawn from more than three decades as the world's leading museum planners and agents of change.
Art & Energy: How Culture Changes
by Barry Lord
The AAM Press 2014
Distributed by University of Chicago Press
ISBN 9781933253916
ISBN 978-1-933253-91-6
280 pp., 50 illustrations, 7.25 x 9.25, soft cover; to purchase, visit www.aam-us.org
$34.95 Retail
$29.95 Alliance member discount
Lord Cultural Resources, one of the world's leading firms devoted to the planning, management and operation of cultural institutions and programs, was founded by the husband and wife team in Toronto in 1981. Today, having successfully completed over 2,000 assignments in more than 50 countries, with offices and personnel in New York, Paris, Mumbai and Beijing as well, they remain "dedicated to the creation of cultural capital worldwide." For more information, visit www.lord.ca.
About the American Alliance of Museums
The American Alliance of Museums has been bringing museums together since 1906, helping to develop standards and best practices, gathering and sharing knowledge, and providing advocacy on issues of concern to the entire museum community. With more than 20,000 individual, 3,000 institutional and 300 corporate members, the Alliance is dedicated to ensuring that museums remain a vital part of the American landscape, connecting people with the greatest achievements of the human experience, past, present and future. For more information, visit www.aam-us.org.
Media Contacts:
Dottie Jeffries, dottiejeffries@gmail.com, 917-445-7876;
Dewey Blanton, AAM, dblanton@aam-us.org, 202-218-7704.
To arrange a speaking engagement with Barry Lord, contact Mira Ovanin: movanin@lord.ca.