Press Releases
February 17, 2012
Results of Lord Cultural Resources-Led Architect Selection Process Announced: Maki & Associates with Opolis Selected for the new Bihar Museum in Patna, India
February 16, 2012 — Lord Cultural Resources is pleased to announce its role in the architectural selection process for a new iconic museum in Patna, the capital of the State of Bihar, India. Patna stands on the site of Paliputra , which was famous as the capital of India's ancient Magadhan Empire. The Department of Art, Culture and Youth (DACY) along with the Building Construction Department (BCD) of the Government of the State of Bihar is planning to develop the new Bihar Museum, which will focus on the contributions made during the Magdhan Empire and throughout the historic period to the evolution of history and civilization in Bihar, the Indian subcontinent and throughout Asia. It will be developed on a 13.9 acre site located on Bailey Road in Patna. Lord Cultural Resources are also the master planning consultants for this project, and will be working along with DACY and the Building Construction Department (BCD) of the Government of Bihar in developing this museum.

The architecture selection process undertaken by the BCD on behalf of DACY and directed by Lord Cultural Resources has produced a winner for designing the new Bihar Museum in Patna. The competition held on 28th and 29th November 2011 was evaluated by an Architectural Selection Committee (ASC) which included international as well as Indian participation and included architects, professionals from related disciplines and representatives of the sponsor. The jury was chaired by the Chief Secretary, Government of Bihar, Mr. Navin Kumar, who was a non-voting member, and comprised of:
Mr. Anjani Kumar Singh, Principal Secretary, Department of Human Resource Development and Nodal Officer for the project
Mr. C. Lalsawta, Principal Secretary, DACY, Bihar
Mr. Sudhir Kumar, Secretary, BCD, Bihar
Mr. Subodh Gupta, international contemporary artist, Bihari origin
Dr. Martin Roth, Director, Victoria & Albert Museum, UK
Ms. Roisin Heneghan, Heneghan Peng Architects, Ireland
Prof. Neelkanth Chhaya, Dean, School of Architecture, CEPT, Ahmedabad
The architectural selection process was conducted in two stages:
Stage 1: Request for Expression of Interest (EOI)
Stage 2: Request for Proposals (RFP)

The first stage was open to Indian and international architects and this process attracted 26 leading architectural firms from around the world. This was the first time in India that an architectural competition for a museum facility has garnered this level of world class architects.

The winner was selected from design proposals presented by five world-leading shortlisted architectural firms each with their Indian architect partner firms:
Coop Himmelblau (Vienna) with Archohm
Foster + Partners (London) with C. P. Kukreja & Associates
Maki & Associates (Tokyo) with Opolis
Snøhetta (Oslo) with Spacematters
Studio Daniel Libeskind (New York) with Morphogenesis
The five submissions received in response to the Stage 2 Request for Proposals and Architectural Brief presented a range of unique responses that is a testament to the creativity and individual approach of this highly respected group of international and Indian architects.

After deliberating on all the points as per the pre-set evaluation criteria laid out in the RFP including the technical and financial evaluation, the winning design selected was that of Maki and Associates of Japan along with their Indian partner Opolis. The Cabinet of the Government of Patna approved the selection of Maki & Associates on the ASC's recommendation on 24 January 2012, after which the contract was signed in Patna on 25 January 2012. Maki & Associates + Opolis have started to develop their competition design proposal into the final design.
Maki & Associates + Opolis Proposal description: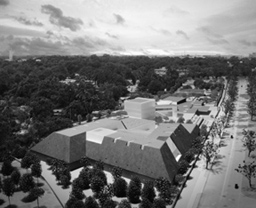 The Maki scheme is a "campus" approach, carefully placing components of the museum on the site in relationships to provide a well organized and functional museum. Building components of varying heights are dispersed on the site and include an entrance pavilion, exhibition galleries, and administrative building and back of house support areas connected by circulation space. The education area is a separate building located in the garden. The gallery spaces are provided on two levels, organized around a courtyard space. Parking is at grade, at the western end of the site. It was noted that the dispersed approach to locating individual components on the site provide flexibility in design development and the site plan provides the possibility for future expansion.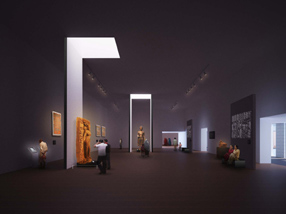 More about the proposed Bihar Museum:

The collections to be displayed in this new museum will not just include historically significant stone, bronze and terracotta sculptures, but also many artifacts that will tell the stories of the many dynasties that ruled in this area over the period, and the lasting impact that the Magadhan culture has had on this region, India and the world. Stories of Buddha, Mahavir, Ashoka and other great political, literary and scientific development from this period, including Nalanda University, will be depicted in this new museum using multimedia and interactive methods. World class standards for display, conservation, and environmental sustainability will be employed here. This museum will also have a children's section with a hands-on minds-on focus.

The preliminary project budget for this world-class museum is estimated to be INR 350 crores (inclusive of construction, exhibits, landscaping and all soft costs). The awe-inspiring permanent collection at this new museum, based on the holdings of the present Patna Museum, will be complemented by unique audiovisual and interactive attractions that will appeal to all age groups and socio-cultural backgrounds. Exhibition design will be the subject of a separate international competition that will follow at a future date.

Lord Cultural Resources, founded in 1981, is the world's largest global professional practice dedicated to creating cultural capital worldwide having conducted over 1,900 cultural projects in 50 countries on 6 continents. We collaborate with people and organizations to plan and manage cultural places, programs and resources that deliver excellence in the service of society.

For more information on Lord Cultural Resources, please visit our website at www.lord.ca.

For media information, contact Andrea Ott, Director, Marketing and Client Relations at aott@lord.ca.