The Manual of Museum Learning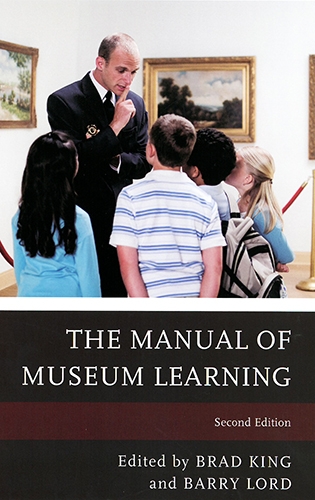 The second edition of The Manual of Museum Learning offers a comprehensive approach to learning in museums and related institutions. Bridging theory and practice through a collection of case studies and success stories, this new edition takes a holistic approach to learning in the museum, which emphasizes the importance of making learning and education institution-wide priorities.
"This Manual is essential for all museum leaders and for anyone who seeks to understand the changing forces that are redefining the nature of a learning society."Hooley McLaughlin, Sessional Instructor, University of Toronto and Vice-President, Science Experience and Chief Science Officer, Ontario Science Centre, Toronto
With contributions from 19 professionals immersed in the field of museum learning, The Manual of Museum Learning prescribes a number of innovative approaches backed up with hard-won experience. These "reports from the field" offer readers numerous lessons designed to assist them in transforming their institutions into fully 21st century learning museums. Building on the recognition that not all audiences learn in the same way, contributors focus on the affective and informal learning that can take place when museum planning is improved. For that reason, the second edition focuses not on individual learning strategies but institutional strategies, interpretive planning, operations and facility planning – all in the service of improving the visitor's experience. The ways that museums can be the connectors that facilitate self-directed learning by linking people with resources is also an important focus. Woven together insightfully by editors Brad King and Barry Lord, this updated edition stands out as an exemplary tool of museum best practice.
The most recent in the series of manuals edited by Lord Cultural Resources experts and staff, The Manual of Museum Learning joins the OMA Award of Excellence in Publications-winning Manual of Museum Exhibitions, Second Edition, The Manual of Museum Planning, Third Edition, The Manual of Museum Management, Second Edition, and The Manual of Strategic Planning for Museums in offering students and practitioners a solid foundation of current practice and inspiring ideas.
---
About The Authors
"This Manual is essential for all museum leaders and for anyone who seeks to understand the changing forces that are redefining the nature of a learning society."

Hooley McLaughlin, Sessional Instructor, University of Toronto and Vice-President, Science Experience and Chief Science Officer,  Ontario Science Centre, Toronto

"Rich in examples and hard-won experience, this fascinating book provides an invaluable survey for those administering, running, and publicizing museums, who need to attract new audiences. And if you're planning a museum, this is an admirable starting point, for the editors and contributors know of what they write and are bursting with ideas. Everyone who loves, and works with, museums should own this invaluable volume."

Brian Fagan, former museum officer, Emeritus Professor of Anthropology, University of California, Santa Barbara, and author of numerous general books on the past.

"This new edition of The Manual of Museum Learning is a collection of visionary, innovative approaches to museum learning that explores untapped potential in innovative partnerships, community collaborations and shared intellect."

Patrice Farquharson, Associate Professor, Post University and Executive Director, West Haven Child Development Center, Connecticut.

"For those interested in educational partnerships between museums and other types of organizations, this book provides an exciting survey of opportunities, as well as practical, 'how to' information from successful case studies. I highly recommend the book to anyone working in public education, whether it be a formal or informal learning institution, interested in how museums can help achieve shared educational goals."

Mariana Borrego Hoffmann, General Advisor to the CEO, Petroleos Mexicanos and Project Lead, Museo Nacional de Energia y Tecnologia (National Museum of Energy & Technology), Mexico City.

"The Manual of Museum Learning is certainly a practical and thoughtful resource for those working or studying in the museum arena, and others can benefit from its broad offerings, too. Any professional working in an industry or institution with parallel goals as the learning museum can profit from its foundational approach to meaningful, systemic change. "

Dena Taub (2016) The Manual of Museum Learning by Brad King and Barry Lord, Journal of Museum Education, 41:3, 240-243, DOI: 10.1080/10598650.2016.1193317
Discover More about Museum Learning