The Manual of Strategic Planning for Cultural Organizations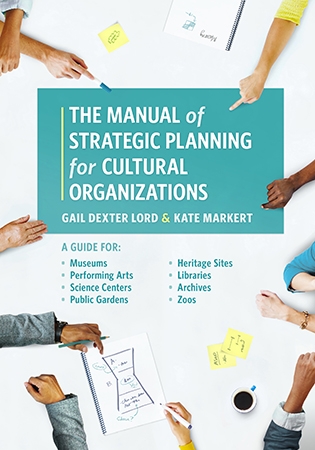 A GUIDE FOR Museums, Performing Arts, Science Centers, Public Gardens, Heritage Sites, Libraries, Archives and Zoos
The Manual of Strategic Planning for Cultural Organizations adopts a holistic approach to the creative world of cultural institutions. By encompassing museums, art galleries, gardens, zoos, science centers, historic sites, cultural centers, festivals, and performing arts, this book responds to the fact that boundaries are being blurred among institutional types—with many gardens incorporating exhibitions, many museums part of multidisciplinary cultural centers and festivals. As cultural leaders transform the arts in the twenty-first century, this "whole career" manual will prepare readers for every stage. Three key areas covered are:
Leadership change: This chapter explains the role of strategic planning when an institution is going through the process of hiring a new director. A question we are frequently asked is "Should the strategic plan precede the search process or should it wait until the new director takes up the position?"

Institutional change: Increasingly, cultural organizations are going through major change: from public-sector agencies to nonprofit corporations; from private ownership to non-profit status; from nonprofit status to a foundation, and many other variations. This book addresses the role of strategic planning during these transitions.
Staff empowerment: This manual addresses the opportunities for staff at all levels to grow by participating in strategic planning. This edition focuses on how to engage and empower staff.
A Guide for Museums, Performing Arts, Science Centers, Public Gardens, Heritage Sites, Libraries, Archives, and Zoos is a game-changing book with broad reach into the cultural sector, while still serving the museum community.
---
About The Authors
"Strategic planning is at the heart of every successful business. Museums and cultural institutions are complex organizations. For them, strategic planning is even more vital to both survival and success. Gail Lord and Kate Markert have revised and expanded one of the essential volumes on planning for cultural organizations. From gardens and zoos to art museums and libraries, their Manual of Strategic Planning for Cultural Organizations is a blueprint to be followed. Too often, planning is deferred, replaced with attention to more pressing and immediate needs. That is often a course for lackluster performance or even failure. With this volume, strategic planning is made accessible and understandable in a straightforward manner. This book is both a "how-to" guide with great, concise case studies and an essential theoretical overview of the processes, philosophies and practices that underpin any solid strategic planning effort. I hope it will serve as a guide and encouragement for many to invest in the most important task any cultural organization can make beyond a solid mission, it's strategic plan to success."

Alex Nyerges, Director and CEO, Virginia Museum of Fine Arts

"Every cultural institution today is operating in time of great change and has an obligation to help its constituents and stakeholder understand, adapt to, and in many cases, take on leadership roles. Lord and Market have created an inspiring manual on how to meet these challenges through change management and strategic planning. This manual is much more than a 'how to' primer; the cases studies provide deep insights in ways leaders can execute best business practices to efficiency and effectively achieve a shared mission. Philanthropists, board members, and nonprofit leadership will all want to roll up their sleeves and get to work after reading this forward-looking guide. "

Howard Axel, CEO, Four Freedoms Park Conservancy