Tools
Whether your challenges involve day-to-day operations, or ambitious, transformative goals, we have tools to help you. From infographics and tip sheets to in-depth multimedia resources, these tools can:
Transform museum learning at your institution.
Activate your organization's "soft power."
Offer practical solutions for even highly creative, non-traditional museum experiences.
So much more.
Explore our tools by topic or by type to find what you need. Something specific you have in mind that is not here? Let us know by sending us an email at info@lord.ca.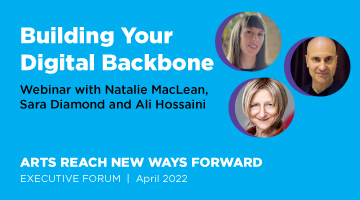 Video / Digital
Building Your Digital Backbone
Technology allows arts organizations to tell stories better, share knowledge, understand audiences, and increase operational efficiency. To harness the possibilities of technology, organizations need to understand their own internal capabilities, incorporate digital assessment into their strategic vision, and plan for future digital opportunities. Now more than ever, it is critical that arts organizations adopt digital tools and technologies to improve their operations, engage audiences, and innovate new ways of artistic presentation.
View Resource