Events
May 6, 2018
American Alliance of Museums 2018 Annual Meeting & Museum Expo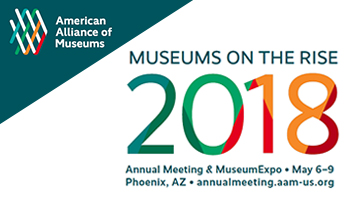 The American Alliance of Museums (AAM) 2018 Annual Meeting & Museum Expo will take place on May 6-9 in Phoenix. This year's events include:
PANEL: Encouraging Engagement: A Myriad of Methods
Mary Kershaw – Director, New Mexico Museum of Art
Joy Bailey Bryant – Managing Director, US, Lord Cultural Resources
Eileen Pickett – Consultant, Imagine Greater Louisville
Community engagement needs to be encouraged within programming, exhibitions, and planning for the future. This session will address the need for ongoing and consistent community engagement at different stages in an organization's operations, including lessons from other cultural institutions and planning processes.
Become better able to identify areas of museum operations where community consultation and engagement are necessary to meet community needs.
Learn methods used both within and outside of museums for sustained community engagement.
Learn how museum roles and responsibilities need to be adapted for community engagement to thrive.