Events
April 9, 2018
Canadian Museums Association National Conference 2018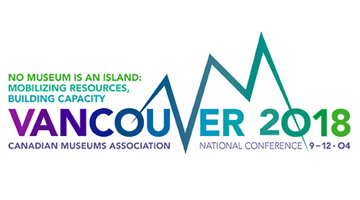 The Canadian Museums Association (CMA) National Conference 2018 will take place on April 9 - 12 2018 in Vancouver.
This year's events include:
WORKSHOP: FULL FINANCIAL FITNESS – FROM REVENUE TO CAMPAIGNS
Tuesday April 10, 10:00 a.m. – 4:00 p.m.
Facilitators: Kathleen Brown, Lord Cultural Resources; Elisabeth B. Galley, Arts Consulting Group
This full-day interactive informative workshop presented in collaboration by Lord Cultural Resources and Arts Consulting Group invites participants to take a holistic look at the financial fitness of their Museum. The workshop will begin with a focus on how museums can identify the right revenue balance for their needs looking at how earned revenue, contributed revenue, government contributions and endowment proceeds can affect and contribute to one another. Participants will be asked to identify where they are now, and consider what balance they should strive for in the future to accomplish their goals. Next, the workshop will focus on practical strategies for increasing revenue, looking particularly at contributed and resources to build fundraising capacity and identify innovative monetization methods that do not compromise the missions of Museums. Lord Cultural Resources and Arts Consulting Group will share success stories from past clients in the cultural sector to inspire and challenge attendees. Finally, the workshop will conclude with a focus on capacity building for major campaigns. Regardless of institution size and financial status, successfully sourcing "major Gifts" is key to a successful campaign. Whether the campaign is capital, annual or endowment – advanced planning, wealth screening and leadership play important roles in reaching your goals. Participants will work to identify what "major gifts" mean to them, and learn how to develop customized cultivation plans for targeted prospects.

About your facilitators: Kathleen Brown, COO of Lord Cultural Resources, provides 30-plus years of experience as a respected consultant with proven management skills. Her workshops are interactive, informative, and leave clients and other participants inspired and informed for their organizations' future. Elisabeth Galley, Senior VP and head of Arts Consulting Group's Revenue Enhancement practice, brings more than 33 years of practical experience as a fundraising professional and consultant in the arts and culture field. Her work includes successful campaigns ranging from $1M to over $300M, as well as assisting organizations of all budget sizes reach their fundraising goals.

Fee: $150. Includes two networking breaks, lunch and printed material. Please bring a copy of your most recent annual report or financial statement. Limited to 40 participants.