Events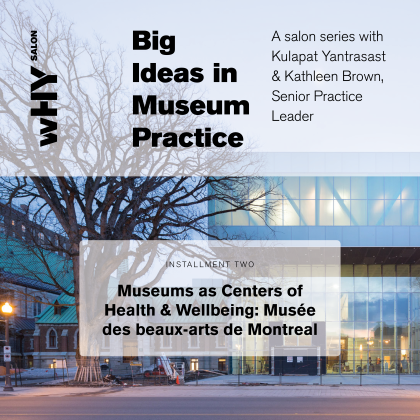 July 19, 2018
wHY Salon: Big Ideas in Museum Practice
Musée des beaux-arts de Montreal (MBAM) is a world leader in advocating that "art does us good" – on both the societal and the individual level. MBAM's vision is to redefine the role of the fine arts museum in a society as a catalyst for a healthy community and individual well-being. The Michel de la Chenelière International Atelier for Education and Art Therapy occupies more than 30,000sf and welcomes 300,000 participants per year, an increase of more than 207% over 3 years. How did this happen? What thinking inspired this radical change of focus – and how is it playing out? We met with the founder/donor and staff leadership to learn the back story, its present success, and future intentions. What lessons can be taken into the practice of Los Angeles' museums? Bring your questions, ideas, and experiences for a lively show-and-tell!
WHERE: wHY - 9520 Jefferson Blvd, Culver City, CA
WHEN: Thursday, July 19th; 6:30pm
Space is limited, RSVP to Aiden Bowman at aiden@why-site.com to reserve your spot on the Guest List.
Big Ideas in Museum Practice is a salon series with Kulapat Yantrasast &
Kathleen Brown, Senior Practice Leader
Kathleen Brown, COO
Kulapat Yantrasast