Manual of Museum Exhibitions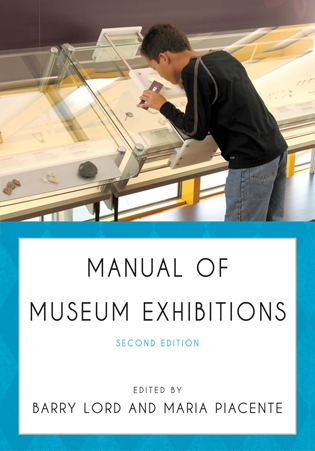 Manual of Museum Exhibitions is a comprehensive, practical guide to the entire process of planning, designing, producing, and evaluating exhibitions for museums of all kinds. The second edition explores the exhibition development process in greater detail, providing the technical and practical methodologies museum professionals need today.
This second edition of the standby Manual of Museum Exhibitions is arranged in four parts:
What – A look at both permanent collection displays and non-collection displays as well as virtual, participatory, temporary, travelling displays and retail sales.
Why – Covering the purpose of exhibits, where exhibit ideas come from, and how to measure success.
Where – Covering facilities and spaces, going into details including security and interactive spaces.
How – Who is involved, planning, curatorship and content development, design, multimedia, fabrication and installation, financial planning, and project management.
The Manual of Museum Exhibitions, second edition, was honoured with the 2015 Ontario Museum Association (OMA) Award of Excellence in Publications in November 2015. Please read the press release here.
---
About The Authors
"Well written, practical suggestions and helpful tools."

Marie Chapman, Chief Executive Officer, Canadian Museum of Immigration at Pier 21

"This manual provides clear, concise, well-organized analysis of the museum program."

Michael Leckman, Principal, Diamond Schmitt Architects, Toronto, Canada

"An excellent guide."

James Hungerford, Chief Executive Officer, Xibitz Inc.