Tools
Whether your challenges involve day-to-day operations, or ambitious, transformative goals, we have tools to help you. From infographics and tip sheets to in-depth multimedia resources, these tools can:
Transform museum learning at your institution.
Activate your organization's "soft power."
Offer practical solutions for even highly creative, non-traditional museum experiences.
So much more.
Explore our tools by topic or by type to find what you need. Something specific you have in mind that is not here? Let us know by sending us an email at info@lord.ca.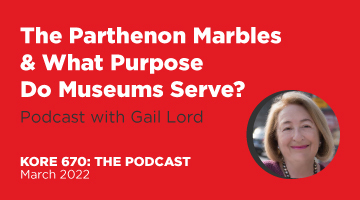 Podcast / Museum Planning
The Parthenon Marbles, and What Purpose Do Museums Serve?
In this podcast you'll hear discussions with Prof. Dimitrios Pandermalis, President, Acropolis Museum on the Parthenon Marbles, what museums should be, and what can they offer the public, the history of the Marbles with Paul Denis, Assistant Curator, Greek and Roman Galleries, Royal Ontario Museum, and this:
Under increasing pressure to right past wrongs and repatriate the cultural objects they house, museums potentially find themselves on the cusp of a great letting go – not only of artifacts, but of old roles. What then? A Q&A with Gail Lord considers unlocking a way forward, even as museums consider unlocking their vaults.
Listen to podcast